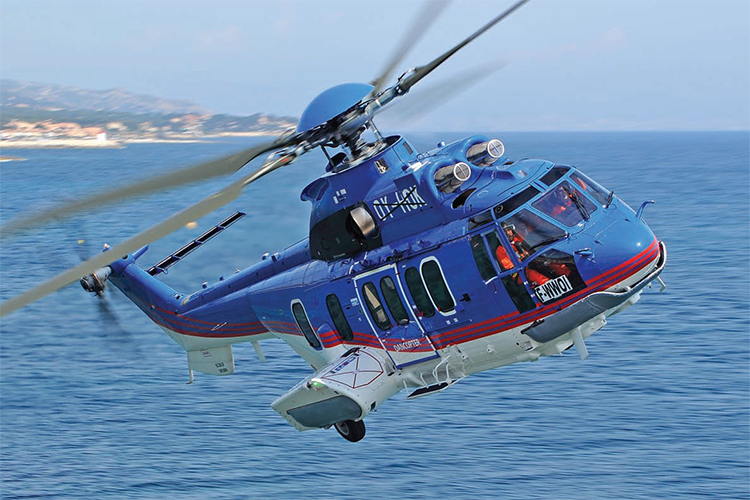 Happy chopper
It has been a positive 12 months for Danish operator DanCopter A/S since it was last in European Oil & Gas Magazine in November 2012; currently operating in Denmark, Great Britain, the Netherlands and Nigeria, the company celebrated its first year of successfully transporting passengers in the North Sea for Shell in July 2013 and received its fourth EC225 model the same month.
"Since our last interview we have invested in two new aircraft, EC225 models, one of which was delivered July 2013 and the other is due for delivery in July 2014. They will be operating within the Norwegian oil and gas market, where we are mainly focusing our attentions alongside our daughter company Blueway Offshore Norge; the North Sea's Norwegian continental shelf is an area of huge growth right now," highlights Jens Anders Jensen, managing director of Dancopter.
Operating in the North Sea since 2003, DanCopter has successfully transported 42,000 passengers along with 740 tonnes of baggage in the first 12 months of its contract withShell, which is due to last until at least 2017.In relation to this, the business has contractedall passengers and freight to and from Shell platforms, as well as check-in, processing and security services to SaxonAir, which has a multi-million pound business aviation centre in Norwich airport. "We started this contract with four aircraft, which has now gone up tofive; three of which operate out of Norwich and two out of Dan Helder. The past 12 months have been a very positive period for us, with operations very busy at the beginning," says Jens. "This is due to us winning two major deals that are both starting up around the same time, one being the biggest contract in the Danish sector with Maersk Oil, the other being the Shell contract. However, operations are now more stable and are going very well; we are now focusing on consolidating these contracts and also preparing for another contract with Shell that will start on 1st July 2014."
Traditionally the role of crew transfer vessels, the offshore transportation of personnel and materials has seen increased competition from helicopters, which offer a cost-effective alternative with benefits such as faster flying times and the ability to bypass challenging wave conditions. Undertaking its first flight on 1st February 2003, the operator today has ten years experience in serving major oil companies such as Hess, Dong Energy, Det Norske and Wintershall. In 2008, the company's market was further strengthened when Norwegian group Blueway AS, boasting many years experience in providing helicopter services both on and offshore, acquired 100 per cent of its shares. Following this takeover, Blueway and DanCopter formed a new daughter company in 2009 to specifically serve its customers in the Norwegian sector, Blueway Offshore Norge
Since its inception, DanCopter has aimed to provide safe and punctual transportationof personnel to vessels and platforms in the North Sea. To consistently meet these goals, it adheres to three core values: safety, flexibility and precision, with safety taking a core area of interest, following the suspension of the EC225 from service in 2012. "Safety is a top priority for us as we focus on trying to be the best in class for flight data monitoring, particularly in the way our pilots operate the aircraft and monitor components to prevent breakdowns," says Jens. "We have had a policy for mandatory analysis of the component monitoring system in order to pursue any unwanted developments in the components of the helicopter. This is an area where we believe there is a lot of work to do in order to improve safety, both in the way we operate the helicopter and also the condition of components in the helicopter."
The EC225 was suspended from service by EASA after an investigation into the main gearbox shaft failures of this type of helicopter in the North Sea in 2012. However, EASA approved the prevention and detection measures developed by Eurocopter, allowing the EC225 to return to service around the world. "Because the EC225 was not accepted to fly for a period of time with our customers we are now getting back into full operations for that helicopter type. Our two new EC225 investments will be operating in the Norwegian offshore market, with one dedicated to our July 2014 contract with Shell." Able to carry 19 passengers on heavy-lift missions to platforms 150-155 miles from land, DanCopter is confident the helicopter type's large cabin and ability to deal with winds, icy conditions and waves makes it ideally suited for the challenging task of transportation in the North Sea.
Executing operations with helicopters representing ultra-modern technology, safety and comfort, DanCopter's fleet includes six Eurocopter EC 155 B1 helicopters, six AgustaWestland AW139 helicopters and four Eurocopter EC225 helicopters.
Despite a focus on the North Sea, in and around Northern Europe, the company's long-term relationship with Shell resulted in operations expanding into Nigeria for the first time in July 2010. Activities commenced for the multi-annual contract in co-operation with DanCopter's Nigerian partner and are still ongoing as the country continues to gain increased interest from the oil and gas industry, as Jens elaborates further: "We are working with our Nigerian partner Caverton Helicopters on the Shell contract, with six AW139'S operating out there on a fleet basis. We are also looking at other areas of interest in Africa, particular where we can use our experience with the knowledge of a local partner."
With 95 per cent of DanCopter's business based around crew transportation, the company has rapidly established itself as a leader in its field by ensuring personnel arrive at their required destination on time and fit to work. Having developed a solid reputation, the company has grown from a small operator to one of the largest in the oil and gas sector; a development that Jens views as advantageous to its future growth. "DanCopter has enjoyed huge growth over recent years, which is because we are a very practical company that is trying to retain the flexibility of our smaller company roots while also offering the safety and quality of a large company. We aim to continue focusing on safety throughout all of our operations in the North Sea and Africa," he concludes.
DanCopter A/S
Services: Offshore helicopter transportation