De Plaatijzerindustrie BV
Skillfully handling the pressure
Founded in 1920, De Plaatijzerindustrie specialises in the design and manufacture of vessels, towers, columns and industrial apparatus for refineries and chemical plants.
The family-run company also has extensive experience in the production of pressure vessels for oil and natural gas process systems, both onshore and offshore. Its activities are mainly concentrated on equipment ranging from medium sized to heavy vessels and industrial apparatus with unit weights ranging up to 300 tonnes shipping weight in one piece.
"Our privately owned company was established in 1920 and is currently in the hands of the third generation of the van Reekum family," says Andre Hermsen, commercial technical manager. "We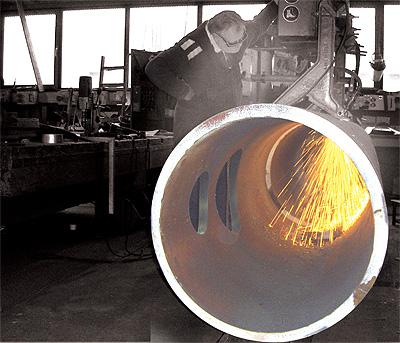 have 100 employees working in three production divisions. The first division produces pressure vessels, towers and columns in all sizes for the oil and gas industry and the second, which is of a similar size, is UF6 Transport Vessels and makes vessels to transport uranium hexafluoride. Vessel Heads is our third division and produces dished heads, with 80 per cent manufactured for third parties."
De Plaatijzerindustrie, which literally translates as 'Sheet Steel Industry', serves the worldwide petrochemical industry and engineers its pressure vessels, towers and columns in all sizes up to diameters of 6.5m, lengths of 60m and wall thickness measurements up to 150mm. It processes all types of alloyed and unalloyed steels, finegrain steel and steel grades having a high impact strength at low temperatures as well as high-strength steel, duplex (1.4462), clad steel and HIC-resistant steel. Alongside this expertise with steel accumulated over the course of its 87-year history, the company has gained valuable experience in overlay welding including Submerged Arc and Electroslag Welding with strip, which puts its customers in an excellent position.
"Our strongest points are our years of experience and our extensive know-how," says Andre. "This is extremely important for our business and is not something that every company with welders and fitters can boast. We work with thick vessels that require skilled welders, fitters and engineers to get a product out of the factory. Our excellent reputation is also key as we're recognised in the oil and gas sector as a reliable company with respect for delivery times and, because our company is not enormous, we can be very flexible, which benefits customers".
The company's clients in its pressure vessel division are in the worldwide oil and gas industry. "Our biggest customer for this sector is Shell and about 70 per cent of our projects are Shell related," reveals Andre. "Customers approach us, especially at the moment, because of our strong name in the market, of which we're very proud."
Managing director Gerard van Reekum adds: "Shell is a key client but we have many more throughout the world and our vessels are used in places as diverse as The Netherlands, Nigeria Russia, the Middle East, and Singapore."
Andre outlines the company's typical production process: "Normally projects last between five months and one year, depending on the complexity, and we always start a project by speaking to all of our departments so everyone knows what has been sold. Our engineering department then makes calculations and re-examines all specifications with regards to what kind of technology to use. Once the best choices are made, the engineer sends drawings and welding methods to the customer for approval and then finally the workshop preparations begin."
Working closely with customers is central to De Plaatijzerindustrie's operation: "To continue our business it's imperative to maintain longlasting partnerships," says Andre. "We forge long term alliances with our suppliers too because the future of our business depends on our ability to be reliable and deliver the high quality level that we promise customers."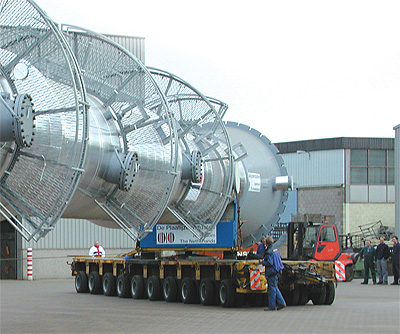 Although demands vary from project to project, the quality must remain consistent so that vessels have a long working life. "Every project is different so even when wall thicknesses are the same with different customers we still have to calculate afresh because the vessel's strength wholly depends on environmental circumstances," explains Andre. "Vessels use equivalent technology so we manufacture them in a similar way in each instance but, at the same time, no two vessels are the same. We receive packages of specifications from our clients along with all kinds of welding specifications so, for each type of weld, our welding specialists will determine what kind is most suitable for the job."
De Plaatijzerindustrie has been authorised to use the 'U' and 'U2' Stamps of the American Society of Mechanical Engineers (Asme) for building Pressure Vessels in accordance with the ASME Boiler and Pressure Vessel Code Section VIII Division 1 and 2 respectively since 1977. In 1998 the authorisation for the 'R'-stamp was obtained from The National Board of Boiler and Pressure Vessel Inspectors. Maintaining such high levels of quality is integral to the company's continued success, says Andre: "It's very important that everyone in the company is operating in compliance with our quality system, and with the quality system of our customers to achieve the best results."
In complete agreement, Gerard adds: "We've had our quality control qualifications in place for more than 30 years. When you manufacture pressure vessels in accordance with the 'U'-stamp then you can deliver them to many countries because this US qualification is recognised all over the world. In addition, we have more accreditations, such as PED Module H and H1, and of course the relevant ISO certificates."
The market is strong at present although Andre believes there are boundaries: "At the moment the industry is booming but we're limited in our capacity on the work floor because our work is too complex to outsource. There are only a handful of other companies in Western Europe that can do what we do which means it's hard to subcontract any of the work such as the welding and fitting. This means it's crucial that we carefully choose the right jobs to undertake and our current strategy is to look to the future to select customers with possibilities. We're keen to work for clients who have been in the industry for many years as they share our situation where the capacity is limited."
With regards to future plans, Andre finds it hard to ascertain where De Plaatijzerindustrie will be in five years time due to the dynamic nature of the oil and gas industry: "Predicting the future is very difficult in our sector as work comes in waves and over the last ten years much has changed as we've lost a lot of competitors. We are fortunate to have three divisions so that when one area is experiencing a lull, we can compensate with another side. In the past we saw that the nuclear energy market was quieter and the containers we make for that sector were reducing in numbers but at the same time the oil and gas industry rose, and this is basically how we compensate as well as how we retain all of our staff."
Continuing, Gerard concludes: "In the coming years, we'll probably expand by about 25 per cent but we'll still only undertake high quality work with demanding targets because we look for work with high added technological value. The most important aspect of the business is keeping our worth at a high level otherwise we will go down in customers' estimations, therefore we'll strive to retain our knowledge, quality and respected name in the market."
De Plaatijzerindustrie BV
Service / products: Pressure vessels, towers, columns and industrial apparatus