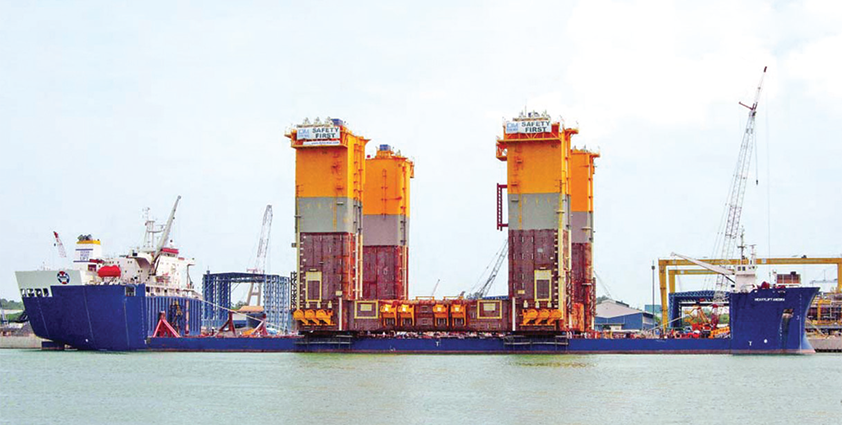 Going the extra yard
"Dyna-Mac Engineering is one of the world's leading players in the fabrication and assembly of topside modules of FPSOs and FSOs," explains Simon Teo, chief marketing officer at Singapore-based Dyna-Mac Engineering Pte Ltd.
"The Dyna-Mac Group also provides general engineering and fabrication services for specialised structures for semi-submersibles and subsea products, and since its inception has successfully delivered 147 topside modules to customers ranked among the world's leading owners and operators of FPSOs, as well as multi-national engineering companies in the marine and oil and gas industries."
Simon's introduction gives some insight into the depth of experience and knowledge at Dyna-Mac, a key factor that sets it apart in the fabrication market. "I would say that some of our key strengths are the facts that we have a very strong, experienced and dedicated management team that sits well alongside our established and impressive track record," he elaborates. "This reference list includes 147 modules all loaded out on time with the highest standards of safety and quality, as well as the reputation that we have built as a reliable specialist in the fabrication and assembly of topside modules for FPSOs and FSOs in the last 11 years. Our large and integrated modern seafront yard facilities mean that our strong and global customer base, which includes companies such as SBM, MODEC, BW Offshore, Prosafe SE and Petroserv S.A, continually appoints us for all of their subsequent projects."
Dyna-Mac's key focus is to provide its clients with full and complete turnkey project management including a full spectrum of services that encompasses engineering and project management through to pre-construction planning, critical path development, construction/fabrication/site management, commissioning and the final handover of the completed project.
Although the business is reputed as a multi-disciplinary company, as Simon explains, it has key areas of focus: "There are essentially two business segments at Dyna-Mac. Firstly is our module business, which, as discussed, involves the detailed engineering, procurement and construction of modules for FPSOs, FSOs, LNG-FPSOs, LNG-FSRUs and other on-land processing plants, such as LNG plants. Also included in this segment is the integration of modules, refurbishment, maintenance and other services related to similar topside modules installed onboard FPSOs and FSOs."
While Dyna-Mac is best-known for its work in this particular business segment, as Simon explains, its experience and range of knowledge also translates easily into other areas: "Our second business segment is known as 'ad hoc projects', which means that we regularly undertake ad hoc general engineering and fabrication services for specialised structures for semi-submersibles, FPUs, central process platforms, wellhead platforms, jackets and subsea products such as manifolds and buoys. We are also capable of delivering fabrication of heavy steel or mechanical structures, process piping and tanks for various types of petrochemical and pharmaceutical plants, as well as other modular construction work involved in the construction of LNG plants and facilities."
The company undertakes this work at its state-of-the-art facilities, to which it relocated in 2002. Its newly improved waterfront fabrication yard covers 140,300 square metres and has a maximum annual production capacity of 25,000 tonnes and a maximum single unit load-out capacity of up to 27,000 tonnes. Here, the business also has a number of large-sized workshops equipped with cranes and facilities to accommodate construction activities in all weather conditions. The company is continually upgrading and improving these facilities and accordingly has constructed two units of mobile workshops that are able to accommodate modules up to 23 metres in height.
Such an impressive capacity means that clients worldwide keep the business busy. "The group secured and commenced work to fabricate a B Class jackup block from Keppel Fels, which forms part of the jackup's main hull, at its yard located at Gul Road in July and expects to complete this projects by the first quarter of 2012," says Simon. "Also, on 5th April 2011 the Group announced that it had signed a Memorandum of Understanding (MOU) with SBM Offshore N.V to supply topside modules for the FPSO OSX-2. Subsequent to that announcement, we were formally awarded the project on the 29th July, and this is work that we expect to be completed by the third quarter of 2012."
Indeed, despite a downturn in some areas of the oil and gas industry, the business has remained stable in the market, a fact that was reiterated by the chairman and CEO Mr. Desmond Lim in the company's 2011 financial report, when he explained that: "The path of recovery of the global economy has been rather erratic over the last 12 months. While Asia continued to power ahead, the economies of Europe and the US floundered under the weight of massive debt. Against this challenging economic and industry backdrop, Dyna-Mac kept its net profit relatively stable in FY2011, despite relatively lower revenues. Our order book of new and existing projects amounted to $117 million up to date, and Dyna-Mac is upbeat about its prospects in the FPSO market as future growth indicators are largely positive."
Looking at future prospects Simon is equally confident: "Given the move towards local business in the contracting sector of the offshore oil and gas industry, overseas expansion is something that Dyna-Mac cannot ignore. Therefore, we are engaged in talks with potential overseas yard partners. With our 11 years proven track record in the topside module business we are going to expand our activities to become an EPC contractor for central process platforms, wellhead platforms and jackets, LNG plants (modular method) and a turnkey contractor for new-building and refurbishment of jackup rigs, semi-submersible rigs, tender rigs, pipe layers and platforms.
"International Maritime Associates estimates that between 120 and 175 floating production systems will be built between 2011 and 2016, and that around 80 per cent of these will be FPSOs. Dyna-Mac believes that its strong track record and competence in the fabrication of topside modules will put the group in a strong position to capitalise on the available opportunities in the market going forwards."
Dyna-Mac Holdings Ltd
Services: Fabrication and assembly services