A steady supply
E.ON Gas Storage UK is part of the major European gas storage organisation E.ON Gas Storage, which pools together under a single umbrella decades of experience in underground gas storage work.
With more than 30 years of history in mainland Europe, E.ON began its first work in the UK in July 2005 following the acquisition of the Holford Gas Storage project located in Cheshire. In 2006,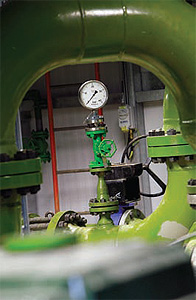 initial project development began at a second site, Whitehill Gas Storage in the East Riding of Yorkshire. The intent behind these projects was to increase the flexibility of the UK gas system by providing significant fast cycle underground storage capacities.
Construction of Holford Gas Storage began during 2006 with the installation of brine and water infrastructure required to create the caverns. Creating the caverns consists of a process called solution mining (also known as 'leaching'). During this process, water is pumped through pre-drilled wells, dissolves salt into a brine that is siphoned away and, in this case, is used as a feedstock by local chemical industries. The pipes are positioned at different levels within the well during the solution mining process to carefully control and determine the overall shape of the cavern. The solution mining of the first cavern began in September 2008, with the first three caverns becoming fully operational by December 2011.
Holford Gas Storage comprises a total of eight storage caverns, each approximately 100 by 100 metres in size. Once finished, the facility will offer a total storage capacity of 160 million cubic metres with a total injection and withdrawal capacity of up to 22 million cubic metres per day. The final two caverns are expected to come online in the first quarter of 2013. For the first five years of operation, 100 per cent of the storage capacity of all eight caverns will be utilised by Noble Clean Fuels Ltd with E.ON Gas Storage UK providing safe, reliable operation and maintenance of the facility.
Jo Vizor, managing director, explains what makes Holford stand out: "Holford is a salt cavern gas storage facility. Salt caverns offer the highest degree of flexibility as they can be utilised to balance gas supply against demand on a day-to-day, week-to-week, or month-to month basis. Holford has fast withdrawal and injection rates, which means that it can cycle its full capacity in less than a month making it one of the most flexible gas storage assets in the UK market. This provides a real benefit to the UK energy system, as we expect the need for fast response and flexibility to grow as the UK moves towards a lower carbon future, for example with increasing renewable energy penetration. We believe that responsive and flexible gas supplies are important for the UK achieving its energy policy objectives.
"In terms of building the facility at Holford, we have been able to bring the benefits of E.ON's expertise within Europe where we have over 30 years experience in the development, construction, and operation of gas storage assets. This has given us the ability to draw on the right specialists' knowledge and support at the right time. We are proud of the way we have delivered the project, providing as much benefit as possible to the local economy.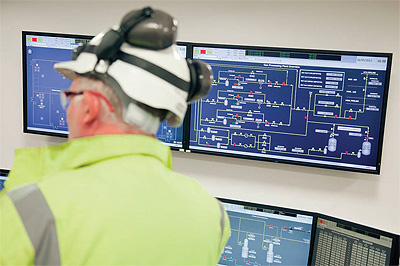 "Approximately 70 per cent of our total budget has been spent with UK companies and 47 per cent of our overall budget has been spent with local contractors and vendors. Around 2.5 million manhours have been expended here in the UK on project development and construction, of which over 97 per cent are for UK workers. We have also invested in maintaining or improving the local Cheshire countryside, where we are planting more than 115,000 trees and shrubs to create over 50,000 square metres of new woodland and 13,000 metres of new hedging."
Whitehill Gas Storage is planned to be a much bigger facility than its Cheshire counterpart. Though final plans are yet to be confirmed, it is expected that it will consist of ten 80 by 100 metre caverns able to hold up to a total of 400 million cubic metres with a total injection and withdrawal rate of 13 million cubic metres per day. Each of these caverns will be formed approximately 1800 metres below ground level and their gas processing plant will be situated on Whitehall Farm, a site chosen in part for the natural screening its landscape offers.
Suitability of the site was confirmed in 2006 through a programme of seismic testing. By 2012 E.ON Gas Storage UK had obtained the required planning permissions and regulatory consents. The company is currently monitoring the state of the gas market to ensure that any investment decision in Whitehill is timely and appropriate. Once construction begins it is predicted that the project will take approximately eight years to reach full commercial operation.
E.ON Gas Storage UK sees it role as being central to a well functioning UK energy market. "We believe gas storage facilities are important in securing the future supplies of gas for power stations, customers, and the UK as a whole," agrees Jo. "UK North Sea gas production is declining and this decline is leading to an increasing reliance on imported gas. In addition, the country's gas demand may become more unpredictable as gas provides a clean back-up source to intermittent renewables. Storage facilities, including the one at Holford, will play a crucial role in the gas supply chain as the market seeks to achieve a stable supply-demand balance."
Jo highlights that Government could provide extra assistance to ensure projects such as Holford and Whitehill get built: "There are practical things the Government can do to incentivise storage such as simplification of the CRC regime and recognising the creation of storage caverns in the capital allowances regime. We will continue to lobby, in conjunction with the Gas Storage Operators Group, to gain Governmental support for measures to encourage the future gas storage development the UK needs."
In light of this, Jo goes on to conclude that: "Gas storage needs to be a part of the future energy mix. Holford, with its fast response and flexibility, will play an important role as could Whitehill."
E.ON Gas Storage UK
Services: Underground gas storage