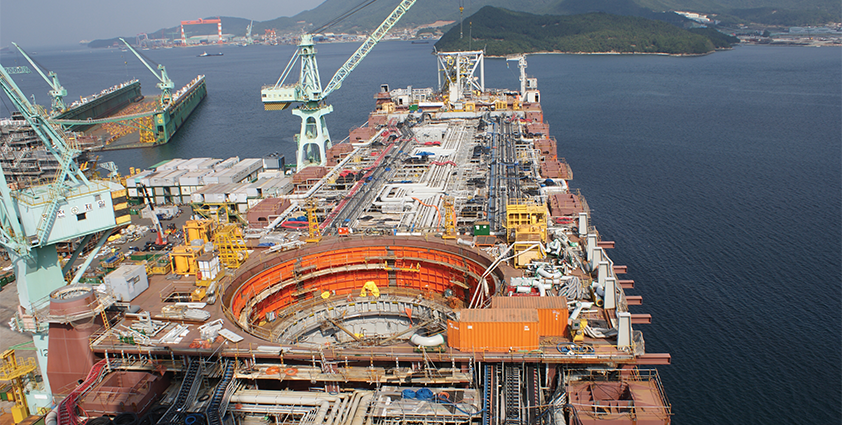 Exploring opportunities
Founded in 2003 in Stavanger in Norway, E.ON Ruhrgas Norge (ERN) is an upstream company that has achieved remarkable growth.
In seven years, its licence portfolio has grown to include 27 licences, of which four are operated, and production has increased significantly to approximately 20 kboe/d.
The company has reported that it is stepping up its exploration programme in Norway and its approach is to explore with a long-term perspective. As part of achieving its ambitious growth plans, ERN is looking to recruit additional staff in Norway, bucking the trend of the recession.
ERN is seeking to gain a thorough understanding of regional geology and then set firm targets. In terms of its past experience, the organisation participated in three exploration wells in 2009 with two discoveries near the Njord Field (Gygrid in PL348) and the Skarv Field (Idun Nord in PL159 D).
ERN has participated in drilling the 6507/5-6S exploration well on the Snadd prospect (part of the Skarv-Idun licence) located approximately two kilometres west of the large Skarv development in the Norwegian Sea. The semi-submersible drilling rig Borgland Dolphin, which is also used for drilling the Skarv-Idun field development wells, drilled the well.
The well discovered gas and, though production testing was not carried out, extensive data collection and samplings were undertaken. The results are now being analysed as a basis for
further plans. The Norwegian Petroleum Directorate has issued a preliminary estimate of reserves indicating gross reserves ranging between eight and 14 billion Sm³ (standard cubic metres) of recoverable gas as well as 1.6 million Sm³ to three million Sm³ of recoverable condensate.
"This is very encouraging news," states Haakon Haaland, managing director of E.ON Ruhrgas Norge. "The proximity to the Skarv field should enable a relatively simple development as Snadd can also use the Skarv FPSO production facilities. It demonstrates the prolificacy of the Skarv area, which is very positive with respect to further exploration drilling in the area. The partnership will now evaluate the results and study development options."
E.ON Ruhrgas Norge holds a 28 per cent share of the Skarv-Idun licence and the consideration for the acquisition is $893 million. E.ON's share of the investments for developing the Skarv and Idun fields will be around $1.4 billion. Skarv and Idun are both in the northern Norwegian Sea, just below the polar circle, and have reserves of around 65.6 million Sm³ of oil equivalent (48.3 billion m³ of which are rich gas).
Skarv-Idun is among the largest and most attractive undeveloped gas fields in Norway as the area contains undeveloped discoveries and excellent potential for reserves growth through further exploration. Production will start in 2011. E.ON will be producing an average of around 1.4 billion m³ of natural gas from these fields for at least ten years, a figure that equals the gas consumption of a city with a population of 2.5 million.
Centrica Resources (Norge) AS, operator of production licence 433, has completed the drilling of wildcat well 6506/9-2 S in the Norwegian Sea. The well proved gas/condensate and was drilled about 10 kilometres north of the Åsgard Field complex, proving gas and condensate in both the Garn and Ile formations, while the Tofte and Tilje formations are most likely filled with water. Preliminary estimates indicate the size of the discovery at between three million Sm³ and 15 million Sm³ of recoverable oil equivalents. The well is the first exploration well in PL433 and the licence was awarded in connection with APA 2006. The well was drilled to a vertical depth of 4736 metres by the West Alpha drilling facility, and terminated in the Åre formation in the Lower Jurassic. Water depth at the site is 280 metres and the well will now be permanently plugged and abandoned. The PL433 licensees are ERN (15 per cent), Centrica (28 per cent), Petro-Canada (30 per cent), Faroe Petroleum (15 per cent) and North Energy (12 per cent).
In addition, ERN has an ongoing infill-drilling programme at the Njord Field, aiming to delay production decline. The Skarv field is being developed, with construction ongoing, and production planned to start up in the third quarter of 2011. ERN will operate two drilling operations in 2011 and preparations for drilling these wells are ongoing.
With such a hive of activity, there is no doubt that ERN will be extremely busy in the coming years and will have no problems in achieving its aim of significantly growing production in Norway.
E.ON Ruhrgas Norge AS
Industry: Upstream exploration