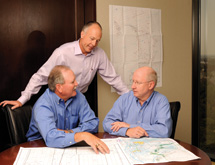 EagleClaw Midstream Services LLC
For start-up companies to succeed, they need strong leadership. EagleClaw Midstream Services LLC, a start-up in Midland, Texas, is led by a team with decades of experience in West Texas. That leadership should help it provide rapid response and flexible solutions for the midstream infrastructure requirements of Permian Basin producers.
"We have experience and are well capitalized, and new areas of the basin are becoming profitable thanks to new technology and completion techniques," President Bob Milam says. "A lot of activity is taking place in new areas where there is no infrastructure, or in places where the existing infrastructure was designed for different volumes and activity."
Strong Ties
The company's senior leadership team has more than 90 years of experience in the industry. Milam, Executive Vice President and COO Curtis Clark and Executive Vice President of Commercial Charles Kuss all have experience developing, constructing, acquiring, operating, optimizing and expanding greenfield and existing natural gas and NGL midstream assets.
"We have worked in the Permian Basin for years, shoring up relationships with engineering, service and construction companies," Milam says.
EagleClaw will provide gathering, compression, processing and treating services, such as natural gas gathering, transportation, compression, treating and processing; and gathering, treating and transporting crude oil and condensate.
"Many of the existing systems are old and have substantial losses, and we are looking at technology for processing plants that will be more modern and focused in areas where the producers are," Milam says. "We think we can be very competitive pricewise and be more responsive to the producers."
EagleClaw is backed by a $100 million private equity commitment from EnCap Flatrock Midstream of San Antonio. That will help EagleClaw pursue greenfield and acquisition opportunities. Thanks to its leaders' experience with building pipelines and plants, optimizing output, locating markets and structuring deals that are in the best interest of all parties, EagleClaw should stay ahead of development schedules and help customers move product to high-value markets.
"We see the need for new assets and will specialize in that," Milam says. "We have no assets now but are close to a deal for a cryogenic processing plant with capacity to process 60 million cubic feet of natural gas per day and a crude oil gathering system."
Center of the Action
EagleClaw has many strengths. In addition to the experience of its leaders, its position in Texas puts it in the heart of the nation's fossil fuel reserves. In fact, Texas crude oil reserves represent almost 25 percent of the U.S. total, while its natural gas reserves account for more than three-tenths of the U.S. total.
In addition, the largest remaining reserves are located in the Permian Basin of West Texas, which covers more than 75,000 square miles and 25 counties in Texas and New Mexico. Having a foothold in the Permian Basin gives EagleClaw the opportunity to grow in one of the most active regions in the United States.
"In the Permian, producers are targeting oil rich formations. Gas associated with these oil wells is lower in volume but rich in Btu and natural gas liquids content," Milam says. "It takes a critical mass of wells to bring in the kind of cryogenic processing system that we are looking to do. We need a producer with a large enough position to be an anchor of a project and have other producers come in around them."
Focused on the Permian Basin, EagleClaw is making sure producers understand its strengths. It has extensive ties to the area, and Milam says relationships matter in the basin. As the company works to get its first crude oil gathering system and a gas gathering process facility up and running in the next 12 to 24 months, it is looking further ahead. EagleClaw understands the challenges producers face in the Permian and feels it can build pipelines and plants in ways that will align with schedules and business needs.
"We believe we can help producers by staying ahead of development schedules and providing the responsiveness and flexibility they need," Milam concludes.