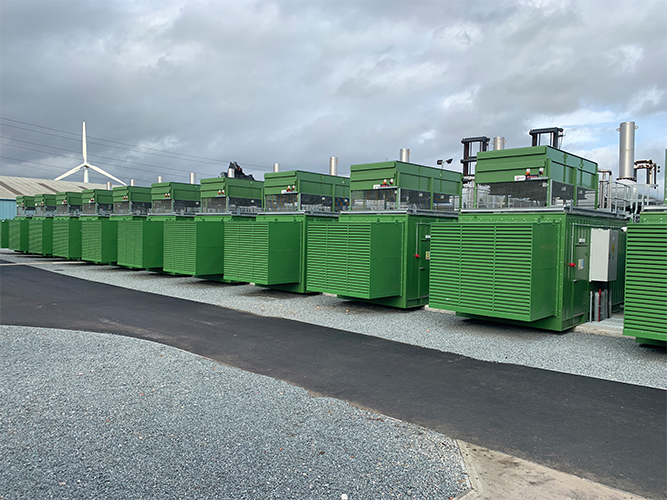 Energy potential
Edina has continued to provide for its customers without fail, and is looking forward to a future of serving sustainable solutions to the international energy industry
Owned by EnergyPro Assets Limited (EPAL), Edina is a joint venture between Energy Efficiency Services Limited (EESL), the world's largest Energy Service Company under the Government of India, and EnergyPro Ltd, a leading UK-based advisory company that consults on energy efficiency projects. Since its inception over 35 years ago, Edina has focused on evolving with the changes of the energy industry. Accordingly, the company has become a leader in the engineering, installation, and after-care support of low carbon, gas-fired, Combined Heat and Power (CHP) and Flexible Generation plants. Employing over 200 people across its operations in the UK, Ireland, Australia, and India, Edina collectively manages a growing portfolio of nearly one gigawatts of electrical distributed generation.
We speak with Hugh Richmond, Edina's Chief Executive Officer, who tells us more about the ways in which the company has maintained its expertise in the energy business, despite the continuous changes. "There is no such thing as a 'one shoe fits all' nowadays; you have to have the ability to move with the times," he begins, a statement that he attributes to Edina's success.
Edina began trading in 1985, when it initially supplied and maintained diesel generation plants in Dublin, Ireland. Edina then looked towards the expanding UK gas engine market, and in 2006 it established its UK presence and was awarded the official UK and Ireland distributorship of world-renowned MWM gas engines. "Many incentives were put in place to extract gas out of landfills, and turn it into power, so Edina started to get involved in the biogas business," Hugh continues.
"In 2010, there was an upsurge from the government to move towards renewable energy through the introduction of low carbon CHP plants. At the time, power generation was typically large, centralised coal fired and nuclear plants, and CHP opened the door for businesses to produce and consume heat and electricity at a decentralised level. In doing so, CHP became an energy efficient way of producing heat and electricity from a single fuel source with significant efficiency gains of up to 90 percent. Transmission losses were also reduced due to the proximity of generation and consumption, and our customers reported significant primary energy cost savings of around 30 percent. In this way, CHP remains an ideal technology for energy users with high heat and electricity demands such as hospitals, commercial buildings, and the industrial manufacturing sectors.
"As renewable technologies gathered pace and predictable baseload power stations curtailed within the UK energy mix, it become clear that gas-fired power stations would play a critical role in shaping and balancing the energy landscape. This meant industry would favour smaller decentralised gas power stations across the country instead of large-scale centralised 1000-megawatt plants. We followed suit, and consequently became successful in what is known as the Flexible Generation market, which provides standby low carbon electricity during peak demand and when there are shortages of power supply due to the intermittency of renewable generation. Aside from maintaining security of power supply, our flexible generation plants accelerate the growth of additional renewable technologies onto the network. To date we have over 550 megawatts of plant, spanning over 40 projects within this market."
Following this, and as recently as 12 months ago, the industry began to look more seriously at battery technology, in a bid to encourage decarbonised power usages. "Edina's core business remains in the gas engine market; however, we recognise the importance and benefit of other technology applications and diversification it has brought to the business and our customers. We have an interest in battery energy storage and recently partnered with global battery energy storage and inverter technology manufacturers. Our aim is to provide and offer our customers an engineered storage solution either as a standalone product or collocated with gas engines as part of a hybrid power solution, which we'll be able to share details on request through www.edina.eu," Hugh expresses.
Having covered the expansive history that has brought Edina the success it enjoys today, Hugh tells us more about the facilities that support Edina's capabilities. "What we do is create energy centres that can support the intake of gas engine technology ranging from 0.4 megawatts through to 4.5 megawatts. Each project is different depending on the client requirement. We offer a single or multi-engine configuration delivered as supply only or a full turnkey Engineering, Procurement, and Construction (EPC) contract. We may package the gas engine within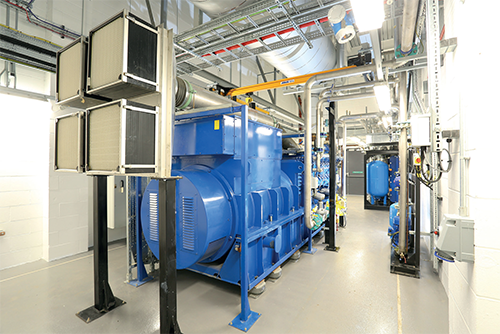 a containerised enclosure which accommodates ambient and heat temperatures, as well as noise attenuation. We design and build our own control panel system which communicates directly with the MWM engine and assists our engineers to control the entire on-site eco-system and synchronise with the grid.
"Once the engine asset is delivered to site, we then install all supporting equipment to include pumps, radiators, silencers, and transformers, needed to generate and realise the on-site power solution for the client. We are a customer driven business and support our customers throughout the life of the power project from initial design, plant engineering, project management, plant commissioning and ongoing 24/7 asset-care, all of which is delivered by Edina – a single point of contact for our customers, which I think is something that separates us from our competition. Our new battery energy storage solution works in a similar way. We will containerise the batteries and install the inverters, the transformers and control systems, and they function just as successfully. Above all, Edina is a solutions provider for distributed power generation and our infrastructure is geared towards supporting that vision."
From what Hugh has shared, it is clear that the company is passionate about evolving with the changing demands of the energy industry. The motivation, Hugh shares, stems from customer needs. "Because the big focus right now is sustainability, how do businesses navigate that trajectory? We recognise for many businesses achieving net-zero will involve a multitude of technologies depending on their requirements. CHP will continue to play a vital role in achieving carbon neutrality in some applications either using existing transitionary low carbon natural gas or hydrogen, for when it becomes commercially available. As such, we are working closely with our partners MWM to deliver a 100 percent hydrogen ready gas engine solution. Like CHP, Battery Energy Storage will play a significant role in the energy transition given its application uses and we are excited to include this offering within our product portfolio."
Sustaining the company's journey would not be possible without the help of a dedicated and motivated team, of which Hugh is incredibly proud. He notes how he was able to keep his entire staff on board during the turbulence of Covid-19 and is grateful for the effort and spirit everyone has demonstrated over the last two years. "No one was furloughed because we were considered an essential service. That's not to say that it wasn't an easy time either; we have had our fair share of obstacles. We recently adopted a hybrid working system for those who can work from home. Although this is something that we have become well acquainted with, I feel that much of our innovation is gained from in-person meetings and conversations.
"The other challenge is training. The UK is suffering hugely from a brain drain at the moment, and a lack of responses to apprenticeships and apprenticeship schemes. We need to encourage more young people to get involved in the mechanical and electrical industry. We also have to look after our staff and try to work with them as closely as possible in order to retain them, and I'm sure that this is an issue with many businesses, so we need to work together to change that," Hugh shares.
Despite these industry challenges, Hugh recognises that as long as everyone continues to do their best, the solutions will fall into place given time. "I can see that there are more and more opportunities being implemented to encourage younger generations to join our industry, and that's the right attitude. Not everyone has the desire to go to university, some people are naturally inclined to pick up a spanner or screwdriver, and those are the people we should be supporting. I'd like to see some of the schools actively engage in the industry to encourage young boys and girls to go into fixing engines and doing what the UK is incredibly good at, so that when the older generations retire, there won't be a skills gap in our industry."
Hugh remains ever optimistic about the future of Edina. Looking further ahead, he is excited to see the company continue to grow, evolve, and support the energy industry with the company's refined expertise. "Overall, I would very much love to see us move into markets where we currently do not have a footing yet. Because of our links with EESL in India, we have the opportunity to expand and take Edina beyond the shores of the UK. Edina does have a small Engineering operation in Australia and with EESL's assistance we hope to expand this further. I've had the good fortune in my career to have worked all over the world, and I know there are fantastic opportunities for us, which is why I would like to see Edina take a more international role to share our solutions with other countries.
"Aside from that, we are going to keep doing what we're doing, and continue to do it well. I believe that there is still a huge amount of untapped potential in this business, and I'm excited to see it grow," Hugh concludes. EDINA
Edina
www.edina.eu
Services: Combined heat and power plants specialist, gas engines, and battery energy storage