Award winners
Engro Vopak Terminal is the only state-of-the-art integrated Chemical and LPG terminal in Pakistan providing complete handling services from jetty handling to trucking and product delivery through dedicated pipe line to industry directly. A breakthrough in chemical and LPG storage, Engro Vopak Terminal Limited, is a joint venture between Royal Vopak of The Netherlands and Engro Corporation Limited of Pakistan. The joining of the largest storage and terminal service provider of chemical, oil and gas products in the world and Pakistan's most diversified business group
has resulted in the continuing provision of world class service to the growing chemical and petrochemical industry of Pakistan since 1997. Currently, Engro Vopak Terminal handles 70 per cent of the bulk chemical import market and 55 per cent of the LPG import market in Pakistan.
Engro Vopak Terminal stands out among its competitors active in chemical handling and storage areas based on two key aspects, Service Quality and Safety, Health and Environment (SHE). Engro Vopak Terminal has accomplished safe operation for the last 19 years without a single lost work injury and has maintained safety and quality as per international standards of OHSAS 18001, ISO 9001, ISO 14001, CDI-T, THA and ISPS. Training courses are conducted on a regular basis and staff is also provided with training and networking opportunities with Vopak's overseas terminals. Weekly firefighting and quarterly foam drills are conducted to ensure effective training of all operations staff at the terminal.
Another way that Engro Vopak terminal maintains its focus on quality is by conducting global surveys, and its annual high scores and impressive ratings in these are a testament to the company's success. A prime example of this type of exercise was completed as recently as January 2017, when the organisation finished a five day Terminal Health Assessment (THA). The audit included around 2300 questions covering every aspect of terminal operations. It achieved an impressive 98 per cent, the highest score achieved within the 67 Vopak Global terminals to date. "This number means much more than a mere routine achievement to us, that we are operating a terminal in Pakistan which is being ranked one of the best facilities in terms of safety & its operations even in the world of Vopak," says the CEO Syed Muhammad Ali.
Furthermore Engro Vopak Terminal recently won the Vopak Global Service Excellence award among all Vopak terminals across the globe representing its commitment to customer service and quality. The company also secured 3rd position in 2013 and 2nd position in 2011 in Vopak Global SHE award and VAS Vopak Gold Award in 2010 – the steady stream of wins clearly illustrates the continuous improvement and adherence to strict levels of quality at the Terminal.
Engro Vopak Terminal takes its CSR initiative seriously and is actively involved in community investment and activities related to corporate philanthropy. Over the years it has supported and encouraged social development initiatives in both the health care and education sectors. It was selected among 16 other Vopak terminals for a major CSR initiative 'WeConnect.' The Engro Vopak Terminal was selected for a joint venture with local partner Rabtt for setting up more than 200 summer camps for 13 to 16 year old children, from low-income governmental schools. Through this scheme, the children got the opportunity to explore their talents and abilities in an alternative-learning environment, personally engaging with the subject and their peers, and experiencing a new variety of topics and discussions.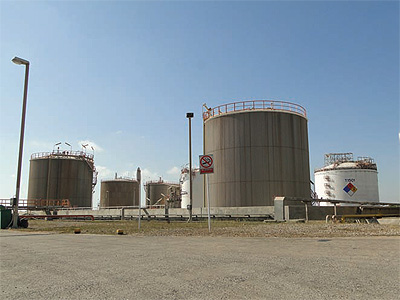 These sorts of awards also add value when it comes to working with blue chip names such as ICI Pakistan Limited, Lotte Chemical, Fauji Fertilizer Bin Qasim Limited, Engro Polymer & Chemicals Limited, Novatex Limited & other private companies – however, meeting their needs also requires expansion, continuous improvement and development, and the Terminal's rising handling of volumes is testament to its growth strategy. "We handled 1.4 million tons of bulk chemical and LPG in 2016," confirmed Ali.Additionally Engro Vopak Terminal successfully expanded its LPG storage capacity back in 2012 with a total storage capacity standing at 82,400 cubic metres. To date 100 million USD has been invested into the terminal.
In addition to expansion of its own infrastructure Engro Vopak has enabled key investments in Pakistan through infrastructure support and access arrangements. A recent example is Pakistan's first and only LNG import terminal wherein Engro Vopak Terminal enabled its development via infrastructure access and development services. The total terminal handling capacity of LNG is 4.5 MPTA, which has reduced the Natural Gas demand supply gap by about 20 per cent.
Due to the energy situation in Pakistan, Engro Vopak Terminal views energy commodities as a core growth area for the future. In addition, in line with its previous business strategy that identifies key markets, Engro Vopak Terminal will go beyond its role as a services provider to facilitate market development and bulk imports.
As the Engro Vopak Terminal enters 2017 the company expects to increase growth. "Our growth is fuelled by our passion for excellence and we are currently pursuing investment opportunities in the energy sector of Pakistan," concluded Ali.
Engro Vopak Terminal
Services: Chemical and Gas storage terminal service provider