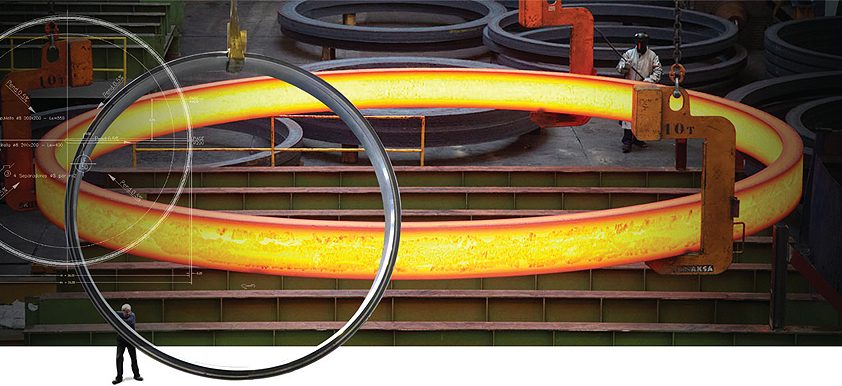 Super forging
With manufacturing roots dating back to the early 1970s, Euskal Forging first entered into the field of ring-rolling operations during the 1980s. The company originally operated with a single manufacturing plant capable of producing seamless rolled rings of up to 1.5 metres and 400 kilograms, before gradually increasing its range to as high as 10.2 metres and 80 tonnes by 2015. As of 2016 euskalforging operates from three different locations throughout Northern Spain, encompassing 47,000m2 of manufacturing space. The company maintains five efficient ring-rolling machines across its manufacturing sites that enable euskalforging to offer one of the broadest ranges of rolled rings in the world, extending from four hundred milimetres to ten metres in outer diameter and from 30 kilos to 80 tonnes.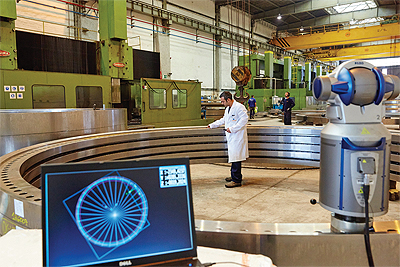 Since the company was previously profiled in Energy, Oil & Gas magazine during July 2015, euskalforging has fully completed the commission of its fifth rolling machine, which was ordered from SMS Meer in September 2013 to help the company to continue to meet the ever-increasing demands for larger rings across a range of industry applications. "During the past 12 months euskalforging has worked to consolidate its previous investments and all of them are now fully operational. The company has also installed two new additional lathes, one of which is capable of machining rings up to ten metres of outer diameter while the second has a capacity of up to 12 metres outer diameter. With these new lathes euskalforging has been able to increase its turning capability by 15 per cent and faces the future with great solvency," reveals a representative from the company. "From a customer point of view the company has been approved by Sumitomo to supply large rings of up to ten metres for their coke drums and has won several offshore wind projects to supply the flanges for the foundations of sites such as Dudgeon, Wikinger, Hywind and Galloper among others."
Within the oil and gas industry, euskalforging supplies seamless rolled rings that can have multiple applications depending on the level of added value requested. In this area the company provides a one-stop-shop solution where added value is provided in the way of machining, gear cutting, induction hardening or welding Indeed, the company is focused on delivering anything that the customer may need to save time and money to avoid costly and difficult transportation from one subcontractor to another. Additionally, the company is heavily involved in the energy sectors, including the offshore and onshore wind, nuclear, oil and gas, hydropower and tidal industries. The company's proven track record in the energy market has recently allowed euskalforging to earn Siemens' approval for use in the firm's steam turbines. The industrial turbines are typically employed in power generation plants, with outer ring dimensions varying from as little as four hundred milimetres and up to three metres.
"This is an important milestone for euskalforging as it positions the company as a key supplier of seamless rolled rings in the energy sector, while strengthening its presence in the turbine market
and further developing its business relationship with a leading OEM," euskalforging comments. "The qualification from Siemens was the result of a one-and-half year collaboration between the two companies and focused on different types of medium alloy grades and stainless steels with the possibility to increase the grade portfolio with further qualifications for superalloys in the future."
Further to its activities within the energy market, euskalforging is also heavily involved in other markets such as defence, mining, cement, power transmission, marine, food processing and capital goods.
Additionally the company has further developed its position as a supplier of seamless rolled rings in titanium and superalloys. This has been the result of a process beginning several years ago in which euskalforging began a programme to develop its capability in the delivery of rolled rings manufactured using superalloys. During this process the company's engineering team grew accordingly to support the business, while euskalforging invested in tooling and stock for several grades including alloy 718 and 625. Several trial rings were also produced to fulfil some of the most demanding specifications in different sectors such as oil and gas, while EN9100 certification was also achieved for the aerospace industry.
By operating within a broad application base, euskalforging is able to remain strong while the manufacturing industry continues to face a global downturn. Its continued investment into the provision of value added services and new products using supperalloys has also enabled euskalforging to increase its market position, as a company spokesperson concludes: "Unfortunately 2016 has not represented the recovery year that was initially anticipated, as many of the challenges reported in 2015 remain and the low oil price is not making it any easier. However, euskalforging faces the future with firm investments that position the company at the forefront of the market and the company is developing constantly into new and growing markets, both geographically as well as into new applications. In the offshore wind sector for example, the company continues as an industry leader when it comes to flanges for the foundations with a big market share and we will continue to look into new areas."
Euskal Forging
Services: Manufacturer of seamless rolled rings and free forged parts