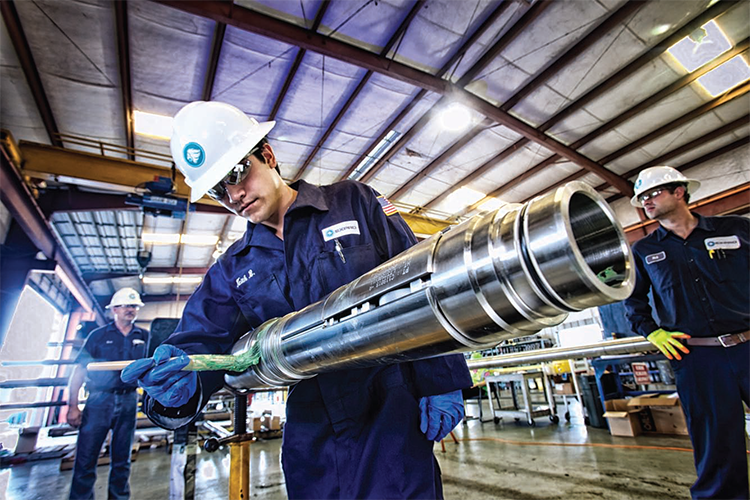 Expro Middle East & North Africa
Welling up
With a mission to deliver high quality well flow management to the oil and gas industry; Expro uses its 40 years of experience to offer custom-made solutions for its global customer base.
Originally headquartered in the UK, the company has expanded and now has six regional head offices around the world. With 5000 employees across 50 countries, Expro offers a truly global service. Operating internationally and developing close working relationships locally, Expro confidently offers its customers a highly personalised, knowledgeable and competent solution to meet the most challenging of requests anywhere in the world.
"Expro started in 1973 as a well testing company based in Great Yarmouth in the UK; once the company expanded into well flow management we began offering services such as metering, sampling and analysis as well as slickline, drill stem testing (DST)/tubing conveyed perforating systems (TCP) and cased hole services across the Middle East," says Hussein Elsisi, business development manager for Expro Middle East & North Africa. "Our six headquarters represent each continent, with offices in South America, North America, Europe CIS, Southern South Africa, the Middle East/North African region and Asia. We like to be in close proximity to our customers so they feel comfortable and confident with our abilities to attend to their requirements."
Highly trained personnel are a necessity for operating safely in any environment in the oil and gas industry. To support evolving client needs while also ensuring it is in an excellent position for ongoing growth, Expro is committed to the development of its staff through employee and management development programmes. "Training is something at the core of our company focus, benefiting Expro's growth as a whole. We have a strong workforce with a breadth of highly skilled staff," says Hussein.
Today, one of the leading companies in the world for well testing expertise, the global business offers customers a comprehensive range of tailor-made, high quality solutions. Expro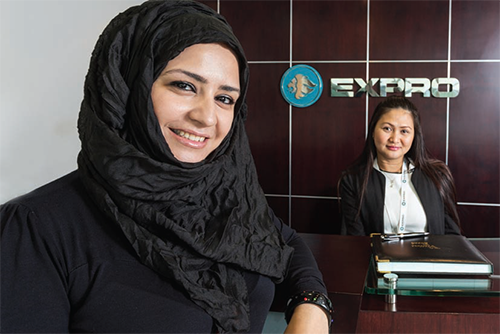 provides a range of products and services across six areas of capability including: explorations and appraisal testing, subsea safety systems, drilling and completion, flowback and clean-up, production and well integrity, and intervention. Services include surface well testing, data services, flarestack services, clean-up packages, flow back packages and extended well testing (EWT).
Across the world, Expro provides its customers with well testing services that cover exploration and appraisal testing, development well clean-up and unloading and in-line production testing. On top of these standard packages, the flexible firm's dedicated and highly skilled engineering team provide custom-made solutions for extended well tests, limited flow tests and high flow rate tests.
Often based in remote and harsh environments with difficult operating conditions, extended well testing projects are used to generate and boost cash flow from production before a permanent production facility is brought online. The substantial reservoir information provided from the service can then be used to evaluate the reservoir in real time, establish its behaviour, assess productivity and commercial benefits of an oilfield, and determine a field development plan of action.
Offering a complete well test package, Expro integrates its versatile test packages, subsea systems and DST capabilities with onsite fluid analysis, data acquisition and metering services to provide customers comprehensive support throughout well test projects. Operating in this manner has led to the company witnessing significant growth in the Middle East over recent years, as Hussein states: "North Africa and the Middle East has been a two speed market for us over the last 12 months, which is due to political issues in North Africa causing slow growth. The market here is not as bullish as the Gulf Sea; however, following a number of contract wins our market in the Middle East has significantly grown. Over the next year, we anticipate Algeria to move past its issues and for Expro to expand in this market, and for the Middle East and North African region to grow overall."
As the oil and gas industry moves into deeper waters and more extreme locations, Expro has invested in the field of DST to meet the demands of both existing and emerging markets. Using a dedicated DST engineering team that is guided by experienced DST professionals, Expro develops in-house tools with wholly safe functionality and increased efficiency to meet a well test project's unique objectives. For example, the company's ExACT (Expro Annulus-Operated Circulating and Test) tool combines the functionality of a downhole shut-in ball valve and a multi-cycle circulating valve for well kill operations. Furthermore, its state-of-the-art Self Fill-Tubing Test Valve (SF-TTV) has a unique, patented, bi-directional tubing-to-tubing bypass, which results in the debris tolerant flapper never leaving its seat, and being unable to wash out.
One area of the business to witness massive growth over the last two years in the Middle East is Expro's DST services, with which the firm has vast operational experience from the successful completion of over 400 DST jobs in more than 20 countries across the globe. Using specified tools, rated to 15,000 psi and 350 degrees Fahrenheit, the company has 25 years experience of successfully providing solutions to major oil and gas firms such as Shell, Total, BP and Texaco. Furthermore, by adding ultra modern new-generation DST tools to its product portfolio, Expro is capable of providing integrated solutions during the explorations and appraisal phase of any well, regardless of its environment.
Following a successful 2013, the future looks positive for Expro as it continues its focus on the Middle East and North Africa, specifically developing its burgeoning interests in Oman and Iraq. "We began operations in Oman in 2013 and expanded in Qatar earlier in 2014; we will also hope to establish business in Kurdistan in 2014. We strive for profitable growth; next year we will focus on Kurdistan, Saudi Arabia and Algeria. Looking further ahead we will continue to build on our brand for excellent service quality and reliability while also trying to grow organically," concludes Hussein.
Expro Middle East & North Africa
Services: Well flow management