Late-life leaders
Discovered in 1973 and situated 195 kilometres northeast of Lerwick, Shetland in Scotland, the Dunlin oilfield served as an important contributor to the UK oil and gas industry for the best part of 40 years. During its lifetime, the Greater Dunlin Area was responsible for supporting thousands of jobs, contributing billions of pounds in tax revenues, and producing more than 522 million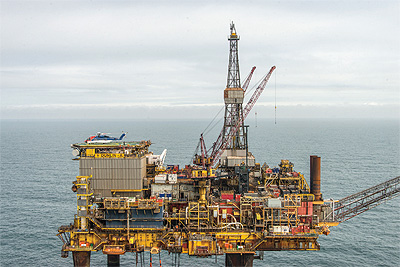 barrels of oil.
As the saying goes however, all good things must come to an end, and in more recent years attention has turned to the decommissioning of the Greater Dunlin Area. This is where Fairfield Energy has had a significant part to play. Originally established in 2005, it became the operator of the area in 2008, before assuming the Dunlin duty holder role to adopt full command and control in 2014.
"It was in 2015 that as a result of a combination of challenges, culminating in sub $40 oil, it was determined that Dunlin had reached Maximum Economic Recovery and that the most appropriate action was to cease production and begin the process of decommissioning. As you might imagine, this necessitated a change in direction for the organisation as we set about creating a new business model specialising in decommissioning activities, starting with Dunlin as a complex, multi-year project," explains Graeme Fergusson, Managing Director of Fairfield's parent company Decom Energy Limited.
Utilising experience
The sheer size and scope of the project is something to behold. "In terms of infrastructure, we have a 336,000-tonne concrete gravity base structure, 19,640 tonnes of topsides and a unique layout of steel transition that runs from eight metres below the surface," Graeme details. "In addition, we have a significant plugging and abandonment (P&A) campaign with 45 platform wells and two subsea satellite fields with 16 wells, and a number of subsea infrastructure and topsides removal tasks to complete."
So what made Fairfield best-placed to carry out this gargantuan undertaking? "It was our extensive asset knowledge, coupled with the experience and skills of the workforce, that made it logical that we should manage and execute the project ourselves," Graeme reveals. "Having spent almost ten years operating an asset with a large decommissioning liability, we had gained the technical, commercial and legal understanding to undertake the project. With the confidence that we could garner the required expertise in cradle-to-grave end-of-life operations, we knew that Fairfield was ideally positioned to take on the task in hand."
Graeme's confidence in Fairfield's abilities certainly appears to be wellfounded, with the project nearing the half way point. "To date we have completed 23 of the 45 platform wells, and 12 of the 16 subsea wells that make up the significant P&A programme." Having advised that it had also recently commenced the 45-day Public Consultation period for the Dunlin Alpha Decommissioning Programme, Graeme states that: "In the coming weeks, we will set about awarding the final material contract for topsides removal as we move towards our goal of plugging and abandoning all of the wells by early 2020, and on to topsides removal activity.
In-depth knowledge
"We credit our achievements to the time taken to carefully develop a management framework, including superior planning,delivery assurance processes and fit-forpurpose practices and procedures to meet the decommissioning challenge. From our observations, the industry requires an endto- end provider with in-depth knowledge of the many aspects of decommissioning, and we are filling that gap in the market with the expertise gained at Dunlin that presents a wide range of challenges."
Unique challenges
Underpinned by its mission to take a safety-assured, technically sound and costeffective approach to decommissioning, the company has also endeavoured to be as transparent as it possibly can by sharing its experiences and challenges. In doing so, it has built up strong relationships with the relevant authorities, regulatory bodies and stakeholders, as well as the industry's supply chain.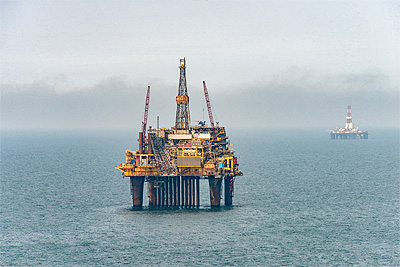 "Throughout the Dunlin project we have endeavoured to give the supply chain the opportunity to demonstrate its creativity and innovation, and to identify how this may be applied to the unique challenges of decommissioning," Graeme adds. "We like to think that we have opened the doors to other businesses through our work on Dunlin, with an example being the award of the first EPRD contract on a subsea basis to a consortium led by Aberdeen-based Bibby Offshore."
The priority for Fairfield remains the successful completion and delivery of the Dunlin project however, with the half-way milestone in its sights, it has witnessed a significant increase in interest from other operators looking to access its ultra-late life decommissioning services in the near future. For Graeme, this demand demonstrates that there is a gap in the market and signals a new phase in the lifecycle of offshore assets.
"We have all heard about the focused explorers, developers and producers active within the industry, as well as those latelife producers whose success is gleaned from extending production and thus deferring decommissioning," he says. "Where we believe we can carve out a niche is to the right of this latter category, where assets are so mature that, with little chance of material life extension, a total project management solution is best suited to facilitate responsible, cost-effective, efficient and safe decommissioning."
UK leading field
With this goal in mind, and with work on Dunlin continuing uninterrupted, Fairfield's parent Decom Energy is now working to secure the next contract on the UK Continental Shelf and as Graeme observes, this could just be the start. "For us there are some very obvious markets that will follow the UK's lead in this field. We have received calls from operators as far-afield as Australia and Brazil where planning has already started for their assets. This may be some way off, but success in the UK and beyond into global markets is a long-term goal that we are very excited about!"
Fairfield Energy
Greater Dunlin Area Decommissioning Project
Services: Oil and gas decommissioning