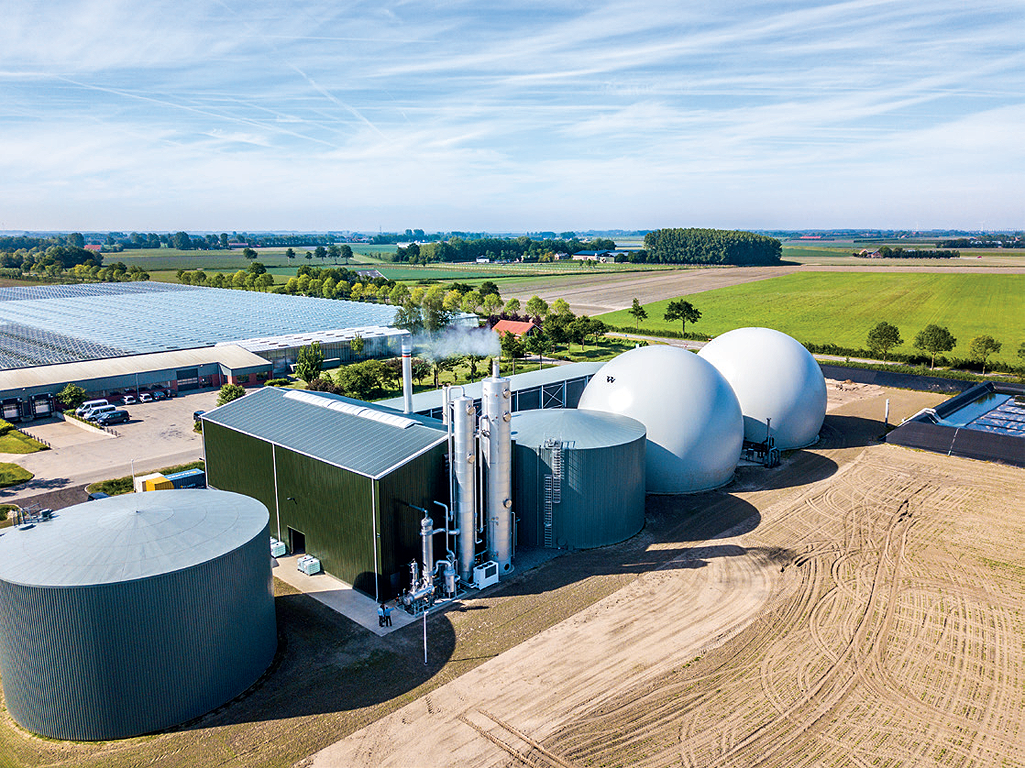 Renewable enthusiasm
Energizing the world since 1984, Frames Group started as a valve automation company, before quickly pivoting towards process equipment for the oil and gas industry. In the years that followed, the firm grew into a complete oil and gas solution provider, delivering a wide range of technologies, process packages, gas treatments, separators, hydraulics and pneumatics.
Building on its growing expertise, in 2010, Frames diversified its portfolio and launched Frames Renewables. Driven by Frames' belief in sustainability, the renewables business originally focused on biogas treatment and upgrading, before the company developed technology for CO2 applications, such as CO2 storage, CO2 capture and CO2 utilization. Specializing in the design and turnkey supply of installations for carbon capture and green gas generation, the company's most recent developments are centered around hydrogen.
"In summary, our company is split into two parts: the traditional oil and gas business and the renewables business," explains Frames' General Manager Jordi Zonneveld. "Our oil and gas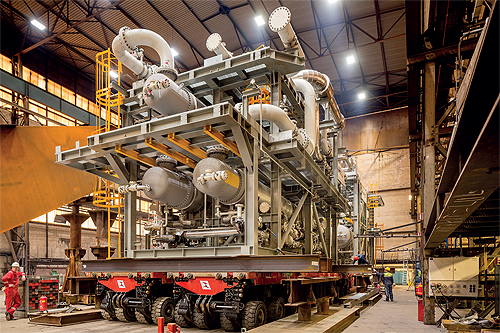 unit works on wellsite packages, so that revolves around all the equipment required on a wellsite, which, if needed, can be integrated into a single package for easy installation and operation. For example, we can deliver High Integrity Protection System (HIPS) packages, which are certified according to functional safety standards.
"Alongside those solutions," Jordi adds, "we can provide chemical injection packages, gas treatment and separator modules, as well as the renewable biogas, CO2 and hydrogen specialisms. Whichever side of the business you look at, we are designing and supplying equipment for the international energy industry. What we do is important, but how we do it makes the real difference. Whether you are searching for onshore, offshore or floater solutions, our teams will meet your demands."
In 2020, Frames completed work on a number of key projects. Back in May the company designed, constructed and co-operated with local partners to successfully install a triethylene glycol (TEG) regeneration system for a Nigerian offshore gas gathering and compression platform. Part of a debottlenecking program, the expanded gas dehydration capacity enabled the client with increased production from the offshore field.
In June of the same year, Frames supplied Hytech, a consulting and engineering services company, with ultra-compact electrostatic coalescers for the Shell Argentina Sierras Blancas/Cruz de Lorena shale oil development. Faced with site access comlimitations, Frames was able to reduce the size of the two skid-mounted desalters, while retaining its performance and enabling transportation to the remote site.
International network
Finally, rounding off the year, in November 2020, Frames supplied and successfully commissioned a hydrogen sulphide (H2S) removal unit to a refinery in Antwerp, Belgium. Based on Frames' proprietary LAMINOL® technology, the unit has a significantly lower cost of ownership than conventional caustic scrubbers and solid-bed-type H2S removal processes.
"Throughout every single project we take part in, we pride ourselves on a combination of quality, reliability and cost leadership. I think it shows in everything we do," Jordi asserts. "Quality and reliability are obligatory conditions when serving the oil and gas industry, but our efforts do not go unnoticed. We were recently awarded with a Level 5 certificate for our Functional Safety Management System (FSMS), which was actually the first Level 5 certificate for an FSMS at any organization in the world. It's just another indicator of the high-level quality and reliability that we stand for."
To support its global operations, Frames relies upon a network of international offices spanning multiple continents and located in areas as varied as the USA, Germany, India, Malaysia and Brazil. Headquartered in the Netherlands, the company's vast geographical footprint allows Frames to be close to its customers wherever they are based.
"Due to the nature of the services and products we offer, our projects often require a great deal of interaction with customers, so it's always good to be local and close to our clients," Jordi argues. "It also helps with our cost leadership because we can make use of our high value engineering in India, as well as fabrication systems and packages in Vietnam or China. It means we can do whatever is best for a project, whilst still maintaining quality and keeping costs down."
No matter how advanced or far-reaching the company's infrastructure is, Jordi maintains that Frames' true strength lies in its workforce. This philosophy has proved especially true over the course of the last 12 months as the company, and the wider industry, battled the obstacles presented by Covid-19.
"People are so immensely important to us," Jordi declares. "In the sector we're in, you cannot rely wholly upon systems, processes and machinery; it's people that make the difference in the end.
"At Frames, we have always celebrated our flat and flexible organizational structure, with a governance model based on Holacracy," Jordi states. "We communicate very well internally, and since Covid-19 hit, we have adopted a number of tools and techniques from the digital industry to help us conduct team meetings and things like that. Our success over the last year or so is symbolic of how well we work together as a group.
"Before the pandemic, we often had Friday afternoon drinks and similar bonding activities, and that really paid off when times got tough last year. More recently, we've started a volunteering policy which allows employees to do some volunteering during work time. It's all about giving back and coming together as a team."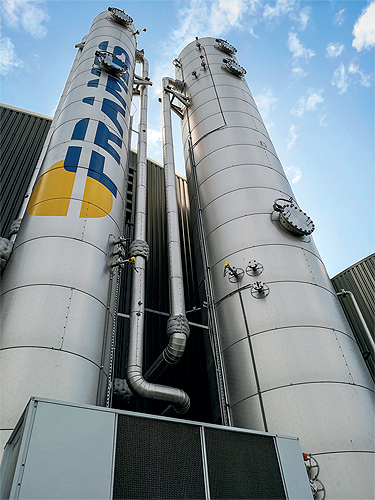 New acquisition
Committed to growing the business, Frames kicked off 2021 with the acquisition of a 50 per cent ownership stake in Twinning Energy BV. As companies with long-standing reputations in the hydrogen sector, Frames and Twinning hope the partnership can lead to the introduction of more hydrogen mobility solutions, including local, green hydrogen generation options.
"I was very heavily involved in the Twinning acquisition," Jordi reveals. "We have always served the big industrial players, but with the purchase of Twinning, we'll be able to get more access to small and medium enterprises looking to make their operations more sustainable.
"Twinning Energy is a company that provides total mobility solutions based on hydrogen. For example, when a small to medium enterprise with a fleet of cars wants to de-carbonize part of its operation, Twinning can deliver a total solution for that client that might include hydrogen vehicles, refueling equipment, the requisite permits, and gas supply.
"We want to position Frames not only as a supplier for the oil and gas industry, but for the complete renewables sector. The Twinning acquisition will help with that, and it ties in nicely with the launch of our new renewables website."
As Jordi suggests, Frames recently launched a brand-new website for its renewables operation in an attempt to help the company reach even more new clients. Gathering speed over the last six months, Frames Renewables has completed a host of significant projects lately, including the delivery of a hydrogen electrolyzer to Plug Power in October 2020.
A vital link
The renewables business has continued to find success in 2021. In February this year, Frames completed the installation of infrastructure at a hydrogen refueling station at Green Planet in Pesse, the Netherlands. Additional services, such as strength and leak testing, pre-commissioning, purging and drying were also performed to the full satisfaction of the inspecting authorities.
Renowned for its design and delivery of plug and play systems and packages, Frames Renewables is also proud to offer a full-service team for the completion of fieldworks. With all the tools, skills and competencies in-house for the successful installation of high-pressure renewable gas lines, utilities and cabling, Frames can now confidently take on any challenge involving the reduction of CO2, a switch to sustainable applications or the transformation of waste into value.
Safe, efficient, and proactive in its work, Frames expects demand for its turnkey renewables solutions to continue growing in the coming years as sustainable alternatives become an increasingly vital part of the oil and gas sector. Benefitting from its global coverage and reputation for reliable quality, the company remains a vital link between well and pipeline for customers the world over.
"In the short term, we really hope that we can recover from Covid-19 as a society and get back to normal as soon as possible. At the same time, I think there are quite a lot of lessons we can learn from this pandemic, including the ability to work from home, which has proved to be really successful in the last year," Jordi says. "If we are talking about the next three to five years, we want to keep our oil and gas operations more or less stable. We don't anticipate scaling those activities down, but we do expect a scaling up of our renewables work. We are seeing more and more interest from new clients, as well as from traditional customers in the oil and gas sector. Almost all of them are developing, orientating, investigating and even investing in these renewable developments, and that is really good news for the future of Frames."
Frames Group
www.frames-group.com
Services: Renewable energy and water solutions, separation technologies, and oil and gas processing equipment