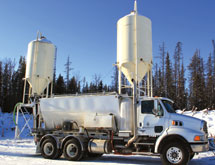 GroundForce geoDrilling Solutions Inc.
David A. Hawkins and Rodney N. Tetreault had been working in the oil and gas industry for more than 20 years, when, in 2010, they teamed up due to their interest in the oil sands drilling market. They were hesitant to expand in that sector because of its cyclical nature, but they realized they could keep their equipment busy year-round if they also provided drilling services to the conventional oil and gas, mining and geothermal industries. This strategy, combined with their "six-step process for success," led to Hawkins and Tetreault's launch of GroundForce geoDrilling Solutions Inc. in 2010, and the company has grown steadily ever since.
Based in Calgary, GroundForce geoDrilling serves the oil and gas, mining and construction markets, backed by the many years of management expertise Hawkins, Tetreault and their associates have gained in the oil and gas industry. Hawkins is the company's CEO and CFO, and Tetreault is its president and COO.
"Not only do we know what we're doing from the operator side, but we also can design a full drilling program that involves best practices in HSE [health, safety and the environment], subsurface elements, dirt management, etc.," Tetreault explains. "We strive to provide our customers with a turnkey surface program."
Six Steps
Using best practices learned from its oilfield processes for mobilization, productivity, environmental impact, safety and accountability, GroundForce geoDrilling operates in a way that has "not been seen in other industries before," Tetreault says. To ensure the company maintains the highest operational standards in all facets of its business, it developed a six-step process for success:
Safety – The company combined safety policies and procedures from industrial standards with the rules created in alignment with the Energy Resources Conservation Board, Canadian Association of Oilwell Drilling Contractors, ENFORM (the safety association for Canada's upstream oil and gas industry) and ISN Networld. GroundForce geoDrilling also creates comprehensive site-specific safety programs that involve regular meetings, hazard assessment and extensive reporting.
Predrilling site assessment – GroundForce geoDrilling provides a complete job-site analysis to critically examine all aspects of the drilling process. These include access to site mobilization, environmental controls, specific site safety protocols, drilling waste management protocols, material handling, production monitoring and quality control and exit mobilization.
On-site project management – GroundForce geoDrilling's own project manager works with the construction site manager to understand individual responsibilities and develop realistic timeline expectations. The company has dedicated site supervisors, establishes communication protocols, determines borehole placements, provides daily safety meetings and reports, provides waste management controls, determines equipment maintenance schedules to reduce downtime and schedules grouting.
Team approach – GroundForce geoDrilling aligns with its customers to produce the safest most efficient approach to its drilling operations.
Crews – Tetreault explains all of GroundForce geoDrilling's drillers are certified with extensive experience and knowledge and have the "highest level of safety training in the industry." Each crew also provides engineered evaluation, planning and execution of their responsibilities, as well as direct on-site supervision and professional project management. He notes the company's crews also work as a team, "with the highest-possible work ethic."
Equipment – GroundForce geoDrilling has its own fleet of high-production drilling platforms, has engineered a drilling process for efficiency and safety, and provides on-site equipment safety inspection and maintenance schedules.
Tetreault explains these steps have ensured GroundForce geoDrilling's consistent growth because it started in 2010 with three rigs and now operates 12 rigs as well as a cementing unit.
"Our motto is 'don't rush, do it right,'" he says. "In some of the markets we serve – outside of oil and gas – the best practices aren't as developed yet, especially in HSE, and that is very important to us. For each project, we don't rush, we come up with a plan and we perform maintenance and upgrades to the equipment all the time to ensure we don't lose any time.
"Efficiency in the field comes from a safe rig, and we've found that the farther we automate our equipment, the less handling that's required."
A Lot to Offer
Some of GroundForce geoDrilling's recent projects include major programs with significant operators in the Alberta oil sands, as well as work with a major potash mining company. Tetreault explains GroundForce geoDrilling's comprehensive HSE program got it the job with the potash company.
"Our culture helped us win that job – our HSE program is so strong because our people are very passionate about what they do," he says. "We spent six months going through paperwork, the qualification process and making modifications to our equipment, but it was well worth it in the end.
"Our culture on the HSE side is very strong – we've done a lot to develop that and we are very proud of how much our people have excelled," he adds. "We have no lost-time incidents, which is huge. It is a great record, but it's also helped us attract great people – we have been operating during the peak season without shutting down a rig because of a manpower shortage, and that is a huge benefit to our clients."
GroundForce geoDrilling has been seeing more opportunities in the potash and overall mining markets, he notes, as well as the oil and gas sector. He believes the company is well-suited for any new venture that comes its way.
"The potash work has been great – we want attention in that industry and we feel ideally suited for work in that type of market," he says. "We have a diversified fleet of rigs so we can definitely expand where we work."
Tetreault explains that he sees an increased level of growth for GroundForce geoDrilling in the near future. It may possibly expand into offering rental equipment and rental supplies for other types of energy services.
As long as GroundForce geoDrilling can support its new ventures and the new areas have good profit margins, the company will explore them.
"We are looking into the potash market in southeastern Saskatchewan, as well as other resource plays in Montana and South and North Dakota," he says. "However, our geoexchange side of the business also is growing, and we plan to keep up with that. We have a regional office in Vancouver but might add another office in the Yukon Territory this year if the geoexchange market continues to look promising. We're keen to show we're not just an oil and gas company – we've evolved to eliminate the cyclical nature of our business, and we have a lot to offer." EMI