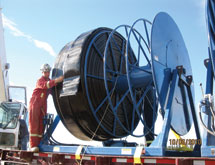 Most people don't know much about hoses beyond watering lawns. But hoses are used in many applications. Hose Solutions Inc. knows every way to use a hose.
Hose Solutions strives to be exactly what its name implies: a solutions provider for all hose and pipe-related situations. It manufactures and sells specialized hoses made of state-of-the-art materials and by cutting-edge manufacturing techniques.
"We have been into weaving since the 1880s," President Nicolas Steverlynck says. "We always look to innovate."
Diverse Applications
Hose Solutions has been in the United States since 2001. It is part of the Hose Manufacturers (Pty) Ltd. family, an organization headquartered in South Africa. The company has established close ties with suppliers and customers.
The company's product line includes flexible drop pipe, mining hoses, fuel transfer hoses, sludge hoses, industrial hoses, snow hoses, agriculture hoses, fire hoses and emergency deployment Supaflex hose. Products are used by many industries and end-users.
"Our products are lay-flat hoses," Steverlynck says. "Mining, potable water and oil and gas are all big for us. Everything is made in Cape Town."
When the company entered North America, it became known for its Boreline product. Companies in the Canadian mining market began relying on it for surface dewatering applications. From there, the company developed its Mineflex high-pressure dewatering hose.
"That is mainly used in open pit mines to move a lot of water around," Steverlynck says. "We've developed systems that allow clients to deploy one to two kilometers of hose from the back of a truck."
Always Learning
Hose Solutions regularly looks to improve internally while engaging in product and service development initiatives. Everything starts by getting face time with clients and studying markets to determine where problems can be solved.
"We connect with clients and stay up on our industries, attending shows and exhibitions that help us come up with ideas," Steverlynck says. "This includes making a high-pressure lay-flat using Aramid technology. We like to try new fittings and design, engage in trialing and R&D and conduct physical testing. Everything we do helps us learn."
Whenever the company invests in manufacturing, it makes sure machinery can serve more than one market. It tests all hoses for quality before they go out to clients and looks for ways to speed that process without hurting quality. Hose Solutions and its parent company also invest in workforce development, sending employees to training in the United States and abroad. In addition, the company has invested in expanding storage capacity to ensure ample inventory.
"Everything comes back to understanding what the customers want," Steverlynck says. "Certain markets are active right now. When markets are active, we ramp up production while also being aware of the market volatility."
When it comes to looking for solutions or skills the company may not possess internally, Hose Solutions prefers partnerships to acquisitions. Steverlynck says forming partnerships or joint ventures can be successful when two good companies are motivated by working together for mutual benefit.
The main challenges for Hose Solutions now are keeping product moving and ensuring high quality. While some may focus on getting product out as fast as possible, Hose Solutions takes a cautious, quality-driven approach to product development.
The company is used to working with a focus on the long term. It believes the oil and natural gas markets will be busy in the next few years because the industry will see hose products as a viable alternative to aluminum pipe and high-density polyethylene pipe.
"I see many markets moving toward lay-flat hose," Steverlynck explains. "As that happens, we won't be pressured to just look at the bottom line. A 100 percent focus on quality is the path to long-term success." EMI