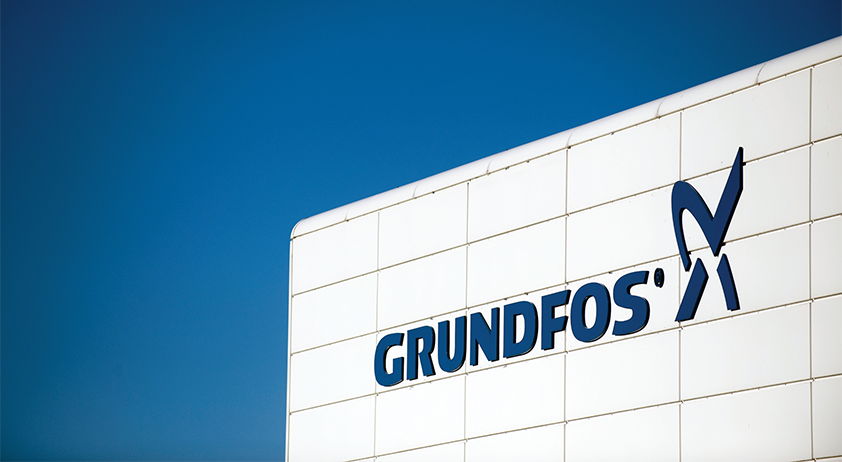 Making a saving at sea
An annual production of more than 16 million pump units puts Grundfos at the top of the world's pump manufacturers.
Established in 1945, Grundfos continues to operate out of the small town in Denmark where it was founded, yet has a reach that extends much further with representation by more than 80 companies in over 55 countries. In addition, Grundfos' products are sold in numerous countries through local distributors.
The company's main products are circulator pumps for heating and air-conditioning, with Grundfos covering approximately 50 per cent of the global market. Other core products include centrifugal pumps for industry, water supply and wastewater, dosing and sanitary pumps, standard and submersible motors, and state-of-the-art electronics for monitoring and controlling pumps.
Traditionally Grundfos has been working in the commercial and domestic building sectors, but in 2007 took a strategic decision to enter the commercial marine and offshore market. "We have quite a long record with regards to selling pumps into the original equipment manufacturers (OEM) that produce modules for the offshore and oil and gas sectors, such as water supply units and fire fighting systems. We are now looking at working more directly in these markets and transferring the expertise we have built up in our other areas," describes business development manager Jon Berggren.
"One example is in energy saving. Land-based industries have been under pressure of highenergy prices for some time. The commercial marine and oil and gas sectors have been less concerned with these matters, since they have traditionally been using the cheaper heavy fuel oils. With new emissions regulations coming intoforce, however, energy consumption is becoming a greater consideration. Likewise, with flat rates for shipping still depressed and oil prices rising, some ship owners are struggling to make a profit. That's another factor driving the development of energy-saving solutions," he continues.
In response to these concerns, Grundfos has taken a proven technology from the commercial building sector and introduced it to the marine market for the optimisation and control of pump systems. "We already pride ourselves on the efficiency of our pumps, which is partly through the fact that we design each piece as a complete unit, but another factor is how we control that system itself. As such, it is not only about the pump as a product, but actually looking at it as a system and how this should be operated for the best results," notes Jon.
A test model of this new control system has recently been implemented on a large bulk container vessel operated by Lauritzen, with Grundfos predicting significant savings to be generated. Talking through the technology in more detail, Jon highlights the principles behind the system: "If you take the main cooling system application on a rig or vessel, traditionally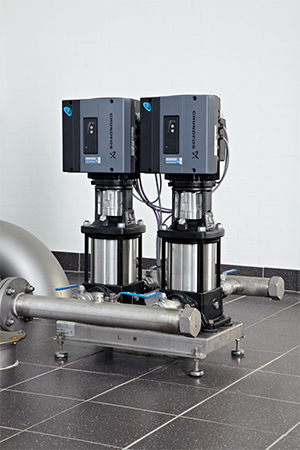 these pumps are operating at 100 per cent load even when the system itself is operating at a lower output. Therefore, by introducing variable speed drives on the pumps, a lot of energy can be saved. Furthermore, due to rules and regulations, main cooling systems are based to operate on a seawater temperature of 32°C and 100 per cent load on the auxiliary and main engines. There are very few places in the world where the water is actually at that temperature. Further, the ship may only use 60 per cent load on average on main and auxiliary engines over one year.
"If you take the waters in Northern Europe in the winter, these may be below 10°C, which means you don't need as much flow in order to have the same cooling effect as you would on waters of 32°C. This in turn means the pumps can be slowed down and subsequently use less energy. By integrating a temperature sensor and frequency drive into our pump system we can ensure that as the temperature of the water drops, so does the amount of energy drawn by the system.
In addition to the Lauritzen vessel, we also carried out another case study on a 4700 TEU container vessel, where we found that the cost of energy used to operate the cooling pumps alone fell from approximately $300,000 a year to just $50,000. Therefore by using our new control system, owners can see significant savings of up to 60 per cent on the operation of the main cooling system," he says.
Spurred on by this success, Grundfos is now heavily promoting its new solution to the offshore shipyards, as well as commercial marine users, rig and ship owners. "In the long-term, we aim to become a recognised player in the commercial marine sector, and from there, move further into offshore oil and gas as well," describes Jon.
"We take a long-term view in our strategies and as such are very focused in becoming a known and recognised player in these markets over the coming years," he concludes.
Grundfos
Products: Pumps and pump solutions