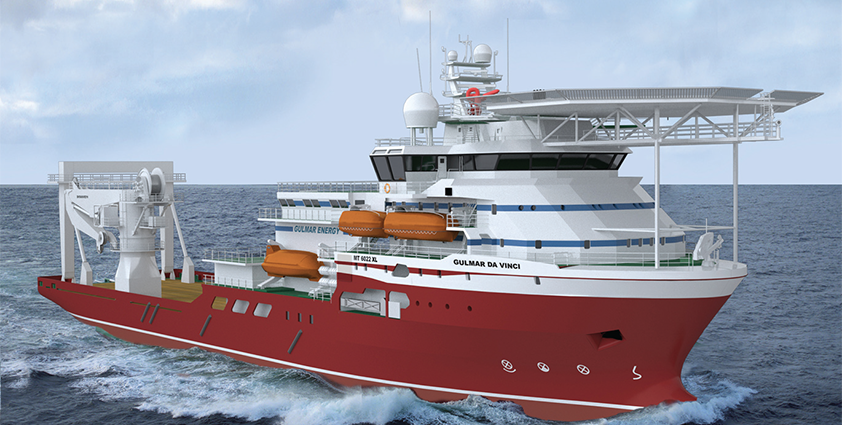 Gulmar Offshore Middle East LLC
Under the sea
With an operational scope encompassing the deepest waters of the Middle East, South East Asia, Africa and the Gulf of Mexico, Gulmar Offshore is a leading Middle Eastern and Asian contractor specialised in subsea services.
Since its creation in 1998, Gulmar has provided engineering, construction, geophysical and geotechnical surveys, pipeline stabilisation/maintenance and repair, cable installation, pipeline and cable trenching, offshore maintenance and commissioning services.
The company's influence is truly international, with operations in the Middle East, India, South East Asia, the Caribbean, the Gulf of Mexico, Tunisia, Venezuela, Bahrain, Singapore, Korea, Saudi Arabia, Oman, Kuwait and the US. The Gulmar Group of companies is led by a team of experts, including previous employees of prominent and renowned offshore contractors, and has grown considerably over the past decade. It has developed its skills to the extent that Gulmar currently possesses a reputation for innovation and professionalism, making the firm one of the market leaders in underwater technology in respect of its areas of expertise.
Gulmar maintains ISO-9001, 14001 and 18001 for its work, as well as ISM certification for all its fleet. The four dynamic positioning vessels – Gulmar Condor, Gulmar Falcon, Gulmar Eagle and Gulmar Badaro – it owns and operates are integral to its continued success. In light of the fact the oil and gas sector has remained mostly buoyant during the global economic crisis, Gulmar also will have two new build DP2 DSV vessels of MT-6022 XL Type called Gulmar Atlantis and Gulmar Da Vinci delivered in the first quarter of 2010, in January and May. Additionally, Gulmar has put an option on a DP2 lay barge to be delivered in the first quarter of 2010.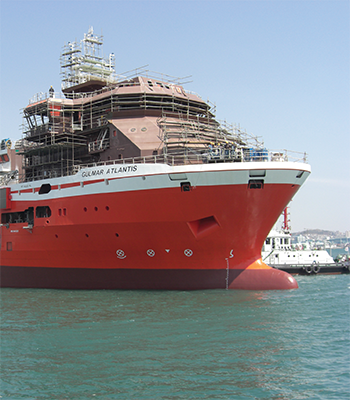 The two new dive support vessels are under construction at Hanjin Heavy Industries & Construction Co. Ltd, a Korean shipyard. Each is 115 metres by seven metres and equipped with an 18-man built-in saturation system, two three-man diving bells, two 18-man hyperbaric lifeboats and one 140T AHC subsea knuckleboom.
To keep up with the challenging offshore industry, Gulmar has its own well-established marine department managing and maintaining this fleet of sophisticated vessels. The department is charged with keeping the ships at the highest operational standards in full compliance with all applicable marine international rules and offshore industry regulations.
Gulmar, which has 500 employees, has mobilised its management team, technical specialists and support staff in a constant effort to implement the provisions outlined in the integrated management system. It assesses its effectiveness and ensures ongoing feedback in order for the system to evolve in line with the Group's objectives and the clients' best interests alike. Gulmar has a client base that from time to time has included Total, PdVSA, Statoil, Maersk Oil Qatar, Hyundai Heavy Industries, IOOC, IOEC, Aker Solution, British Gas, Saipem and Petroleum Development Oman LLC.
Examples of Gulmar's projects include various types of work such as:
Pipeline ROV inspection from shore to Yadana Field for Total Fina Elf in 2000 in South East Asia.
Salvage operations following cyclone damage in the Gulf of Mexico in 2006 and 2007 for various clients using Gulmar Falcon with built in Saturation System for deep diving as well as Gulmar Condor
Freespan correction, spool tie-ins and precommissioning in South Pars Field in the Middle East for Saipem in 2004 and for Statoil in a period from 2007 to 2009
Pipeline repairs and installation of small size risers and gas/oil lines in Lake Maracaibo for PdVSA using DP2 Airdiving Support Vessel Gulmar Eagle during 2008 and 2009
Accommodation supports using Gulmar 66 Badaro for British Gas in Tunisia and Aker Solution in Italy during 2008 and 2009
Based in Sharjah in the United Arab Emirates, 66 where it boasts an independent storage, maintenance and fabrication yard area of 8000 square metres, Gulmar possesses diving capabilities
including saturation, surface air and surface mixed gas/nitrox diving for underwater tasks, such as heavy construction, wet welding, jetting, burial and trenching.
The organisation's diving systems and procedures endeavour to meet Norsok, HSE and IMCA regulations and guidance. Accordingly, the company has a sound reputation for providing quality diving technical personnel and equipment, and for its excellent reporting procedures.
In terms of other specialisations, an area in which Gulmar is prevalent is subsea stabilisation and protection works. Its activities as part of this include pipeline anchoring and subsea module anchoring/protection, and pipeline free span corrections using textile grout bags monitored by divers or work class ROVs operated from the dive support vessel. It can also correct high spans with mechanical anchors, offering long-term stabilisation solutions, and provide flexibility to regulate strain and stress in the pipeline, as well as other alternatives. These include stabilisation mattresses, tunnel blocks, shock absorbing systems, rock dumping, post trenching techniques or anti scouring systems.
Pipeline and cable installation is another of Gulmar's strong points, as is offshore platforms and related works; the latter of which involves the company undertaking abandonment works; anode retrofit; NDT and structural inspection; riser, subsea valve skid and manifold installation; structural modification and subsea repair; and pipeline, cable and umbilical tie-in and protection systems.
In addition, Gulmar boasts in-depth knowledge of offloading and mooring systems and the business' pipeline connection know-how extends to emergency pipeline repair, cold tapping and line isolation, and flanged and automatic connection. For shore approach and coastal works, Gulmar carries out horizontal drilling, outfall construction, and trenching and burial.
Rounding off Gulmar's offering is the services proffered as part of its engineering services, which include structural and naval architectural studies; stress and mechanical analysis; subsea pipeline stability systems deign, construction engineering; and subsea stabilisation and anchoring design. Few companies in the sector can offer the comprehensive services that Gulmar brings customers, which has enabled the organisation to stand out as a leading authority in an extremely competitive market. And with the possibility of more new additions to its fleet, the company's outlook is a positive one.
Gulmar Offshore Middle East LLC
Services: Engineering and contracting