Fired up
Based in the UAE, with branches in Abu Dhabi (Musaffah) and Dubai (Al Quoz) industrial areas, Haven Fire & Safety has developed a leading reputation for the delivery of fire protection, engineering, supply and service for clients requiring a one-stop-shop offering for their system solutions and equipment needs.
Discussing the history of Haven Fire & Safety, Managing Director Gerry Boux begins: "Haven Fire & Safety was established in early 1997 with a permanent original staff of less than ten. Historically, the company's early roots were in marine and offshore service, but rapidly developed into a fully-fledged fire system solutions organisation enjoying fairly continuous growth up to this date with facilities throughout the UAE and a permanent staff of over 100 employees."


Elaborating further on Haven Fire & Safety's one-stop-shop solution, he continues: "The company's early background in marine and offshore servicing ensured that in-house facilities and capabilities were a priority from the start. Today the company has a very strong internal design and support capability, which enables us to provide the necessary overall package along with our world class principals. This covers fire detection, fire suppression, gas detection, portable fire extinguishing equipment, foam fire fighting systems, service/ maintenance as well as specialist activities such as Halon recovery/recycling and management."
Proud of its commitment to provide first class products and services by working with major players in the industry worldwide, the company also boasts unrivalled design and support capabilities. Moreover, by working in collaboration with customers and end users, Haven Fire & Safety is thus able to achieve cost-effective solutions that wholly meet the requirements of customers and their relevant Authority Having Jurisdiction. "We are careful to ensure that this end solution also takes in to account cost of ownership, ease of maintenance and reliable operation throughout its life, not just the initial 'bottom line'."
This way of operating has enabled the company to prove itself in major safety related projects such as the retrofit of total fire and safety systems, packages for offshore drilling and accommodation facilities. Other significant projects include the design and supply of high and low expansion foam systems in the aviation and oil and gas sectors and integrated fire and gas solutions for FPSO/FSO conversions. This diversity in markets and versatility in serving a broad customer base has led to the company enjoying steady growth over the years; it has also maintained a strong level of business despite the current difficult economic trends that are affecting the region.
Although the company has continued to enjoy steady growth and demand in the market, it has used the slightly depressed economic trend to invest in the future of the business, as Gerry notes: "The company is continually investing in maintaining/updating and improving its facilities. A recent example is the procurement and installation of a proprietary cylinder agitation machine capable of handling the largest clean agent cylinders currently under production, to meet the latest requirements of UL and FM under our facility certification with those bodies. On top of this, we are always looking for talented employees to support our business, which led to us recruiting additional personnel in 2015. This has allowed us to position for further growth by improving enquiry response and handling times as well as improving the efficiency of our customer interaction. Also during 2015, we adopted a cloud based service/ maintenance system across the company which provides real time monitoring of service contract status etc. This has resulted in a significant increase of our service/maintenance efficiency and certification/project tracking activities."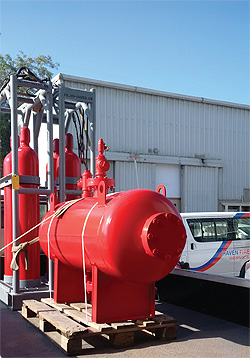 Alongside these developments within the business, the company has also expanded its product range with the ACAF compressed air foam systems, which offer a new approach to foam fire fighting systems for oil and gas/offshore applications. Designed and manufactured exclusively in the US by ACAF Systems-PFS Fire Suppression Group LLC, the ACAF Systems Compressed Air Foam products are suitable for industrial and commercial markets such as production and manufacturing, oil & gas, military, warehousing, marine, aviation, mining, transportation and heavy equipment. Available in 20, 30, 60, 120, 250 and 500 gallon sizes, the premium ACAF product line offers choices of skid or wheeled extinguisher configurations and is available in custom sizes upon request.
Unique features include a patented mixing chamber that yields consistent foam from start to finish, a corrosion resistant stainless steel tank that eliminates the cost and maintenance associated with emptying and inspecting for rust on the inside of the tank; stainless steel, corrosion resistant connectors that resist leaking; chip resistant zinc-based paint that inhibits corrosion, no mixing of metals, which avoids interaction between the metals themselves as well as the foam agent. Haven Fire & Safety LLC's ACAF Systems Compressed Air Product is also proven to be the more effective foam mixing / firefighting method as it utilises nitrogen gas as the primary offering.
Despite the oil price leading to postponements in markets including the offshore sector, Gerry anticipates a positive future for Haven Fire & Safety LLC as it focuses on consolidating on efforts made in 2015 and finding opportunities in line with the World Expo in 2020, as Gerry concludes: "With the build up to the Dubai World Expo in 2020, we are beginning to see an increase in demand in the construction industry in general and will be focusing on 2020 related projects and infrastructure over the coming years.
"Ultimately our strategic vision is to continue to consolidate and develop the company along its present path, by embracing new technologies in service/maintenance and providing cost effective, sustainable products and solutions to our clients."
Haven Fire & Safety LLC
Services: Leading fire protection, engineering, supply and service