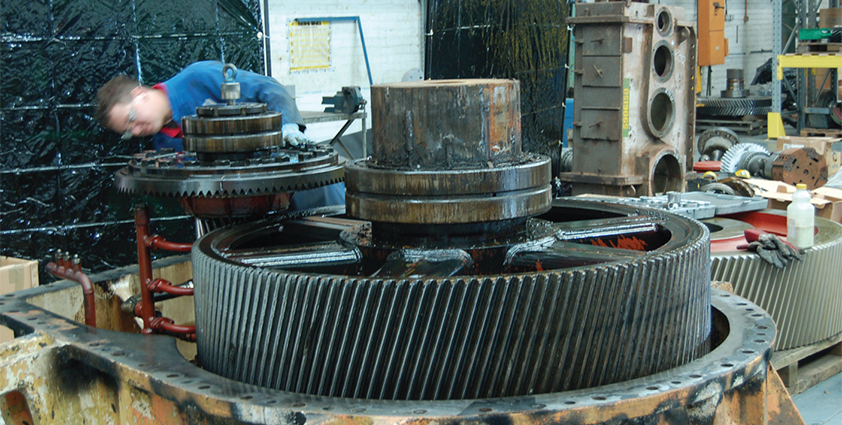 Always on hand
Since it was formed over three decades ago, Hayley Group Plc has grown to become the UK's leading engineering inventory supplier.
Founded by Lee Willitts and Bernie Noakes, who today remain the company's managing directors, Hayley Group began life with just one high-street shop in the West Midlands, operating under the name Hayley Bearings Ltd. Today Hayley Group supplies everything from complete gearboxes, through to small springs and pins, utilising its huge stocks worth over £16 million to offer a next day service from its head office in Halesowen. With a turnover in excess of £75 million per annum, Hayley Group has more than 30 branches located throughout the UK providing the trade, original equipment manufactures (OEM), and aftermarket industries with an unrivalled service. One of these branches is Hayley Scotland, which is already dealing successfully with the automotive, engineering and quarrying sectors and is now looking to fill in the missing link in its product portfolio by moving into the oil and gas industry. In order to support this new venture, the Glasgow based branch has more than £800,000 worth of stock in a 12,500 sq. ft. warehouse.
Hayley Scotland will also be offering a gearbox refurbishment service through its recently opened branch, Hayley 24/7 Engineering Services. Hayley 24/7 is a fast and effective mechanical engineering solutions provider with a core competency in industrial gearbox refurbishment. Specialising in providing a comprehensive range of reactive and planned mechanical engineering services, Hayley24/7 works within a diverse range of industry sectors including aerospace, automotive, energy and utilities, construction, chemical and pharmaceuticals, paper, transport and mining.
Although Hayley 24/7 is in itself a relatively young company, its team of experienced engineers have built up a first-class reputation throughout the UK's leading industrial blue chip companies over the past three decades for delivering high quality, fast and cost effective engineering solutions. Employing dedicated staff is something that is consistent throughout the Hayley Group, as David Skelly, branch manager for Hayley Scotland, highlights: "Without a doubt it is our staff that set us apart in the market, offering a level of service that is second to none. This customer focus is reflected in the variety of our clients, which today include smaller accounts that have worked with Hayley since day one, up to blue chip companies throughout the UK and Europe, and well-known names like Bosch, Honeywell, Network Rail, and Scottish Power. Our clients appreciate our reputation for quality and the variety of major brand-name products within our portfolio. Amongst others, we are a major UK distributor for Shell oils, Loctite products, FAG and Cooper bearings, Siemens motors, and Flender gearboxes as well as David Brown gearboxes, which is supported by a David Brown gearbox centre that was opened within our Glasgow branch at the end of 2010."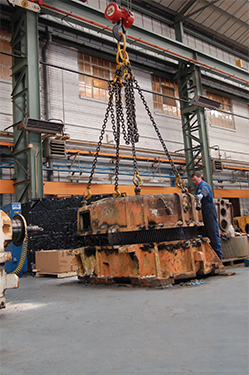 Both Hayley Scotland and Hayley 24/7 supply a number of targeted services and products to the oil and gas industry, in line with the Hayley Group's strategy for this sector. Expanding upon Hayley Scotland's capabilities, David says: "We can refurbish or supply new gearboxes, as well as supply springs, retaining rings, seals and 'o'-rings, fasteners, bearings, and many other 'c' class items. Specifically within the oil and gas market we are looking to promote the supply of special springs and retaining rings, including those fabricated from more exotic materials. With this in mind we have employed Stuart Urquhart, a highly experienced individual in this sector, as key account manager." Although there are various synergies between the two division's capabilities, Hayley 24/7's spread of activities include industrial gearbox refurbishment, upgrades and design, precision machining, fabrication, general mechanical assembly refurbishment, and supply of maintenance, repair and overhaul (MRO) products.
Bernie Noakes, joint managing director of Hayley Group, comments on the key strengths of this new enterprise: "Hayley 24/7 is a specialist industrial gearbox refurbishment company supported by our in-house state-of-the-art machine shop. As such, we are able to offer a high quality, fast and effective industrial gearbox support service 24 hours a day, seven days a week. As an independent repair company, we overhaul and upgrade all types of gearbox and related drives from one kg up to 50 tonnes. We are renowned in high-demand industry sectors such as water, automotive, food, power generation and steel making, where our customers expect the fastest response times in order to minimise downtime costs. As part of our overall service package we have the capability to manage capital equipment manufacturing and upgrade projects from the feasibility study stage to the actual commissioning of the machinery, tooling and equipment." These services include same day collection, strip down and reporting, supply chain of OEM parts, root cause failure analysis, re-engineering of obsolete components, oil and vibration analysis, and asset management.
Despite having only been present on the market for less than two years, Hayley 24/7's expertise and approach to client relations has already won it contracts from major clients, who are familiar with the reputation for quality carried within the Hayley name. "Our customers include well-known industry names such as Severn Trent, Tata Steel, Timet UK, Scottish Power, E.ON, Scottish and Southern Energy (SSE), Aston Martin, Promans, Cemex, and Jaguar Land Rover. It is very important for Hayley 24/7 to build strong trustworthy relationships with its clients. Our flexible 'can do' approach and clear concise communication in emergency breakdown situations can save thousands of pounds in lost production time. Equally we strive to work closely with our suppliers who we assess on quality, on-time delivery and price competitiveness. Although the Hayley Group network is one of our main suppliers, we also work with bearing manufacturers, heat treatments and specialist process suppliers, and raw material distributors for both ferrous and non ferrous metals," explains Bernie.
As a more recent development within the Hayley Group, Hayley 24/7 remains a priority focus within the group's strategy for the future. In line with its move into the oil and gas market, the Hayley Group is also looking to promote the services offered by Hayley Scotland. "Our ambition for the future is to grow Hayley Scotland into a recognised supplier within the oil and gas industry, and therefore further enhance Hayley Group's excellent reputation as a major supplier across all major industries," elaborates David. Given that Hayley 24/7 can arguably already be regarded as the largest independent bespoke industrial gearbox refurbishment company in Europe, Bernie concludes with Hayley Group's plans to build upon this position: "We are looking to establish Hayley 24/7 as the UK's market leading industrial gearbox repair company. Alongside this, our skill set and facilities lend themselves to diversifying into pump repairs and general mechanical assembly refurbishment, and I think this ability to move into new added value service areas is a key benefit. We aspire to support plant maintenance and production in increasing efficiency and reducing costs, and naturally to continue to offer our around the clock service," concludes Bernie.
Hayley Group Plc
Services: Engineering inventory supplier