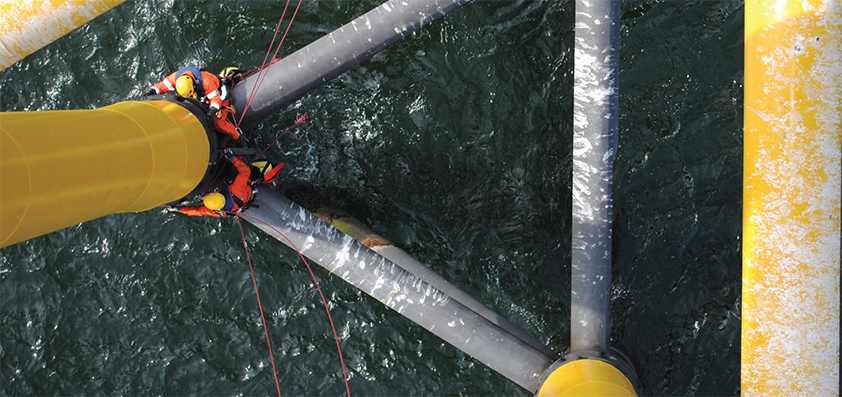 Accessing the inaccessible
Height Specialists, based near Rotterdam began weaving its web in 1995, and once secure in its anchors, acceleration into heavy industry began in 2000 specialising in rope access in offshore and onshore activities such as chemical plants.
The company has two offices from where in the last few years it has grown in the European market, undertaking projects in Scandinavia and offshore in Dutch and UK waters.
Rope access is a method for working at heights utilising ropes, climbing harnesses and other materials to enable access to working locations in difficult and inaccessible situations. It is a method of access that has been tried and tested for over 20 years. As an alternative or complementary use against conventional systems like scaffolding, suspension bridge constructions and lifting platforms, the techniques and materials have been specifically developed for use in areas like construction and the manufacturing industry.
As business settles in to the new year, 2014 will be far from a slow start as Rutger Lieverse, business development manager explains: "We expect to grow very quickly in the first six months of this year. We noticed last year that the Baltic States were quickly growing and made the decision to open a new training facility in Lithuania with a strategic partner, and that has developed strongly."
Whilst retaining its main European market interest in Scandinavia, UK and the Dutch waters, activity has grown on onshore projects in the UAE such as Abu Dhabi and Dubai, where it will develop a more permanent presence in the next years. As the market in Africa grows, the business is additionally operating in Ghana and Nigeria.
"When we first started trading, rope access was less common, and at first thought to be unsafe. But as the feeling towards the technique has changed we are finding more that clients are open for discussion to decide what is the best option for the situation. The market is sometimes looking for a combination of scaffolding systems with rope access. In this respect the market is strong and we are able to draw on our experience and adapt our position.
"We are operating with some big scaffolding companies on combinations of scaffolding and rope access. Our specialty is rope access but with strategic partnerships, such as those with the scaffolding companies, we can provide combined specialities," reveals Rutger.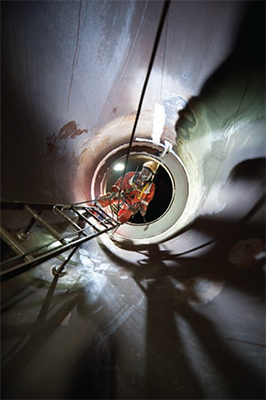 The focus within the oil and gas industry is centred on inspection, maintenance, and modification. "The first activity is inspection work, and is always the start to deciding if there are any maintenance or modifications that are required to an installation or structure. We work together with the big companies to conduct the surveys and we combine techniques to operate in the best way for the client," Rutger begins. In its interests surrounding maintenance, it covers coating, electrical, insulation, installation, repairs and welding. Developing from its maintenance programme, Height Specialists can carry out modifications such as engineering, lifting operations, installations, deck extensions and lifting new accommodations. He continues: "We train our employees to the highest level in rope access but also on techniques from external trainers."
The employees of Height Specialists regularly undergo training at its official Industrial Rope Access Trade Association (IRATA) training centre and attend Master class courses in the use of specific tools, project management and social skills. The training courses are set up and delivered in accordance with international standards and each project is assigned its own supervisor to guarantee the security and quality of the operations.
Focusing on the conditions that the business operates in Rutger advises: "The challenges are to keep the quality as high as possible, delivering what the client needs whilst ensuring maximum levels in safety. When considering the scale of some of the projects we are involved in, the biggest challenge is ensuring the team works together to deliver that quality. It is these considerations that we are keeping in mind as we grow within the UAE and Africa. In tendering for the operations, we may not be the cheapest company to operate in such countries, but because of our notable reputation, our services are demanded. If the operating conditions are not right we will change them, as the most important factor is that operations are performed to a really detailed level of safety.
"Some operations are undertaken as part of major projects for shipyards. Most of the time it is possible for the cranes or scaffolding systems to perform the main scope of work, but there is still a big demand for rope access. We carry out a lot of work on super structures and also below heli-decks and similar situations where it is hard to build scaffolding systems. Often the time frame available for the work rules out normal access techniques. Rope access can be used solely or in a combination with other solutions such as crane or scaffolding systems."
With the undertaking of projects in new territories, Rutger begins to look towards Height Specialists' future position in those regions: "The amount of work is growing more vigorously than we expected, particularly in the UAE with onshore infrastructures. There are many high buildings that require maintenance, but also in the Abu Dhabi region the new offshore market is gaining momentum, and although there are many rope access companies, it is our focus on safety and quality, that makes our company a good competitor for that market." Maintaining this reputation, the business is showing similar success in Nigeria and Ghana.
The main focus for the company during the next three years is to raise the revenue in the offshore market alongside other areas, as Rutger explains: "Our long-term vision for growth is focused in five directions. One is offshore, the second is the petrochemical and process industry, the third is the energy and renewable sector and the fourth is infrastructure such as buildings and bridges. Training, advice, personnel and equipment are also of upmost importance and this makes up the fifth focus of Height Specialists.
"To be successful in this industry we need to continue demonstrating our focus and commitment on safety, as well as maintaining standards on quality of workmanship and communication. It is this approach that keeps us working where others simply are unable to perform," Rutger concludes.
Height Specialists
Services: Rope access inspection, maintenance and modifications for on- and offshore inspection and maintenance services