A century of achievement
Helmerich & Payne, Inc. (H&P) is the US' leading unconventional driller, with its core business being the drilling of oil and natural gas wells for exploration and production companies. With experience spanning the globe, today the company owns and operates land rigs across North America, South America, the Middle East and offshore rigs in the Gulf of Mexico.
H&P has divided its operations into two business entities, H&P IDC, and H&P Technologies, with the latter being a relatively new addition, created in November 2018. H&P Drilling designs, fabricates, upgrades and operates highperformance drilling rigs for customers in conventional and unconventional plays. H&P Technologies was formed to drive development of advanced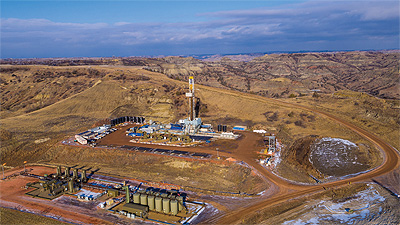 technologies and directional drilling automation solutions, resulting in greater reliability and well performance. Including MOTIVE Drilling Technologies, Inc., the industry leader in cognitive computing to guide the directional drilling process; Magnetic Variation Services, LLC (MagVAR), an industry leader in enhancing the accuracy of directional drilling and wellbore optimisation; TerraVici Drilling Solutions, which offers a unique, fully rotating, point-the-bit Rotary Steerable System (RSS); and new addition Angus Jamieson Consulting (AJC), a software-based, training and consultancy company. H&P Technologies is continuing to gain traction as more and more customers appreciate the value these services provide on any rig, regardless of the drilling or service provider.
Powerful platform
John Lindsay, Helmerich & Payne, Inc.'s President and CEO, gave some further details on this new part of the business: "H&P's longstanding focus on leading-edge technology is an important part of our organisation and will be even more critical in the future. Our new business entity, H&P Technologies, will help meet the needs of the industry. As longer laterals are drilled, accurate well placement is crucial in maximising field economics. A key benefit of our performance-driven drilling services is the reduced positional uncertainty in the directional drilling process and the fact that our technology can be used on any rig, regardless of the drilling or service provider."
Todd Benson, president of H&P Technologies, who came to H&P through the MOTIVE Drilling Technologies, Inc. acquisition in 2017, added: "The combination of MagVAR geomagnetic correction capability, MOTIVE's unique directional drilling technology and AJC's software expertise creates a powerful platform that generates a compelling value opportunity for E&P companies. H&P Technologies' Value Driven AutomationTM platform offers a unique and desirable service that brings directional drilling accuracy to a new level in the oil and gas industry."
AJC is widely recognised as an industry leader in wellbore positioning and provides software and in-depth training for clients. The skills and talents of AJC will accelerate capabilities to deliver future, value-driven automation.
Staff excellence
The operations of H&P IDC, and H&P Technologies, and indeed the success of H&P overall, are supported by a set of core values: Actively C.A.R.E., Service Attitude, Innovative Spirit and Teamwork. These values define the company culture, inspire its people, and enable the business to thrive in an industry that routinely experiences peaks and troughs. While embodied in its performance, these values are visibly demonstrated everyday by H&P's people: their dedication to execute their roles with integrity; their commitment to treating one another with respect; their devotion to operating safely; and their creativity to inspire innovative ideas. This has created a foundation of staff excellence, which means that when customers contract an H&P rig, they are not only choosing the most advanced drilling technology, but they are also selecting the best people in the industry. "At H&P, we understand that technology is merely a tool to put in the hands of the right people. People produce results, and people drive further innovation," agreed Hans Helmerich, Chairman of the Board at H&P.
John Lindsay also acknowledged the role that staff have played in the organisation's success in 2018, when he said: "The results we've been able to achieve as a company this year would not have been possible without the dedication and determination of our employees."
Investment plans
When H&P announced its fourth quarter and fiscal year end results in November 2018, Vice President and CFO Mark Smith also only credited the company's staff as major contributors to its success, before going on to highlight last year's investment strategy. "Throughout this fiscal year our results and cash flows from operations have shown sequential improvement," he said. "These improvements were not only the result of our employees providing the best possible service to our customers, but also by our investments in super-spec upgrades and value-added technologies. We expect a similar environment in fiscal 2019 and have set our initial capex budget reflective of those expectations. The increase in our capex budget is driven by continued opportunities to invest in our current FlexRig fleet along with further planned rig reactivations and super-spec upgrades."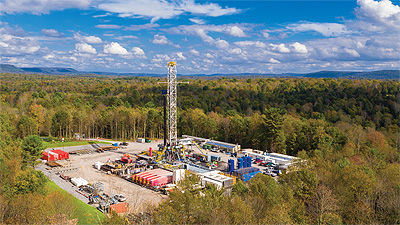 FlexRig technology
With regards to rig improvements, H&P upgraded and converted 54 FlexRigs to superspec during fiscal 2018, which is more than any company in the industry. This brought the total number of super-spec FlexRigs in the US land fleet to 207 at the close of the fiscal year, which represents approximately 45 per cent of the super-spec rig market.
H&P's strategy regarding fleet investments highlights the importance to H&P of its land rigs and contract drilling operations. The contract drilling business is divided into three segments: U.S. Land Operations, International Operations and Offshore Platform Operations. With district offices in Colorado, North Dakota, Oklahoma, Pennsylvania and Texas, H&P is the most active U.S. land contractor, holding positions in many of the major shale plays and oil & gas basins, such as the Permian Basin, Eagle Ford Shale, and Woodford Shale.
More than 95 per cent of its active rigs are drilling horizontal or directional well paths, and customers are increasingly taking advantage of its pad drilling capabilities. FlexRig technology makes H&P the premier choice for customers across many diverse regions and applications.
Family of Solutions
Internationally, the FlexRig's efficiency, along with H&P's collective expertise, has allowed it to effectively meet the needs of its customers in both conventional and unconventional resource plays on a global scale, including South America and the Middle East.
Moving offshore and H&P currently has drilling in the Gulf of Mexico on operatorowned platforms. H&P's offshore rig fleet operates on both conventional jacket style platforms, and floating platforms attached to the sea floor with mooring lines, such as TLPs and Spars.
Over its near century of history, H&P has expanded drilling operations to meet the increasing demands of a complex and globalised industry. Its horizontal and directional drilling capabilities ensure nothing but the best production and reliability, and its range of FlexRigs can be considered the industry standard by which all other rigs are measured. Designed and manufactured in-house, H&P customers are benefitting from the uniform FlexRig fleet design from a safety, operations and efficiency standpoint, and the organisation is expecting to see additional demand for the its super-spec FlexRigs heading into the new fiscal year.
Working in a demanding and competitive market means that H&P has to be at the top of its game at all times – earning a respected standing as the world's premier contract drilling company for oil and gas is no easy task. By remaining committed to providing industry leading drilling productivity and reliability, through its 'Family of Solutions' H&P can demonstrate to customers a track record for delivering cost savings and unmatched accelerated well programmes.
Helmerich & Payne, Inc.
Services: The largest on-shore driller in the world