Well equipped
One of the largest traders in machinery in Norway today, Hillevåg Elektro- Diesel AS (HED) was founded in the early 1950's.
Following an increase in activity in the oil sector towards the end of the 1960s, the company moved into its current headquarters in Forus, Norway. Over the years HED has also established subsidiary companies at Karmøy, in Kristiansand, and in Skien. The company sells, rents, and maintains a wide range of machinery and other technical equipment for the construction, industrial and offshore sectors.
In fact the bulk of HED's activity is within oil-related operations in both the North Sea, and on a wider international scale. The company therefore focuses on continuous development and renewal of products in order to meet theever-more challenging demands of this industry. Consistent quality and safety in all parts of the organisation provides HED with an important competitive edge, as well as a satisfied client base.
Alongside its sales division, HED is one of Norway's largest rental companies for the oil and gas industry offering a comprehensive range of machinery. This position is in line with the company's goal to build lasting customer relations, and ultimately become the equipment rental company of choice in every market it serves.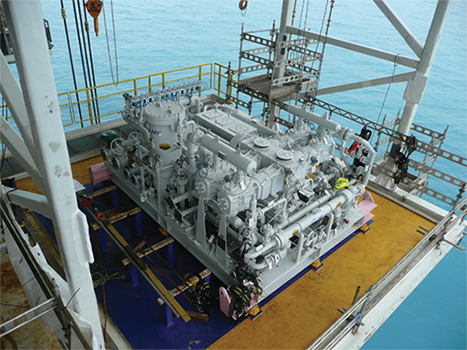 With an expansive portfolio to its name, some of the more prominent products HED supplies to the market include compressors – both oil free and oil lubricated, resistive andreactive load banks, generator sets, adsorption dryers, compressed air and gas filtration, drum and linear winches with capacities of up to 500 tonnes, steam generators, pumps, air-, hydraulic-, and electrical driven tools. Thisequipment is designed for various applications and environments, including explosion proof capabilities for hazardous areas.
With many years' experience as a supplier to the toughest and most demanding clients, HED has joined forces with some of the best and leading equipment suppliers in Europe. As a result, the company has established partnerships and joint ventures with companies in the UK, Denmark, The Netherlands, Belgium, and Austria. Examples found on such long-term partners are Atlas Copco, LMF, Enerpac, Parker Domnick Hunter and Fein.
HED has had a 50-year close working relationship with Atlas Copco. A global technology leader, Atlas Copco is a trusted partner within the oil and gas industry, and a recognised solution provider. HED and Atlas Copco provide reliable equipment for many challenging applications along the entire oil and gas value chain. Another long-term co-operation partner is Leobersdorfer Maschinen Fabrik (LMF) – the leading Austrian manufacturer of compressor systems. Together, HED and LMF offer a single source for the design, engineering, production, testing, erection, and other relevant services of a range of compressor equipment.
As with any industrial equipment, regular maintenance, as well as prompt repair, is key to ensuring the long lifecycle of offshore machinery. Through its modern workshop, complete with qualified mechanics, electrical engineers and operators, HED is able to fulfil these requirements. Service and maintenance activities are performed either in special workshops, or on site at the customer's premises. The company also offers complete project packages incorporating everything from initial engineering to final installation, including the documentation package.
Within its Forus facility, HED also carries our factory acceptance testing (FAT) for pumps, generators and compressors skids.
One of the key components in delivering this entire scope of services is HED's workforce. As a result the company is dedicated to maintaining the high levels of competency it is renowned for. Both internal and external courses, with course diplomas, are held on a continuous basis to update skills within areas such as compressor engineering and compressed air treatment, pumps, steam and lifting technology.
Given the obvious strengths of the company, HED has been involved in major offshore projects such as the supply of a 4,5mV, 11kv temporary power supply to the Gjøa platform in the North Sea. Another complete temporary HV power system was delivered to the Snøhvit LNG Tank Farm. HED is easily capable of delivering temporary generator systems for on-/offshore use, for up to 10mVA HV/LV. The company has also delivered a complete LMF CH4 gas-lift compressor system, to Talisman Gyda platform, capable of handling 5.600m³/h at a pressure of 200 bar g.
After a history spanning over 60 years in the industry, HED is continuing to embrace developments within the offshore, and oil and gas sectors. With strong brand names behind it, and an established platform through its solid partnerships, HED is well placed to service the next generation of oil and gas operations.
Hillevåg Elektro-Diesel
Products: Machinery and equipment