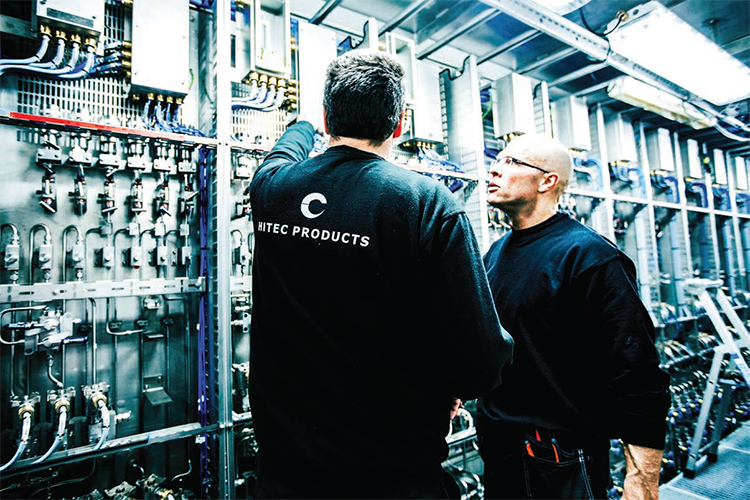 Controlling the system
Hitec Products is a Norwegian company that employs approximately 150 staff, focusing on operations that have involved the manufacture and supply of electro-hydraulic control systems since its establishment in the 1990's.
Today the business is organised into four divisions with the newest, oilfield systems, being formed last year, complementing the sister divisions, topside systems, subsea systems, and customer support. "We are a project based organisation," begins sales and marketing manager David South. "Each of our projects is run with a dedicated project manager and project team, and we deliver around 80 projects each year within the area of electro-hydraulic control systems and chemical injection systems," he continues.
Supplying to all the major oil companies, its customer base also encompasses smaller, independent oil companies, subsea control system suppliers, and the leading engineering companies and rig and FPSO builders. Through the introduction of the new division, it now supplies systems to the oil service companies and directly to rig owners. Located in impressive modern fabrication facilities at its headquarters in Stavanger, the company has an additional branch in Telemark, focusing on engineering practices. Three years ago, the business established roots in Asia, opening a facility in Singapore from which it is able to efficiently serve the needs of its local customers.
"From our three fabrication facilities in Norway, we implement a serial production approach. Essentially we have standardised our modular system so that 80 per cent of the design is fixed, allowing for the remainder to be customised specifically to the customers' requirements," explains David. Through this approach, it builds and tests its products, remaining in close dialogue with its clients who are involved in the final decisions surrounding the design of the system. "We have a very efficient assembly line, having established a good rapport with our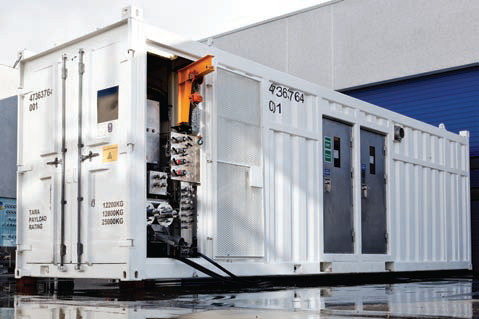 sub-suppliers, who deliver well-known, field proven components," he adds. With strong customer relations, Hitec's customer support division offers continued service, maintenance and modifications at the request of its clients.
One of the significant company developments over the past few years has been the introduction of its Singapore facility. Promoting a large capacity, the unit is equipped to perform the final assembly and testing of the products. However, all project management and project engineering practices are carried out from locations in Norway. Adding to the achievements, David notes: "We are very proud of the early success of our oilfield systems division. We have established a good client portfolio, which we expect will be further strengthened this year, securing several new contracts and creating a real presence in this market. It is also significant that we have achieved substantial growth in the last financial year and there has been a lot of focus on the sales process, securing large contracts and essentially laying a good foundation for 2014."
The business has been present in the topside and subsea industry since its establishment. With the experience gained in these fields, it was able to transfer this knowledge and value added technology into oilfield systems. The efficient production assembly and construction of the modular units to a high level of quality has been something that its clients have appreciated, returning positive feedback from the early projects. "We have marketed ourselves to the main oilfield services companies and have secured references from the majority, including some of the rig owners themselves who have purchased directly from us," David says.
The expansion into Singapore and the Far East has been rewarded by comfortable and stable growth in the region, as David explains: "In the three years that we have been operating in the region we have seen many interesting opportunities. The fundamental reason for the permanent move into Asia was to be close to our clients and this still plays a very important role. There are emerging opportunities in both the topside and the subsea markets, and the growing potential for new projects in both Asia Pacific and Australia signifies a very interesting time ahead."
Growth of Hitec Products has led to the involvement in some major projects in Indonesia, Australia, Malaysia, and China, which has ultimately created the requirement for the business to increase its staff levels. "Each year we take on quite a high number of apprentices. They complete a programme of internal training and schooling and also attend third party courses. On-the-job training is a key area of candidate growth, and we offer further training to employees to become qualified engineers. We also take in experienced and newly qualified engineers, which forms the basis of our strategy for managing organic growth.
"We have been in the market for a long time and developed well-established and lasting relationships, a thorough knowledge of products and technology, and efficient assembly lines. The new modular approach is interesting for our clients as it offers flexibility and competitiveness, regarding both price and lead-time, and this has been a major factor in the growth," highlights David. "The year ahead for the market on a global scale looks positive, but we do see some areas of concern in certain local markets where there has been pressure on price. It is possible that we could see some segments of that market slow down, but generally we see a large quantity of subsea projects and potential of increased work on the topside projects."
Concluding, David summarises: "We have been very good at working at a strategic level and managing the market, ensuring that we are talking to the right clients. It is important for us that we remain focused on the industry and products that we know best, avoiding the attraction of projects that are outside our scope. As a business, it is our vision is to develop and build attractive systems and we remind ourselves of this every day. Over the next five years, we are going to be staying within the industry that we know, which is control systems and chemical injection systems for topside, subsea and oilfields and continue with organic growth, staying close to our existing clients but also looking for new possibilities within our product portfolio. We have increased capacity both in terms of facilities and resources, and have positioned ourselves in a prominent position to tackle the future market."
Hitec Products AS
Services: Control systems supplier