How Phillips 66's Value Chain Optimization is keeping pace in the evolving energy arena
Phillips 66 is excited about the future of energy and helping the world move forward. Guided by its core values of safety, honor and commitment, it works to meet the world's energy needs, today and tomorrow. With a heritage of more than 140 years, it is a diversified energy company, processing, transporting, storing and marketing fuels and products globally. Its value chain positions the company well to play a leading role in the energy industry. Tim Seidel, VP Value Chain Optimization, is tasked with leading a team that maximizes opportunities across Phillips 66's integrated system. He talks us through a busy year since we last spoke.
"Coming out of the pandemic, product demand started to pick up," begins Tim. "During the second half of 2022, we were presented with some unique opportunities. We were running low on global inventories for gasoline, jet fuel and diesel and while we had planned outages for that period, the situation necessitated that we determine whether the maintenance could be deferred to the spring to prevent regional fuel outages.
"It's crucial to ensure that kit and equipment are well-maintained and particularly if a plant is going to run six months longer than scheduled. Deferring outages is not as straightforward as you might imagine. It takes considerable coordination, as feedstocks and crude oils for the processing unit would already have been purchased, for example. Managing that type of volumetrics to ensure seamless supply and operational capability takes considerable work, but we managed it and completed two successful turnarounds," he confirms.
"We've also recently directed our focus on identifying unique areas where we can capture more of the market and increase our overall margin. In essence, we're exploring how we can optimize our refinery operations to ensure we make the products with the highest value. Rather than looking at the overall cost of doing business, this is more of a concerted effort to capture the entire value chain. It has certainly been a busy 12 months," Tim enthuses.
Growth opportunities
After 25 years of being in the refining world, Tim made the move to Phillips 66 corporate headquarters in Houston and into Value Chain Optimization. "Now, I interact daily with all the different refineries and make sure that we maximize how the teams work together. Our primary goal is to ensure that we do what's in the best interests of the company. As with any organization, it's easy for the focus to become stuck on internal benchmarks and goals. Our role is to ensure that decision-making maximizes value for the shareholder.
"As I've progressed in my career, I've become prouder of what we do. We provide a vital resource. If you consider societal needs, next to clean air, food and water, the biggest thing is some sort of fuel source. It is something of which I'm very proud to be a part," he enthuses.
Phillips 66 is primarily built around its core downstream refining assets, consisting of 12 global refineries that generate the bulk of revenue. "We are also integrated with our midstream assets," Tim elaborates, "which include the pipelines, terminals, and infrastructure required to get both the crude oil supply to the refineries and the product flow to market. We then have our marketing and specialty group. We don't directly own our physical gas stations, but we have three domestic brands and one global one, under which we utilize third-party resources to sell our product: Phillips 66, Conoco, and 76 here in the US and Jet in Europe. Currently, we have a limited footprint of Phillips 66 directly owned chemicals facilities, but we do make some chemicals within our company, which is an area for potential growth. The majority of our chemicals footprint is a joint venture with Chevron called Chevron Phillips (CPChem), and we're leading the way with energy and chemical products designed to perform and produced with care.
"Thus far, 2023 has been a good and thankfully a normal year, following the pandemic, for my team. Like many people, we've embraced new ways of working, and realized there's an opportunity for some of the work that we do to be done remotely. That said, we also recognize the value of face-to-face interaction. As with many other industries, we're experiencing a combination of retention challenges and staff reaching retirement age, so as we bring new people into the company, it's important to get the onboarding process right, which includes having the opportunity to interact with people in person.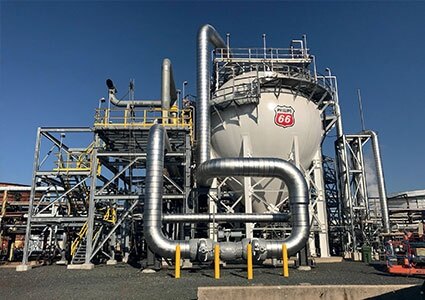 "Operationally, we are starting to see some more movement towards an energy transition. We're seeing a lot of growth opportunities for renewable diesel on the West Coast: not just California, but Washington, Oregon and even British Columbia. There's also some momentum in sustainable aviation fuel. I think we have a big opportunity within Phillips 66 to find ways to get renewable feedstocks to our aviation industry.
"We're almost ready to complete a project in Rodeo, California. We have a traditional petroleum refinery in the Bay Area of California that we're converting to a renewable facility. We'll have the capability to make renewable diesel, renewable gasoline blend stocks and sustainable aviation fuel out of that plant.
"In the UK, our Humber Refinery is collaborating with government and industry to try to find a way to work toward an energy transition together. The Humber Refinery is currently carrying out some front-end engineering to see what's feasible in terms of carbon capture and sequestration, alongside other projects, so we can provide the products used by society every day but in a lower carbon intensive way," he divulges.
Sustainable solutions
Tim also shares that his team, and Phillips 66 as a whole, is passionate about creating a diverse and inclusive workforce. "To do that, you need to make sure that the correct culture around inclusivity is in place, which needs to be reinforced collectively. People need to know that they are going to a culture where their voice is not only going to be heard but sought out by others. It's important to feel that your opinion matters. This is just the start of attracting and retaining employees. The important part of being a good leader is surrounding yourself with people who have strengths where you have weaknesses; people who will bring things to the table and challenge the status quo. We try to build that type of culture, as it's the best way to maximize the potential of your organization," he confirms.
It's also increasingly important to attract more young people into the industry. "To do so," Tim explains, "people need to recognize that organizations, like Phillips 66, are energy companies, and not just traditional oil and gas companies. We provide energy, whatever form that may be. The global population is continuing to grow, and those people will need energy to continue to function in a well-developed and modern society. We want to be part of the solution as we transition to new and emerging forms of energy."