The whole nine yards
Originally founded in 1965 to take advantage of the demand for lobster, shrimp and snapper boats in the fishing industry, Brazilian firm INACE (Industrial Naval do Ceara) has since expanded its services to become the leading mid-size regional shipyard in the Northeast.
Elaborating on the company's formation, commercial director Robert Gil begins: "A young economist, Gil Bezerra, founded INACE and focused on the boom of the lobster, shrimp and snapper fishing as well as the offshore and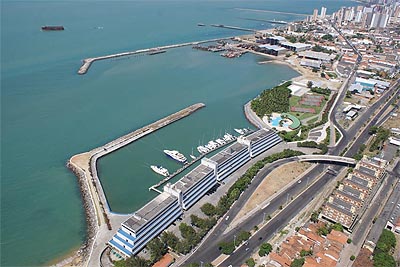 military shipbuilding opportunities in the region. Today INACE still belongs to the Brazilian founder, who has turned it into a family run business with three generations working at the yard."
Based in a coastal area close to the city piers of Fortaleza since its inception, the company's early years were spent building only fishing vessels, with more than 600 ships built by the late 1980s. However, when INACE noticed opportunities in growing markets it made the strategic decision to diversify its shipbuilding services and has since constructed more than 800 vessels of all types. These include workboats, tugboats, ferries, OSVs, DSVs, FSVs, crew boats, motor yachts, and patrol boats. Having developed a strong reputation for high quality shipbuilding in a broad range of markets, INACE divided its shipyard into four segments: INACE yachts, INACE military, INACE offshore/ workboat and INACE repair/refit.
"INACE yachts has delivered more than 40 motor boats to clients all over the world, such as Europeans, North Americans and South Americans; the latter includes the Formula 1 and Formula Indy world champion Emerson Fittipaldi," boasts Flavia Barros, planning director at INACE. "Meanwhile, INACE military has built more than 20 vessels for the Brazilian Navy and three for the Namibian Navy; this division was responsible for the first patrol boat of 200 tonnes (NPa 200) and 500 tonnes (NPa 500) to be built in a local private shipyard for the Navy of Brazil. To work for the Navy we need our own specialised people to meet their internal standards with an intense supervision and strict testing methodology of developing, reports and studies."
Robert continues: "We are currently involved in another landmark project, a Hydro- Oceanographic River Ship (NHoFlu, 47 metre), which is currently under construction. Due for delivery in the final quarter of 2014, this vessel will give support for mapping the Amazon river and will be responsible for four 30 metre river vessels; these too was also built by INACE."
Although INACE is showing positive growth in the aforementioned segments, it is the company's offshore/workboat division that has witnessed the most demand over recent years. With growth opportunities significantly increasing as of 2007 from light oil discoveries found in the 'pre-salt' layer, Brazil's oil and gas industry is benefiting from a period of major development as it rests on approximately 14 billion barrels of oil equivalent. "The oil and gas industry has definitely boosted the shipbuilding industry in Brazil in recent years," says Flavia. "The offshore division has built more than 20 vessels for offshore customers; these include tugboat, supply vessels, crew boats and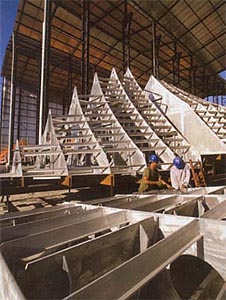 ferries. We are currently working on three main projects in this segment, which are two DSVs, two 500 pax ferry boats, and five research vessels with design and construction 100 per cent done by INACE. In addition, there are two tugboats with 60 tonnes of BP (RAMPART 2400) being built for TugBrasil, an important and old client, with the design coming from Robert Allan Ltd."
In addition, the company is also witnessing significant demand in its repair/refit division, which is due to the lack of repair shipyards in Brazil, as Flavia discusses: "INACE has become a reference for these routine repairs in the region due to our Syncrol-lift with capacity of approximately 1800 tonnes and dimensions of 70mx16m. A notable contract in this division was a special refit we developed on the motor yacht of three times Formula 1 champion, Nelson Piquet. The vessel was initially a mono-hull and the refit turned the vessel into a trimaran, with the state-of-the-art capabilities of a mega-yacht."
With a strong technical body, which includes more than 60 engineers operating in segments such as electrical, mechanical, chemical, industrial and operation, as well as naval architects and marine engineers, INACE has the skills and facilities to meet the needs of the most stringently regulated and demanding of customers, as Robert highlights: "INACE has a mechanical turning workshop that helps to fix shaft lines and propellers, especially for the repair/refit division besides our three CNC cutting machines, two cranes of 70 tonnes lifting capacity, small cranes for support and the manoeuvring of blocks, as well as small gantry cranes of five tonnes and ten tonnes in each shed. In addition, INACE acquired the ShipConstructor software around ten years ago, which makes the whole thus optimises the Nesting and production process."
While it continues to process more than 300 tonnes of steel and aluminium a month and works on completing the 16 vessels it has under construction, INACE benefits from 180 thousand square metres of land, which puts it in a coveted position to take on more and more projects in line with ongoing demand. "This is a key strength for INACE; we always have enough slots for new buildings and expansion due to the size of our land. Over the coming years we will be focusing on increasing our presence in other countries with a strong offshore/workboat market, which will raise the orders and stabilise the routine of our yard. We have delivered many motor yachts to clients in North America and Europe; this expertise can definitely migrate to our offshore/workboat division, which would also diversify our shipyard's portfolio from local clients," concludes Robert.
INACE shipyard
Services: Construct, convert and repair vessels