Inspection Verification Bureau Ltd (IVB)
Quality assured
Inspection Verification Bureau (IVB) officially came into being in 2010, but its roots stretch back to as far as 1976. Previously known as Germanischer Lloyd Industrial Services UK Ltd (GLIS-UK), IVB was independently formed from key existing managerial and technical personnel in the former's Great Yarmouth offices when GLIS-UK closed the site. Possessing in excess of 120 years experience in the offshore and onshore hydrocarbons industry, IVB's core business is the provision of independent verification and independent inspection services to clients with global business interests in the industry.
"It is our experience, our speed of response and our service, together with being cost effective and efficient compared to our customers that makes us strong in the market," begins Director, Derek Lockwood who himself holds 35 years of diverse experience within the industry. "We are a young company by comparison but we operate with less bureaucratic procedures and constraints and we do not have the high overheads that many of our competitors with multiple global offices do."
The global presence of IVB is also part of its strength in the market. Whilst based in Great Yarmouth with a relatively small team of experts, a larger support network made up of specialist discipline engineers and inspectors is strategically spread around the world in key locations to look after the interests of both new and existing clients. This spread currently covers everywhere from the Middle East and Africa, to the North and South American continents. With 90 per cent of its business coming from outside the UK, the organisation's core services revolve around vendor, system verification, engineering consultancy and project management capabilities, where quality, health and safety and compliance remain the central focus to everything.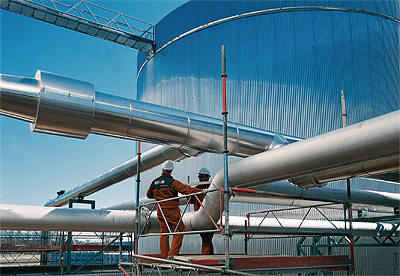 In an effort to expand its footprint to areas of significant customer demand, in December 2015 IVB opened up a second office in Aberdeen. "This came as a result of clients wishing us to have a local presence in the Aberdeen area as they wanted to be able to invite our staff to go and attend meetings at short notice to discuss new projects and assignments," explains Derek. "This gave rise to additional work and a requirement for extra personnel, hence the opening of a new office.
"We will watch the efficacy of this office to determine our next move with regards to the recruitment of additional personnel to support our clients' requirements. In terms of opening up similar offices as the business grows, we will only do so in other areas provided that it fits in with our business model, thus permitting us to continue providing the type of service that we are known for in the industry."
Amongst a host of projects around the world, IVB is currently working with Engie on an ongoing project to provide its verification services for the hook-up and commissioning phase. "We are a supplier of choice because of the experienced personnel who represent IVB as well as the accurate and timely manner in which we deliver these services," highlights Derek, reiterating that it is this speed and flexibility, combined with its world-class expertise that allows IVB to stand out and perform in a competitive global market.
It is an approach that is clearly paying off for the company as it continues to grow with a very positive outlook and a ready desire to take advantage of emerging opportunities. "Our ability to move quickly in providing an excellent service, whilst remaining cost effective and efficient will be key to us taking advantage of several opportunities around the world from our offices in Norfolk," Derek continues. "Because of this geographical location we are well positioned to working across global time zones, which can benefit our clients and their vendors or suppliers with inspection and verification design reviews, non-financial audits and risk assessments."
With this in mind then, the future for IVB will be focused on the continued development of business along the lines of facilitating ongoing projects regardless of challenging market conditions. Derek expresses that IVB's more competitive and economical service stands it in good stead amidst the industry's current stresses relating to low oil prices, and is confident that once the market begins to recover the company's ability to react quickly will result in further growth. "In the longer term we see IVB growing year on year by as much as 20 to 25 per cent as we develop new markets with our clients and increase our global reach," he says.
Long-term sustainability is clearly a major driving force behind IVB and approaching business in a careful and controlled manner is central to this. By responding effectively to market demands and emerging opportunities both in terms of new markets, such as renewables, and new geographies, like Aberdeen, whilst retaining the strength that comes from its small but focused organisation, its future success looks to be assured.
Inspection Verification Bureau Ltd (IVB)
Services: Provide inspection and verification services to the oil, gas and renewable energy sectors