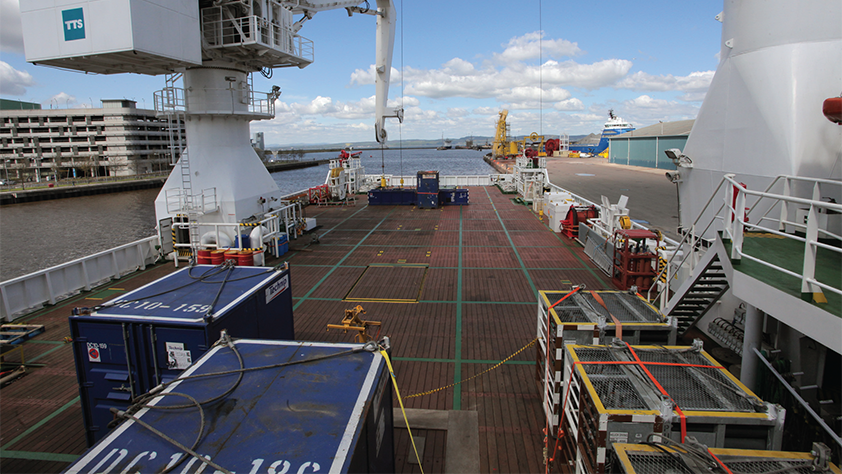 Diving in
Iremis-ISS was formed through the combination of three companies; Iremis, Andrew Survey, and ISS, which were acquired by Oaktree Capital, a world class private equity fund, over the last few years.
Each of these companies is a well-established diving and survey contractor in their own right. Together Iremis-ISS aims to deliver superior services to the oil and gas industry, specialising in offshore inspection, repair and maintenance (IRM) work.
This includes inspection programmes for offshore structures such as platforms and pipelines, which in some cases may then require maintenance and repair works. Iremis-ISS also carries out light construction services including the execution of subsea construction work, such as connecting pipelines to platforms or installation of equipment on the sea floor. All works are performed by divers or remotely operated vehicles (ROVs) deployed from Iremis' fleet of four specialised DP vessels and additional chartered vessels contracted on spot or longterm basis. Iremis' fleet includes two state-of-theart diving support vessels (DSVs).
Iremis-ISS operates on a worldwide basis supported by its individual company locations with Iremis based in Sharjah, United Arab Emirates, and ISS and Andrew Survey headquartered in Aberdeen with further offices in Singapore and Perth. "Our flagship vessels are the Iremis Da Vinci, which is currently based in West Africa, and the Iremis Atlantis, which is working in the North Sea," describes Olivier Trouve, vice president commercial at Iremis-ISS.
"The Iremis Da Vinci has recently performed a general life extension programme on the subsea pipeline network of a producing field in offshore West Africa. This involved diving operations within the mooring pattern of the FPSO. In the North Sea, ISS has successfully completed jacket inspection and maintenance operations, with the particular challenge of running diving operations inside the jacket during the winter season," he continues.
During 2012 Iremis-ISS also successfully completed the salvage of a Brazilian Navy barge that was sunk in a water depth of 50-metres off the coast of King George Island in Antarctica. The Iremis Atlantis was diverted from its field of operations in Brazil where it had been working to carry out this extremely sensitive project. The salvage works were successfully completed ahead of schedule with no environmental impact.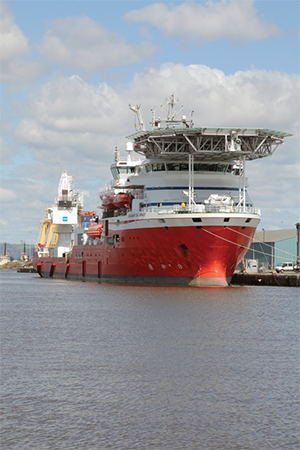 In order to ensure its ongoing operational excellence, Iremis-ISS is a registered member of IMCA Diving, as well as operating under a DNV monitored ISM system and DNV monitored ISO and OHSA schemes. "Participation to IMCA is crucial in the day-to-day life of a diving contractor, not only in its certification role, but also in terms of setting the standards for business, operations and safety. This is the forum where we as the contractor can share with our peers lessons learned and best practices in order to improve performance, quality, and safety," notes Olivier.
He goes on to describe the other systems the company has in place to maintain a high quality of service: "Safety is the cornerstone of the Iremis business management system. Best safety standards can only be achieved with commitment and behaviours. There can be no safety without quality, discipline and sound operational practices. Our business and operations are project focused on delivery of our scope of work to the full satisfaction of our clients. Projects are supported by centres of excellence, such as marine, diving, and ROV, where all the lessons learned are carefully implemented in order to improve reliability and performance."
At present there is a relatively steady demand for Iremis-ISS' services in the oil and gas market. Operating standards are improving as a result of activities in particularly challenging environments such as the North Sea and deep waters today, and the Arctic and ultra-deep water tomorrow. "In a nutshell, oil and gas is a very challenging, but exciting business sector which is quite promising in terms of opportunities for companies and enthusiastic individuals," comments Olivier.
With Iremis-ISS' activities today concentrated in the North Sea and West Africa, Iremis is looking to explore development opportunities in other regions in order to increase its global footprint. The next year will also be focused on strengthening the roots of the business, and better integration of the two principal companies – Iremis and ISS. As Olivier explains, this is another step towards Iremis-ISS' ultimate aspiration: "The business aims to become one of the world's leaders in the IRM and light construction markets," he reveals.
"This objective will be achieved through a combination of organic and external growth in all regions of the world. Iremis-ISS will focus on its core business to provide the highest quality services in the most efficient manner in a business segment that is crucial to oil and gas development and operations," he concludes.
Iremis-ISS
Services: Offshore inspection, repair and maintenance