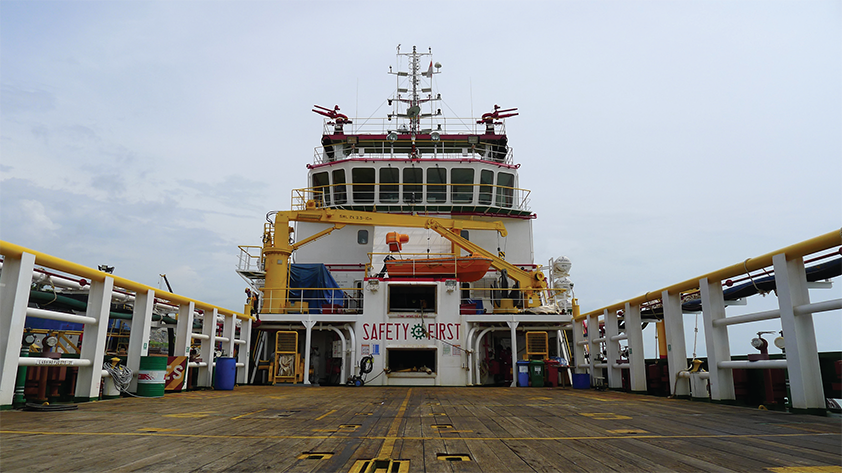 Making great strides
Built from the ground up in 2008, PT. Anggrek Hitam is the proud owner and operator of a modern and thriving shipyard in Batam, Indonesia.
The company itself is a subsidiary of Holotan Pte Ltd based in Singapore. Having acquired around ten hectares of land, complete with a deep-water frontage of 300 metres, over the space of 14 months PT. Anggrek Hitam developed the area into a new shipyard including workshop, office, and jetty infrastructure.
Location has also played an important role in the development of the shipyard, with the island of Batam located just 20 kilometres from Singapore where PT. Anggrek Hitam is based. This means that the island can be reached by ferry in less than an hour. The proximity of Batam to Singapore not only helps in the marketing and business development of the shipyard, but also enables PT. Anggrek Hitam to take advantage of Singapore's logistics hub, personnel and equipment. Furthermore, Batam has been a free-trade zone since 1989, which has seen it develop into a major industrial area.
By creating its yard from scratch, PT. Anggrek Hitam has been able to ensure that it has all of the facilities required to carry out construction projects effectively. This includes four building berths, a large fabrication area, integrated workshops, a CNC plasma cutting machine, auto-blasting and priming capability, welding machines, bending machine, and various cranes. The yard was designed with a production output of 25,000 tonnes of steel per year, with infrastructure calibrated for the construction of self-propelled deck carriers of up to 20,000 tonnes deadweight (DWT) such as accommodation barges, work barges, tug boats, and supply vessels, and floating cranes.
Whilst all of this activity was underway, PT. Anggrek Hitam had also taken on a second challenge in the form of building its first vessel. "At the same time as we were completing the yard, we were also building a vessel so it was quite a challenge to co-ordinate this," begins Guillaume Chaussade, general manager of PT. Anggrek Hitam. "We were working to quite a tight schedule as the civil works on the yard itself impacted upon the vessel construction. For example, just ten months after we started work on the yard, we wanted to lay down the keel for the vessel. At the same time the infrastructure of the yard such as road access and power supplies were not fully developed, which presented some logistical challenges.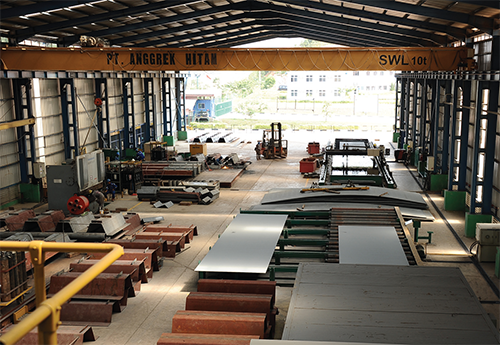 "However, we were able to overcome these thanks to our relationship with a very skilled local subcontractor. This meant that all of the civil works, electrical, mechanical, and other workshop services could be carried out whilst our yard was being completed," he adds.
Today, PT. Anggrek Hitam continues to adopt a similar approach to projects. The yard itself focuses on engineering, with its own in-house team, along with project management. The vessel design is procured from a consultant, and the labour is subcontracted to external partners. "This gives us much greater flexibility in managing several projects at the same time," enthuses Guillaume. "We have 78 staff on payroll but the yard can accommodate up to 1000 workers allowing us to upscale according to the workload.
"Our engineering team ensures that each project is fully prepared, which we believe results in a quality end product, whilst the project management staff co-ordinate all of the different trades in delivery. We are also using software in order to be more efficient and faster, which also links into material procurement in ensuring we buy precise quantities of what is needed," he continues.
Last year saw PT. Anggrek Hitam take on the construction of a 60-metre anchor handling tug supply vessel (AHTSV), which is now chartered to Chevron in Indonesia. "This was a great achievement for the yard, particularly as we were heading into our fourth year of operation," enthuses Guillaume. "It's also been a very important project for us in terms of entering into new markets where we have needed a track record in successful deliveries. We are also building an oil and chemical barge of 12,000 dwt which is due for charter to Myanmar."
Furthermore, PT. Anggrek Hitam has been qualified by Pertamina, Indonesia's national oil company, for its upcoming tanker programme. In total three bulk tankers are to be built, of which PT. Anggrek Hitam is hoping to be approved for a minimum of one. At present the company is in the final negotiation stage for this project. This represents another major achievement for PT. Anggrek Hitam, as in order to work with Pertamina the yard had to have its team, processes and facilities vetted and surveyed prior to submitting its bid. Only 11 of the 17 shipyards expressing an interest in this work were qualified, and out of these PT. Anggrek Hitam was ranked number two.
Since its formation, PT. Anggrek Hitam has seen the local bulk market slow down significantly, particularly in 2009, as a result of the global economic uncertainty. It was at this time that the business took the decision to move into the oil and gas market, where it has been working to build up its track record. "At the end of 2012 we started to see a lot more local prospects, and financial institutes and investment funds beginning to lend money again. One of the main issues has been securing financing for these projects, so this has sparked a lot more activity in the market," describes Guillaume.
"Our strategy is to continue to grow in the oil and gas market, and at present we are looking at upcoming projects such as accommodation barges, jack-up rigs, and the larger end of the tug spectrum including oceangoing salvage tugs. Looking further ahead, we may look to incorporate a ship repair facility into the site. We have the land to do it, and we believe this would create a second complementary arm of the business. Constructing new vessels is a highly cash flow intensive process, whereas ship repairs bring in good levels of revenue so the two activities sit well together. Beyond this we are also exploring the possibility of opening a graving dock, but this is a long-term consideration," he concludes.
PT. Anggrek Hitam
Services: Shipbuilding