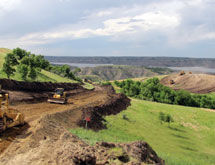 The oil industry can be an intense, difficult business where the needs of customers can change at the drop of a dime. J. Koski Co. has excelled at operating under those conditions in the Bakken Shale, North Dakota Manager Dwain Mansfield says.
"It's tough here now to formulate any kind of schedule," he admits. "Things are happening so fast that you have to be ready to go at a moment's notice to service and satisfy our customers' needs. We've grown our business that way."
President and founder John Koski launched the Superior, Wis.-based business in 1995 as a logging company. At the time, the company was one of the larger logging companies in the state, Mansfield says.
In 2005, J. Koski Co. developed a connection to oil companies when it began adapting equipment to work with pipelines. "That's how they got started into the energy end of things," Mansfield says, adding that the company moved out of the logging industry when it became more difficult to operate in due to intense competition and falling market prices for timber products.
Today, J. Koski Co. provides oil well pad construction and maintenance. "They've been in the energy [sector] in Minnesota and its neighbor states since 2005," Mansfield says.
In 2011, the APi Group Inc. purchased J. Koski co., placing it in its portfolio of construction and life safety firms in the United States, United Kingdom and Canada. In addition, Mansfield says, J. Koski Co. joined forces with Jamar Co., an industrial, commercial and mechanical contractor which is part of APi Group.
While John Koski himself remains with the company as president, "APi Group has been a great resource to aid in J. Koski Co. N.D. operations' expansion," Mansfield states.
Through sister company APi Supply, J. Koski Co. obtains equipment to rent to customers, such as diesel generators to operate wells, light plants, manlifts and payloaders. "Besides supplying them with the diesel power generation, we also service and maintain the equipment," Mansfield explains. "Those are important relationships we have with our customers."
J. Koski serves a range of clients including QEP Resources Inc., WPX Energy, Petro-Hunt L.L.C., Kodiak Oil & Gas Corp. and XTO Energy. "We supply rental equipment or construct and maintain their well pads and roads," Mansfield says.
On a Whim
J. Koski Co. formed its North Dakota division last year. "We actually came out here … on a whim," Mansfield says, noting that the company arrived with two water trucks. "We were transporting water to/from locations."
From there, the firm moved into the transportation of aggregate. Afterwards, J. Koski Co.'s management saw the potential of building a business in the state. Over several months, the firm researched its customers' needs, and secured several gravel and scoria pits. "We now were able to both supply and transport aggregate products," he says.
Since then, the North Dakota division's core services have become oil pad construction and maintenance. "We [also] do reclamation once the well is producing," Mansfield adds.
"[We are] able to provide better service and supply customers' needs, giving them a cradle-to-the-grave opportunity," he states, noting that the company also has aggregate pits in the area. "We have products like Scoria Class 5 and Class 13 gravel products and sand."
J. Koski recently introduced roustabout crews for maintenance and servicing of well pad sites and tank batteries. The roustabouts, Mansfield notes, will maintain wells throughout their lives. "They're kind of jacks-of-all-trades," he says.
For the Long Haul
Mansfield joined J. Koski Co. this past summer. Before joining, he had worked for two years in North Dakota in a similar role and 20 years of project and construction management in the Great Lakes Region.
Mansfield praises several members of the staff, including President and founder John Koski, Vice President Rich Noble and Project Manager Andy Scheidel. Although all three men are based out of the company's office in Superior, "They travel to and from North Dakota almost on a weekly basis," Mansfield says.
Another key person is General Superintendent Marty McCuskey. "He came out on day one and has been here through thick and thin," Mansfield says.
Looking ahead, J. Koski Co. plans to continue to grow its customer base in North Dakota, Mansfield says. The company already has established ties to the community. "We have donated materials and labor and sponsored events like the local rodeo and rib fest," he says. "We're committed to being here for the long haul." EMI