Quay to the region
The port of Karmsund has always played a vital role for large parts of the industry in southwestern Norway.
It offers customers access to a wide range of facilities, and so whether they want to establish a business, rent space, place a boat in storage or use one of Karmsund's harbour sections, the organisation will work hard to meet their needs.
Furthermore, the diverse maritime industry around Karmsund is a great advantage for the port and supports its complete service offering. The fishing industry and shipyards with large dry docks gives the region a unique maritime diversity.
The Karmsund port area is the third largest in Norway, measured in cargo cover over the many waterfront segments. It is an efficient and modern business that holds service and quality as keys to its success, and can demonstrate solid economic foundations. The port also has a distinctly green profile to its operations, and focuses on the environment and climate change as an integral part of daily routines.
Operations at Karmsund are split into three main areas – a subsea base; cruise line and containers/traffic.
Subsea & offshore base
One division of Karmsund Port is the Killingøy Subsea & Offshore Base, which meets the regulations on protection of ports and port facilities against terrorist acts and so forth, as well as being approved by the NCA.
Located at Killingøy, Statoil operates a major facility for its PRS (Pipeline Repair System), and as recently as June 2013, it took the keys to a new 1070 square metre hall on the base, which is on long-term lease from Karmsund, and features modern technology, including a 25-ton crane.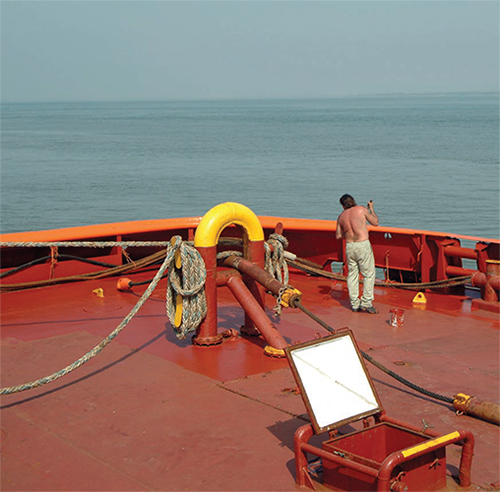 In addition to Statoil's PRS facility, Killingøy is home to many of the region's prime subsea players, including: Technip Norway, Deep Ocean, Olufsen Ship Repair, Reach Subsea and Mera. In addition, Karmsund Port Authority's administration is also located at Killingøy.
Representing a significant development for Karmsund, Technip signed an agreement for long-term rental of an industrial hall in Killingøy just days before Statoil took on its new facility. According to the agreement, the hall will be completed in the first semester of 2014, and in addition, Technip in Norway has need for a storage area outside the base.
"Initially, Technip will use the hall for storage and maintenance of modular hyperbaric rescue equipment, a module handling system for subsea equipment, adding accessories for cables and smaller vessels for air diving when not in use," said managing director of Technip in Norway, Odd Strømsnes.
Karmsund port director Sigurd Eikje was very pleased to sign the long-term lease agreement with Technip, as the contract helps to emphasise the strength and importance of the subsea environment at Killingøy. The Karmsund Port Authority has been working for several years to establish the agreement and will start work immediately on the design of an industrial hall with office facilities for rent to Technip.
"There is no other agreement Karmsund Port Authority has worked on for as long as this," said Sigurd Eikje at the signing. "Therefore it feels especially good when you finally reach the goal." The agreement was signed at the same time as City Council in Haugesund adopted new zoning for Killingøy/Rekavik. "This creation shows that regulatory change was appropriate and important for the subsea environment in the region," added Sigurd.
Cruise port
It was three years ago in 2010 when Karmsund Port Authority, together with destination management, took the strategic decision to launch a serious and sustained effort to attract cruise tourism.
Much effort and resources have been invested into the cruise facilities with Karmsund Port Authority investing about eight million itself to create the best possible conditions for ship, crew and passengers. Special attention was paid to the jetty and mooring arrangement and bollards are now 150 tons. With a quay of 297 metres, the region can accommodate ships of all sizes. It also established a park – Harbour Park – which will ensure that both cruise passengers and the region's own citizens have a very enjoyable experience after a visit to the quay.
As a result of all this hard work, the first cruise ship arrived in May 2013 – Fred Olsen's 'Balmoral'. With room for 1350 passengers and a crew of 510 Balmoral is the largest in the Olsen cruise fleet, and is due to make more calls into Haugesund during the summer of 2013.
Traffic port
Moving onto the traffic port, this location benefits from new road connections from Rogaland to E39, and means it is very strategically located in relation to the business community in the region, as well as Stavanger and Bergen.
In the harbour there are large areas of development available, plus the main quay was extended in summer 2012 to 270 metres, and as well as a modern RORO ramp, Karmsund provides a state-of-the-art quay, all designed to benefit end users.
Going forward, Karmsund will maintain its focus on consolidating its position, as well as making further improvements in order to meet the demands of the future, by facilitating the development of modern technology infrastructure in the port district. It also has ambitions to be a part of the development of the area in terms of industry and tourism; as well as to be the natural choice for ships, with easy access and good service. It looks clear that with this firm strategy in place, Karmsund will remain a port of great importance to both its local area and to the whole of Norway.
Karmsund
Services: Port services