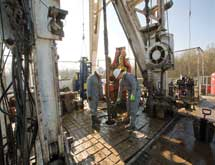 What began as a single-rig operation that drilled shallow oil wells solely in northern Oklahoma has blossomed into quite an impressive operation. By expanding the areas it serves, its fleet and its service offerings, Keen Energy Services is positioning itself to garner a larger share of projects from publicly traded, mid- to large-cap oil and natural gas providers in proven, prolific oil and natural gas markets.
Currently a wholly owned subsidiary of Leucadia National Corp., New York, the company started out as Goober Drilling in the early 1980s. In 2006, with Leucadia's backing, the Keen fleet has grown to include 26 electric rigs ranging from 800 to 2,000 horsepower and is currently the newest in the industry. The company also owns and operates all of its own trucks, trailers, cranes, loaders and other construction equipment providing a suite of services to its clients.
"We wanted to expose ourselves to greater growth opportunities," CEO Ed Jacob says. "With greater equipment capabilities, we are able to spread our coverage over more markets and reduce our risk of being dependent on the cyclicality of the industry." He adds that Keen's ability to spread its market coverage geographically as well as expand its customer base has allowed the company to dampen the volatility of market cycles.
"Instead of working only on a well-to-well basis with contracts that can last a few months, we can draft contracts with the larger companies over one- to two-year periods." Jacob asserts.
Keen specializes in providing access to deeper oil and gas reserves. In addition, its equipment can be adapted to perform directional, horizontal and city drilling services. More than 65 percent of the fleet has a rating of 1,000 horsepower or higher with an average drilling capability of about 15,000 feet. Specializing in drilling unconventional shale formations, Keen has been able to venture outside of Oklahoma and into other states where these shale formations exist. "Our employees have experience at drilling into unconventional geologic formations such as Barnett [near Ft. Worth, Texas], Haynesville [northwest Louisiana and east Texas], Fayetteville [Arkansas] and Woodford [Oklahoma] shales," Jacob says.
In addition to drilling, Keen offers both transportation and construction services to its clients and competitors.
"Part of our project services involves road building at the site as well as excavation, site reclamation, grading, transporting rock and whatever else the client may need," Jacob says. "We also have our own equipment to transport rigs to sites."
Securing its own transportation equipment has proven to be a shrewd move for Keen, which provides rig transportation services for several of its competitors. "We started this business because we wanted to utilize our equipment as much as possible," Jacob says. "In the last year we've seen significant growth in this segment."
Safety and Environment
Keen has a series of stringent safety programs in place. "Before a job even begins, we conduct a job safety analysis [JSA] and create job procedures regarding what will be expected of the crews, what hazards exist, what tools are needed and so forth," Jacob says. If there is a change in the JSA, Keen has a "Step back 5 by 5" program that mandates taking five minutes to step back five feet to get a better perspective and rewrite that particular procedure. "This way we're not just giving a knee-jerk reaction to a change in the plan, but thinking about the change proactively right then and there," he notes.
Keen has a very detailed and user-friendly safety and procedure manual that details various actions that should be taken for a specific task. The firm also has reporting systems that require safety managers to note site accidents or near-miss incidents.
"Our safety managers record these incidents, which are reviewed," Jacob says. "We learn from these experiences and institute new procedures to prevent accidents from happening in the future."