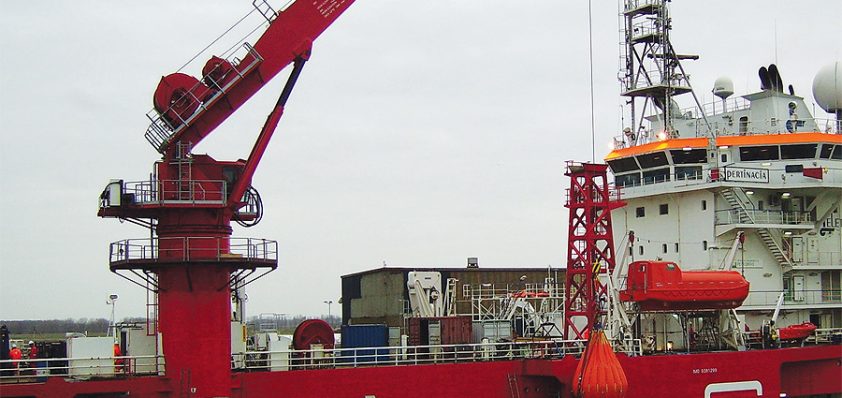 Crane reign
The roots of Kenz-Figee were planted in 1836, and the company as it stands today was created by a merger between Kenz, a long standing name in cranes and lifting appliances for the offshore industry, and Figee, the oldest part of the company, which had earned a worldwide reputation as a leading designer and manufacturer of various types of harbour cranes and general hoisting systems.
The union of these two highly respected names created a dedicated, technologically advanced and service-oriented engineering and construction company. The design, fabrication, installation and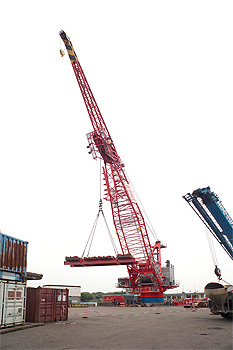 conversion of cranes and relating lifting appliances are the main activities of the company, but it also offers refurbishment, upgrade and maintenance services.
As one would expect from equipment that is designed to function in the harsh and often demanding environment of the offshore sector, Kenz-Figee's services adhere to the strict specifications of marine and onand offshore industries, plus international classification standards.
Of course, safety is also of paramount importance to those working in the offshore sector and to address these concerns Kenz-Figee provides a wide range of safety and operational features, including explosion proofing, constant tensioning of hoist wires, automatic boom load centering, man-riding and high reliability diesel-hydraulic and electric-hydraulic power units.
An excellent example of Kenz-Figee's special engineering capabilities in the area of safety is its Active Heave Compensation (AHC) system. This can be used to safely install equipment up to 400 tonnes in 3000 metres water depth from a support vessel. The AHC system entirely compensates all vertical excursions, up to a maximum of 12 metres, which can result from the ship's roll, heave and pitch motions.
Ensuring that its products are reliable and efficient even in extreme conditions has resulted in Kenz-Figee operating a philosophy of clearly understanding varying client needs and adapting its products to these requirements. This is a very different approach than making only standard designs, a feature that is common to traditional suppliers, and the results are specifically tailored products that address a client's situation. Together, Kenz-Figee and its clients work in partnership to create the most appropriate lifting solutions, and this calls for a very innovative approach that looks in new directions.
However, extending the boundaries of performance presents a great challenge, and as a result the company has invested in advanced concept engineering, design and calculation capabilities and in-house hydraulics, electronics and control systems expertise. Kenz-Figee has very experienced engineers on its staff, who are very knowledgeable in the use of state-of-the-art technical tools, such as 3D AutoCAD inventor, finite element programmes and simulation software.
Today Kenz-Figee is regarded as a quality centre for crane building that serves the global market with a broad scope of harbour and offshore cranes. Its product applications in the marine and offshore industry include :
Drilling platforms
Production platforms
Floating drilling vessels
Accommodation platforms
FPSOs/FSO units
Diving support vessels
Pipe and cable laying vessels
Navy vessels
One of the company's expanding markets has been in the development of products for use onboard multi-purpose surface vessels, specifically cranes designed for deepwater operations. This growing market reflects the overall increase in deepwater operations throughout the industry, something that Kenz-Figee believes will continue, and therefore is a sector that the company is
increasingly looking at. This development brings new challenges because it is more difficult to operate at such depths; the added distances from the surface place considerably more strain on the ropes and gives much greater lifting capacities.
Service
Alongside its manufacturing expertise, Kenz-Figee also offers an in-depth repair, service and maintenance operation. The company has delivered a significant amount of cranes since the 1990s, and because the industry requirements change so frequently upgrading and servicing them is a big part of its overall operation. To help this process become more efficient and streamlined, Kenz-Figee installs a PLC based control system in its cranes that monitors all of the main operating systems, and can inform the operator when the unit requires maintenance, lubrication and parts replacement.
The company has also been seeing an increase in replacement operations, with many of its smaller UK independent clients swapping existing cranes for newer models. Kenz-Figee cranes are ideal for these replacement operations as they are modular designs. For example, after they have been built and tested, the company breaks them down into small modules, uses the existing crane onboard a platform to lift the modules on, and installs them in the existing crane's place without using a crane barge.
More than 250 Kenz-Figee offshore cranes are currently in operation in areas ranging from the North Sea and West Africa, through to the Gulf of Mexico, Australia and the South China Sea. In addition to being confident that Kenz-Figee's products meet with regulatory requirements of the sector, its clients also rely on the organisation to provide outstanding project management and meet the highest of QHSE standards. It is this dedication to quality that has resulted in the Kenz-Figee name becoming highly recognised and respected in the industry.
Kenz Figee
Products: Offshore and harbour cranes