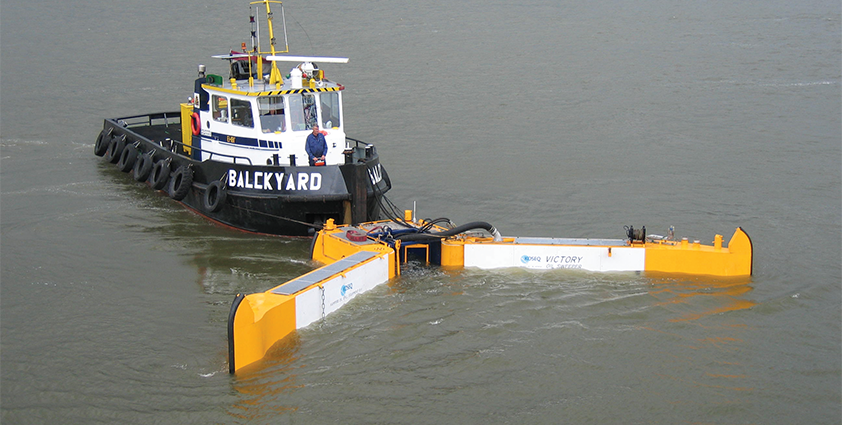 Sweeping the market
Oil spill disasters cause a great deal of damage to the environment, its inhabitants and operational capabilities throughout the world every year.
The detection, separation and recovery of oil is a complex, costly and often problematic procedure that faces particular difficulties in harsh and varying conditions. Due to the huge costs and efforts needed to clean up oil, beaches and the surrounding areas following a spill the Dutch Ministry of Transport, Public Works and Water Management (Rijkswaterstaat) called for the development of a tool for the swift recovery of oil – a challenge that Koseq decided to take on utilising its 30-year history of technical experience. After a long period of research the company came up with an effective way to remove and recover large quantities of oil from the water surface and the Rigid Sweeping Arm was born to wide success across the oil and gas industry. The Rigid Sweeping Arm is a result of years of field development and has been used during some of the largest and most recent oil spills including the disasters with the Erika, Sea Empress and The Prestige disaster in 2002.
The concept is unique in the field of recovery and is beginning to be recognised as the only solution for oil clear-ups, having been measured against alternative equipment on several occasions for large oil spills. Mechanical containment has been discovered to be the most desirable and primary line of defence against all spills due to the fact that it has no detrimental effects on other methods and prevents further damage before oil reaches the shore. Other options such as chemical dispersion or in situ burning are highly unadvisable because of the toxic residues that will remain in the environment. At the start of Koseq's investigations the aim was to develop a device that could recover a large amount of spilled oil in a short amount of time, operate effectively during rough weather conditions and be reliable – ten years later all of these goals have been achieved.
"In the early days the only thing to recover oil from water was to put an inflatable boom around the spill and then use a simple skimmer to rip out the oil from the water surface. This was fine for inland waters and areas with minimal waves but was made redundant on open seas and in storms. This was when development started to make a tool that is reliable and can work under heavy circumstances. It took us a decade to create a system that was stable and solid enough for operations, but we have proven to have an award winning product now," Tom Achterberg, project manager of Koseq outlines.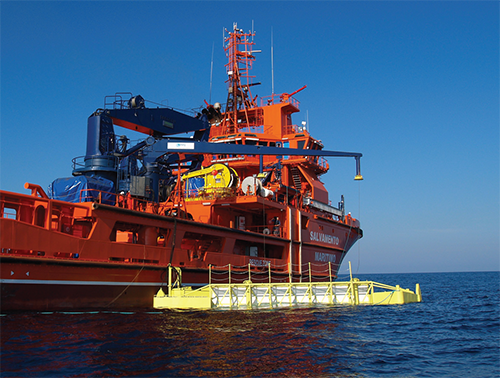 He adds: "The Sweeping Arm is a floating device towed aside a vessel. When the vessel moves forward the oil will be guided between the ship' s hull and the Rigid Sweeping Arm to the oil collection chamber in the Rigid Sweeping Arm. A pump in the system then pumps the oil and water mixture onto the vessel where it is then separated through the difference in specific weight. The process can continue until the tanks on board the vessel are completely filled with oil."
So far the device has performed extremely well, operating in conjunction with Rijkswaterstaat to solve a number of major oil spills. The Prestige disaster, for example, provided an opportunity for Koseq to demonstrate its prowess. Indeed, 87 per cent of the oil was recovered by the only two vessels with Sweeping Arms, which was an impressive reference considering that 20 vessels attended the clear up.
The majority of the company's customers are government bodies that encourage investment in such essential safety measures: "You can compare our tool to a fire truck; it costs a lot of money, you hope you never need it and nobody wants to buy it but when there is a problem you are happy to have one – this is the way we look at it. Businesses that are involved in the distribution of oil are obliged to have ready equipment to recover any spillages, and as such we have sold several systems to the Dutch and German governments, as well as the EMSA (European Maritime Safety Agency), which has a programme of providing ships with safety equipment," Tom explains.
Moreover, Koseq has responded to demands for alternative versions of the Rigid Sweeping Arms by consistently spending time on research and development. As a result a smaller version has been created that will be lighter and easier to handle, meaning that smaller vessels can utilise its unique capabilities. The Victory Oil Sweeper has also been launched into the market and is a flexible adaptation that can be pushed rather than pulled behind a vessel making it ideal for use in harbours and mariners.
Currently the organisation is looking to introduce its Sweeping Arm device to a wider range of markets such as the Middle East, Central America and South America, all areas where a great deal of oil is produced and regional governments will take interest in safe-guarding against the damaging effects of oil spills. Koseq is highly optimistic about its potential for growth, expansion and development over the coming years.
Koseq
Services: Oil spill recovery equipment