Global and local
Lamons is one of the largest gasket and bolt suppliers in the world, and is committed to both quality products and providing a local service.
The company's various locations feature leading technology and state-of-the-art manufacturing facilities capable of producing engineered products to custom specifications serving the refining,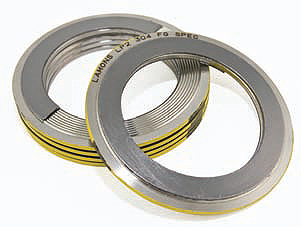 chemical, power generation, petrochemical (upstream and downstream), and pulp and paper industries.
Alwin Nieuwpoort, Lamons Nederlands branch manager, gave some insight into the ethos of the company: "Lamons started as a supplier to the oil and gas industry from day one. Adhering to a philosophy of 'sealing global, servicing local' we set up sites close to our major customers, and this strategy has been successful and we have grown quite well. We now have more than 17 locations throughout the US and Canada, as well as locations in China, Brazil and Europe. Also, more recently we opened a branch in Singapore to serve that market."
Alwin emphasised how important it is to Lamons to be located near to its customers, and to this end, over the past three years the company has opened new outlets in the UK and Spain. "With the European market being a big part of the global market, it made sense to be in Europe," he explained. "Besides that, some of our customers have a global presence and being close to the European locations of those customers intensified the co-operation with them. They can now get the same product from Lamons all over the world."
He continued: "Lamons UK (Hull) opened in 2010 followed by Lamons Iberica at the end of 2011. Each location has been set up in the same way, with the same type of equipment as all the branches throughout the world. In that way we guarantee that a Lamons product is the same wherever it is made.
"Of course an in-depth training programme for the staff is a must and in all locations we employ well-skilled and experienced people. For a few decades now, Lamons has been setting up branches and now uses that experience to set up the new facilities in both the US and in other parts of the world like Brazil and Europe."
Alwin noted some further benefits of being located near to clients: "We find this approach offers comfort to customers because they can count on getting Lamons products wherever they are. Also the synergy between the European branches works out very well. The result is that we are growing business in all areas in spite of the difficult market. In fact, we can offer the customers serious savings because they are able to reduce their stock. Further expansion in Europe will be considered if the customers demand it or if we feel 'we need to be there'. But we will always do it with the Lamons philosophy, which is 'excellent products supported by excellent people'."
He continued with some specifics about the capabilities of the Netherlands branch of Lamons: "We are based in Rotterdam, in the middle of all the refineries and chemical plants, and we stock a large range of soft gaskets, spiralwounds, ring joints and studbolts. With a laser cutter, waterjet, knife cutting machine, saws and winding machines, we are fully equipped to produce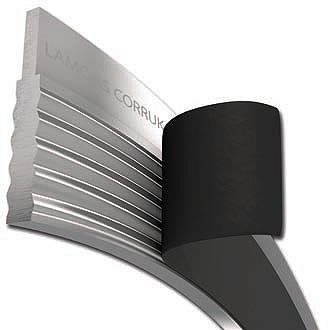 Kammprofiles, spiralwounds, and soft cut gaskets in standard or special dimensions in common materials. We can also handle special materials like Hasteloy, Inconel and Monel and so on. We also produce special length studbolts from rod material in B7, B8, B16 and also exotic materials."
A large engineering department in Houston researches and develops the products manufactured by Lamons. "There is also a European technical manager and a team of very experienced and technical people," he said. "We are known for our problem-solving capabilities as well as our product development. So for example, we recently launched the CorruKamm gasket, which is a new type of gasket with unique recovery characteristics. We are known for our gaskets and studbolt application knowledge and that is the basis for our success."
By constantly releasing new products such as the CorruKamm gasket, Lamons can maintain its market leading position. This is also boosted by its willingness to work closely with end-users and engineering companies. Alwin says: "This approach helps us identify the future needs in the field of sealing technology. We have always given input in difficult sealing situations such as high or low temperatures and pressure, minimum leakage rates, resistance, harmful products or conditions."
He added: "We are increasingly getting involved in problem solving, contract negotiations and product development, and we are continuously looking at our product portfolio, stock levels and production capabilities. I have no doubt that this will lead to positive results in contracts and/or projects."
Alwin concluded: "The market situation in Europe especially downstream and chemical, has been difficult, so the growth of our company proves that our philosophy is working well. We are looking at the near future with a lot of confidence for further development."
"We are aiming to expand our footprint in Europe and to work with new clients. So, I think opening new facilities and co-operations with strategic partners will certainly be possibilities for us over the next few years."
Lamons Nederland
Services: Gasket and bolt supplier