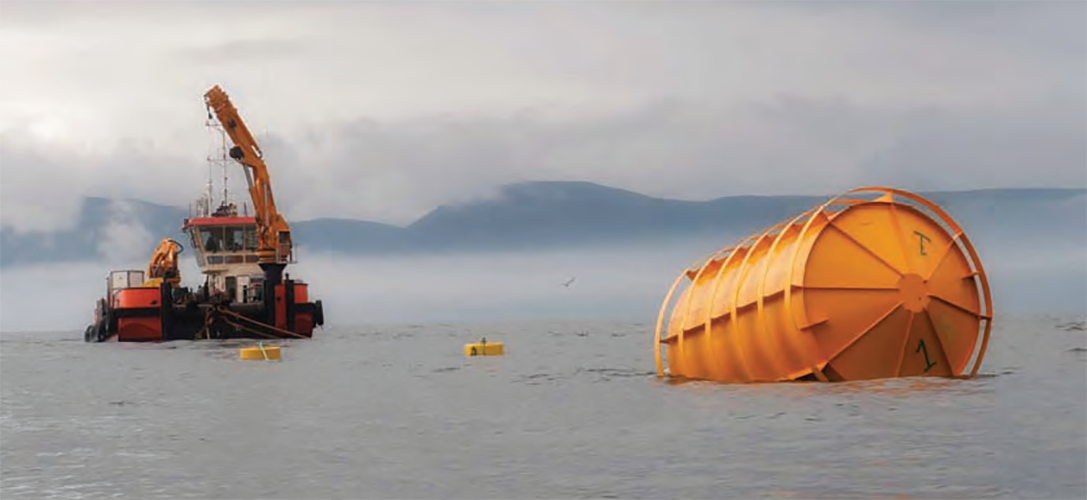 Mastering the tides
In 1985, Douglas Leask founded Leask Marine to provide diving holidays in Scapa Flow and around the Orkney Isles. As a highly qualified commercial diver and vessel master, Douglas became a key asset to help carry out many marine construction repairs and over a period of 20 years he built up a fleet of small to medium sized vessels and a strong commercial diving team to serve increasing demand in the market. With expert diving capabilities and experience built up to include inspection services, survey and inspection, salvage, aquaculture, towing and other general workboat support tasks, the company was well placed to serve the emerging market of marine renewables.
Today, Leask has become a world leader in wave and tidal marine technology supply chain services, with seven vessels and nearly 50 employees successfully completing projects for 95 per cent of all international wave and tidal businesses that have worked in Orkney waters. Proving itself on the world stage has not only been down to the unprecedented level of specialist services and expertise it can offer to its clients, but also reflects the flexibility and reliability of the company. "We are known for the high level marine construction works that we do and the extensive experience that our commercial divers have with tidal and marine devices," highlighted company founder, Douglas Leask.
Enabling this reputation to grow is a continued focus from Leask on developing itself to handle the extremely harsh environments in which the renewable devices are deployed, tested and operated. Part of this has been promoting the safety benefits of eliminating the risk of a diver free ascent due to the increased current speeds experienced through developments in equipment and procedure. For example, Leask has designed and developed a unique diver's Launch and Recovery System (LARS) to work within tidal parameters, by redesigning industry systems to consider high tidal conditions. This has involved additional weighting of the recovery basket, specifically designed roller systems to ensure the cable payout is not dragged in sudden tidal changes and additional safety features of cable enhancement. Procedurally, the company is also rewriting the industry safety standards to correlate to the extreme tidal conditions experienced. Leask vessels collect real time data, which measures how fast water is moving across the site to set new safety standard parameters. These newly developed parameters allow the surface stand-by diver enough time to be deployed and aid recovery if required.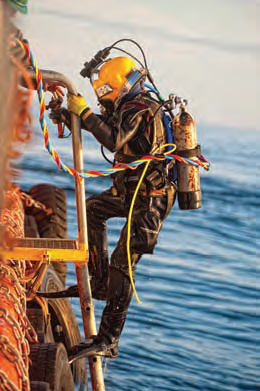 Operating within a fledgling industry, this continuous development is also present in the company's field operations. For example, within the last year Leask has successfully removed both cylinder modules from its client's, Aquarmarine Power Ltd, Oyster 800 wave machine from Billa Croo EMEC (European Marine Energy Centre) test site. The work was needed for a comprehensive summer refit after clocking up a world first, three full winters at sea. Martin McAdam, CEO of Aquamarine commented on the combined team's ability to carry out the procedure quicker and more efficiently than the previous years by learning and adapting. "We need to make sure we understand and capture everything that goes well, and everything that doesn't, as our industry progresses," he said. Working with the client, Leask achieved an exceptional 67 per cent improvement in operational time within 12 months, showing the further potential advancement available through the build-up of knowledge and experience in such a critical industry.
Currently, market conditions for the core of Leask's business have been challenging as governmental support for marine renewables development in the UK has reduced dramatically, forcing companies to either scale back dramatically or face closing down. "This makes it very tough, and with the political situation between the Scottish and British parliaments still in the balance the future isn't very clear," expresses Douglas. "However, we are now working further afield cable laying in the Bristol Channel and Île d'Yeu where conditions are challenging, because this is where our skills are. We've also got the C-Odyssey working in Poland and Germany on the Baltic 2 wind farm, plus the C-Chariot available for works in the Netherlands.
"Our real focus over the next 12 months is on promoting marine renewables supply chain on the spaces available on the EMEC tidal test sites, to help encourage developers to come to the Orkney's to test out their renewable marine devices." It is evident that there is a strong international interest in marine renewables as Douglas explains: "Just over the last two months we have spoken to companies in Portugal, Finland, Spain and Canada with long-term interest in working with our skills base on marine renewable devices." Leask is also starting to capture the attention of the energy industry in general as well, as it won Renewable Supplier 2014 at the Energy North awards. "This has helped us be understood as a contender by our peers in the market. It is very important for us as before we were just seen as an Orkney player despite our client base being very international," he comments.
Leask's success has been down to Douglas Leask's vision to provide the very best that the new industry deserves, and his entrepreneurial spirit and personal investment into new equipment to support the industry shows a determined commitment. As a world leading business, which has close to trebled its turnover from £1.2 million and more than doubled its employee base in under four years, as well as created a wealth of opportunities for the local economy, Leask has established a strong platform for it to continue succeeding as it looks to expand globally.
Leask Marine Ltd
Services: Complete technology supply chain service provider to wave and tidal energy sectors
Issue 122 July 2015