Licence to drill
Listed on AIM in March 2007, LGO Energy plc began developing a portfolio of oil and gas assets in Europe and North America; following three years in operation the company decided to concentrate on Trinidad as this was a country with a century of history in onshore production, large, under-exploited reservesand a favourable service sector. As such, the legacy asset of the Ayoluengo Field in Spain was retained, while all other assets in Hungary, Malta and the US were divested.
"Following these developments, LGO acquired 100 per cent rights and operatorship of the Goudron Field in eastern onshore Trinidad in 2012. In the period of October 2012 to April 2014 LGO reactivated 70 old wells on the field and repaired or replaced all of the necessary oil field infrastructure and services. In 2014 LGO, through its local subsidiary Goudron E&P Limited (GEPL), drilled eight new production wells; this was followed by a further seven new wells in 2015. In February 2017 LGO announced it had successfully recommenced drilling operations with its 16th new well, which is the first of a campaign of infill drilling at the shallow reservoir Mayaro Sandstone," explains Neil Ritson, Chairman and CEO of LGO Energy plc.
He continues: "We have drilled 16 new wells in the Goudron Field and have also developed a major land position in the under-explored plays in the southwest of Trinidad – the SW Peninsula. In early 2017 the 50-year concession to the Ayoluengo Field ended and LGO now derives all of its oil production and revenues from Trinidad where it has three fields: Goudron, Icacos and Bonasse. It is anticipated that five to ten further wells will be drilled in the new campaign in the Mayaro Sandstone at Goudron in 2017, with drilling continuing into 2018 and beyond."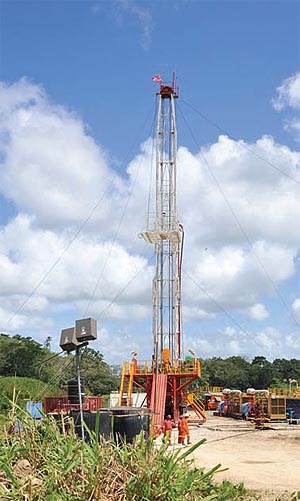 LGO, through its local subsidiary GEPL, has environmental approval for a further 44 new wells in the Goudron Field and has selected up to 70 possible infill well locations that are designed to boost production. With that in mind the company has hired UK-based Bedrock Drilling Ltd to provide supervisory support to the programme. Discussing the reasons behind hiring Bedrock Drilling, Neil comments: "LGO has always prided itself in meeting or exceeding international standards of safety and technical integrity in its operations while also keeping costs as low as possible. To ensure that objective is achieved we have engaged Bedrock Drilling to design the new wells and to supervise in their construction; by working in this manner we will get the very best expertise as and when we need it."
The wells at the Goudron Field are estimated to cost $500,000 per completed well, with initial production targets conservatively set at an average of 45 barrels of oil per day per well. However, based on the large body of historic data, some wells are predicted to have higher production capacity than others. So far the company has announced that its first development well GY-682 in the new drilling campaign reached total depth at 1145 feet on 8th March 2017. With electric log interpretation of the Mayaro Sandstone target interval confirming oil presence over an estimated net reservoir thickness of 408 feet, it was decided that the company would perforate and place on production 273 feet of the best net oil pay within the reservoir. The GY-682 well came on production in mid-March at an initial stabile rate of 55 barrels per day, so quite a bit ahead of the expected 45 averages.
In addition to this programme, the company has also has two other high value projects' the Goudron Field waterflood and the SW Peninsula. "In keeping with most oil fields onshore in Trinidad, Goudron has low reservoir energy and no active aquifer drive. Consequently primary production is estimated to be limited to less than ten per cent of the oil in place and an enhanced oil recovery (EOR) project is needed to recover more of the oil in the field. In the case of Goudron, which has very light, good quality oil (37-38 degree API), a waterflood is the most likely EOR method and a pilot project is to be started in 2017. Once the pilot is completed a larger scheme designed to recover approximately 25 million – 60 million barrels of oil will be planned," says Neil.
"Meanwhile, the SW Peninsula of Trinidad is an underexplored onshore area close to the Venezuelan coast, which LGO believes has a high probability to have substantial amounts of undiscovered oil at depths of 10,000 to 15,000 feet. LGO already has interests in the two existing shallow fields Icacos and Bonasse and holds a large number of land leases from which it plans to explore the deeper target."
With a solid track record in Trinidad for exceeding work obligations and paying all its creditors in full even in times of hardship, LGO is set for further growth and success as it continues to focus exclusively on onshore oil developments in the country. "We will be focused solely on Trinidad and the three aspects of our business there, the Goudron Field and both primary and secondary EOR production; the progression of the SW Peninsular to ensure shallow production is optimised and that the deep prospects are drill ready; and to secure, at low cost, any additional opportunities that will be accretive to value in the portfolio there. Our goal is to become the first or second-placed foreign production company onshore in Trinidad over the next five years," Neil concludes.
LGO Energy Plc
Services: Oil & gas exploration and production