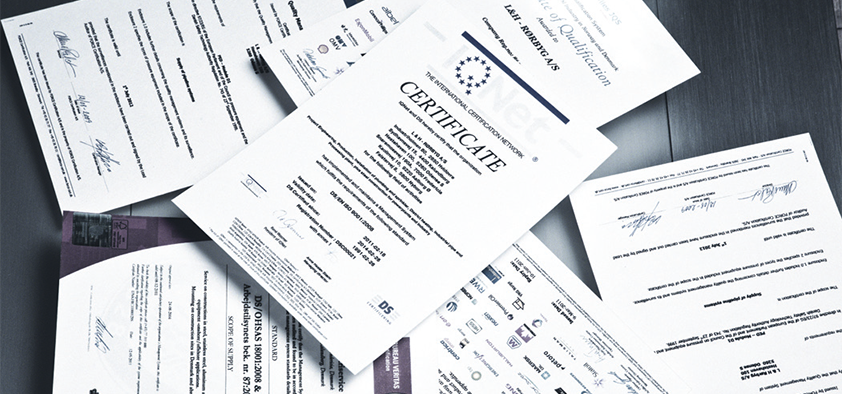 Making the right connections
L&H Rørbyg is a specialist in sophisticated, large-scale piping solutions. It is one of the most advanced and well recognised in its field with a heritage of piping solutions in its home market of Denmark stretching back more than 170 years.
Its earliest routes are in Ludvigsen & Hermann A/S, which was founded in 1838 and during the last few years focused on the area of Denmark east of the Great Belt, the straight separating Zeeland and Funen. A/S Rørbyg, meanwhile, was founded in 1979 to deliver plumbing and heating services west of the strait.
The merger began on January 1st 2001 with the joining of financial functions, continued in January 1st 2002 with the combining of legal functions, and was completed on January 1st 2003 with the unification of infrastructure. An ongoing process of expansion through acquisition has seen L&H Rørbyg's capabilities expand tremendously ever since. At the end of 2010, for example, its capabilities were widened with the purchase of Promecon's service activities, expanding its tank refurbishment and steel structure piping skill set. In 2011, the industrial plumbing division of Glenco was added to its service portfolio.
The purchase of Promecon's service activities has been a crucial addition to L&H Rørbyg's business, with tank refurbishments coming to the fore as the company's main focus today due to the ageing technology of the sector. Tanks used by the oil and gas sectors are sturdy, their reliability meaning they've gone through decades of use. Some are even fifty years old. Apart from the general wear and tear of usage, health and safety regulations have changed dramatically over the period. It is important, therefore, that the tanks are maintained and upgraded to their utmost quality. Looking to further strengthen its capabilities in this area, it is considering new acquisitions in the near future.
One of L&H Rørbyg's most notable clients is Shell, to which the Danish piping expert has provided mechanical maintenance for several years. Shell's Fredericia refinery for example, which dates back to the 1960s, requires regular maintenance that is provided by L&H Rørbyg. Routine work across the refinery includes the replacement and repair of internal tank bottoms, shells and annular plates, fixed and floating roofs as well as the replacement of piping, pipe connections, manholes, and other accessories. It also completed a very successful project to realign an 84 metre, 800 tonne tank in Federicia that was in danger of subsidence.
Tank refurbishments are not L&H Rørbyg's only area of business. Its skills and expertise run the entire spectrum of piping and pipe-related services including three areas it is looking at developing at the moment. First is the prefabrication of spools and skid units, which the company has extensive experience of both manufacturing and installing. Outstanding production facilities allow spools to be built from any material and skids to be delivered fully prefabricated for a higher quality product. L&H Rørbyg has been Maersk Oil's pipe spooling partner for 20 years.
Shutdown turnarounds are one of the most significant projects to be undertaken for any refinery due to the cost of halting production; every minute is money lost. L&H Rørbyg has experience conducting large shutdowns, some as large as 4000 individual activities with hundreds of people involved, and has a proven track record in ensuring everything goes exactly to plan.
One example of its work here is at Statoil's Mongstad refinery, a project that required 700 different jobs including work on checks and repairs of heat exchangers, air-cooling units, containers, ovens, towers and tanks. Planning for the shutdown began 18 months ahead of time. During the seven-week period of inactivity, it was also decided to install dampers onto the CO2 ovens, flue gas ducts, and a 20-tonne incinerator. Overall the project took 250 men and more than 53,000 man-hours but was completed on time and without incident.
Industrial projects are the third core area of development for L&H Rørbyg today. It already has decades of experience providing all types of industrial projects to Danish clients from relocating existing facilities to constructing new ones. The use of specialist pressure equipment has been an essential tool in helping the company overcome logistical and engineering challenges.
Already one of the leading names in Danish large-scale industrial engineering, L&H Rørbyg's development of these core areas will cement its position at the forefront of the market. During the last few years, acquisitions and organic growth have seen the company begin to gain recognition not just in Scandinavia but throughout the rest of Europe as well, L&H Rørbyg's 175 years of history will continue flourishing as its bond with major partners such as Maersk, Shell and Statoil strengthens whilst its international presence continues to spread.
L&H Rørbyg
Services: Large-scale piping solutions