Fully integrated
Driven by an ambition to develop a better dynamic positioning (DP) system, over the last decade Marine Technologies (MT) has widened its scope far further in the field of vessel control systems to become a leader in integrated solutions for offshore vessels.
Headquartered in Louisiana, US, and with global offices in Singapore, Norway and Brazil, MT prides itself on offering an almost one-stop resource for these systems, particularly with regards to DP, but also its own developments such as the BridgeMate Integrated Bridge System (IBS), which holds the most comprehensive bridge class notation in the industry today.
Whilst 2011 was a slower year than before, largely due to the lingering effects of the financial crisis and longer decision times for projects, interest in MT's product portfolio has not waned. "There is a steady request for everything from IBS to satellite communications, but where we have seen the greatest increase of interest is in the DP systems, particularly in Asia where there is a trend towards more advanced solutions. As such there is less demand for the simple DP1 set-up, and a move to the more complex DP2 and DP3 models. In general customers seem to be recognising the advantages of integrated systems, not only those that we deliver, but automation and vessel management overall.FullyWhilst there are still projects for relatively simple vessels, there is a deliberate focus on the more complex developments where integration then becomes a key issue," explains sales director Frode Klepsvik.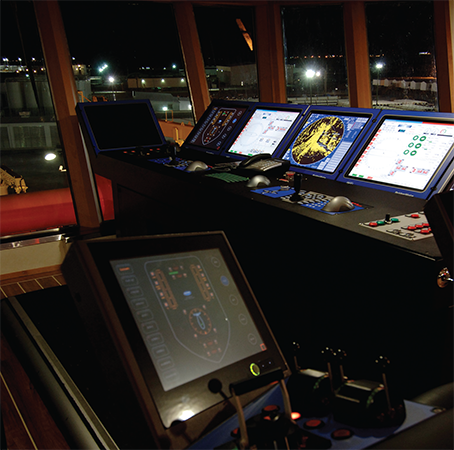 Akin to the general nature of technological developments, MT's product range is subject to continuous evolution and improvement over time in order to continue to offer the best cutting-edge solutions to clients. Sometimes these are born out of particular requests, or projects based on the available parameters, such as MT's in-house Thruster Control System (TCS), which is now being offered to the market on a regular basis. The company has also recently finalised a one-metre version of its new MT BB100 VSAT antenna, which has been a very successful development for the business.
Of even greater note though is the announcement that this third generation marine stabilised antenna has been approved for use in Brazilian waters by the Brazilian federal communication agency, Anatel. As such, MT is one of just four manufacturers in the world to receive this coveted approval, and even more so, the MT BB100 is the only two-axis antenna on the market to achieve this. "This approval is essential because unless you have that from the Brazilian authorities you cannot operate in their waters," highlights Frode. "Since Brazil is a very important and growing market, and will be in a strong position for many years to come, it is therefore vital that we are able to offer our customers a high quality communication product for this region."
He continues: "Communication is becoming more and more essential to the modern operation of ships, both offshore and merchant, and so there is huge demand for broadband solutions that support crews in this. We are very satisfied with the classification of the MT BB100 and believe this gives us a very good platform for future work in the area."
The market for these types of technologies is extremely competitive, but there are a number of aspects where MT believes it has a unique footprint and leverage in the market. One of these is its small and younger nature, which enables it to utilise state-of-the-art developments more easily into products, as it does not have a long legacy of systems that have to be maintained. Likewise, many of the company's products and services are somewhat different to the typical systems on the market with a much high level of integration including third party equipment.
As well as its products, MT also places a great deal of importance on its overall value proposition including support services and training. "Training is becoming increasingly important in particular in the DP field," reveals Frode. "This has been a major concern in the North Sea, Gulf of Mexico and Brazil for some time, but now we also see customers in the Middle East, Asia and Singapore putting much more focus on this. As such we have established two new training centres, together with local partners, in Singapore and Dubai to meet with these demands.
"The training concept is based on a co-operation with Maersk, where MT supplies the premises and technology, and Maersk provides expert training instructors to lead the courses. I believe this is a good model, which provides high quality and very relevant training capabilities, and so far the feedback has been Technologiesvery positive from the market," he adds.
The other significant area of focus over the last year has been the expansion of MT's service network, in particular in Asia and the Middle East, on the support side of the business. The company recognises that this is an important element of its offering, and the results of this positions MT as a more dynamic and responsive company that can meet almost any request within a reasonable time. "Technology wise and structurally, I would say we are in a good position for the future," agrees Frode.
"I believe we will experience significant growth in the key product and service areas, and given the competition that there undoubtedly is out there, we do see a need to stay focused upon the niche sectors we are working in. I am confident that the company will experience continued success in the years to come, partially off the back of the investment that has been carried out over the last two years in creating the right platform for sustaining this growth," he concludes.
Marine Technologies
Products: Vessel control solutions