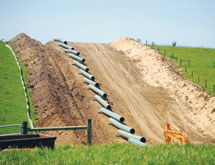 Like any chain, a supply chain is only as strong as its weakest link. As production continues to ramp up in the Marcellus Shale play, the supply chain needs to operate at maximum efficiency for producers to gain the greatest benefits. That's where McFarren Group comes in, with a joint venture created to beef up the region's transloading infrastructure for greater efficiency and efficacy.
Based in Harrisburg, Pa., McFarren Group is a firm specializing in the identification and validation of large-scale capital infrastructure projects, with a focus on preparing them for financing. The firm has entered into a joint venture with Pennoni and Associates and TRAC to create Appalachian Transload Services LLC, a company devoted to developing and building cost-effective, large-scale, multi-tenant transloading facilities for the Marcellus Shale and Utica Shale plays. As President and Managing Partner Phil McFarren explains, McFarren Group got into this particular niche after studying the transportation needs of the oil and gas industry, specifically the transportation of essential materials such as sand.
"After about a year of research and study, we decided the future of logistics play was multitenant transloading sites," McFarren says. Since then, the company has identified three potential sites in Pennsylvania and three others in Ohio.
Significant Advantages
These types of multitenant transloading facilities create a number of advantages for oil and gas companies, according to the company. Chief among these advantages is a greater efficiency when it comes to loading and unloading railroad cars. Transloading facilities eliminate the need for multiple rail interchanges, and eliminate the need to keep loaded rail cars in storage at either end. Unloading the rail cars in on-site storage, with the capability of loading a truck in about eight minutes with multiple loading lanes, gives enormous savings to the well operator. With these efficiencies in place, McFarren says, oil and gas companies can save more than $50 per ton of sand, adding up to hundreds of thousands of dollars in savings for each well they operate.
For the trucks, the transloading facility model creates additional efficiencies with a more effective weigh-in/weigh-out procedure. Because the sand is loaded from storage rather than directly off the train, delays are reduced and the entire process is more efficient. The company notes that in many cases, nearly 60 percent of billing for truck transportation currently is related to load-time or wait-time delays. Operators are beginning to notice this, as well.
"We are seeing a very quick migration to this trend," McFarren says, noting that the concept already has been successfully applied to the coal and grain industries. "In a way, we are just duplicating that experience." The migration has challenges, however, since there has been a lack of facility capability to load at the source or unload at the destination unit train volumes. Only two unit trains of sand have moved to Pennsylvania in the past three years. Almost all new sand mines, however, will have the capability of loading unit trains from a single mine or adjoining facilities. "We plan to be ready with the comparable destination facilities," McFarren says.
Experience Required
Developing one of these transloading facilities is no easy task. Not only does a company need to find large, adaptable sites but it has to be able to work closely with railroads to have necessary rail capacity and available power accessible to the transload sites. With its years of experience in developing and financing large-scale capital infrastructure projects, McFarren Group is perfectly suited for tackling projects such as these, McFarren says.
"We have the background and knowledge to find and work with the owners of the properties," he says. To supplement its own experience in capital infrastructure projects, McFarren Group met with other firms that have completed similar projects in other areas of the country, most notably, Texas and North Dakota.
The company also began forging partnerships with firms that could bring substantial resources to its efforts, most notably, engineering firm Pennoni Associates. "We agreed several years ago to develop some public-private partnerships together with Pennoni, and Appalachian Transload Services is our first partnering effort," partner Paul McFarren says. "We teamed up with Pennoni on Appalachian Transload Services because they are one of the foremost engineering companies and because of their broad experience in Pennsylvania and their experience with projects that require the highest environmental standards and controls."
Although no site is perfectly suited without some work required, Paul McFarren says they must be located close to excellent highways to keep trucks flowing in and out efficiently. "If you're going to bring in a unit train of sand, that's 100 tons in each of 100 cars," he says. "Each car takes four trucks to unload it, so for a single unit train you're talking a line of 400 trucks."
Phil McFarren says the company also wants to develop transloading sites within a 50-mile service radius to major oil and gas customers. "We can say to an oil and gas company that they can drive anywhere in the Marcellus Shale and we will have a site no more than 50 to 70 miles from your well site."
Activity Ahead
Although activity already has begun to grow in the Marcellus Shale and Utica Shale plays, McFarren Group expects even bigger things in the near future. Crude oil producing wells are just beginning to develop, and the demand for infrastructure to load and unload trains will be even more significant. Currently, turnaround time for a rail car of sand in the Marcellus Shale is about 45 days, but under McFarren Group's transload system, that turnaround could shrink to 15 days, and only three days for a car of crude oil.
Phil McFarren says the company expects Appalachian Transload Services to become a sought-after partner of the oil and gas industry as activity grows. "Two years from now, I think it's safe to say the demand will continue to grow intensely," he says. "We have a lot of experience in witnessing these trends and moving with them." EMI