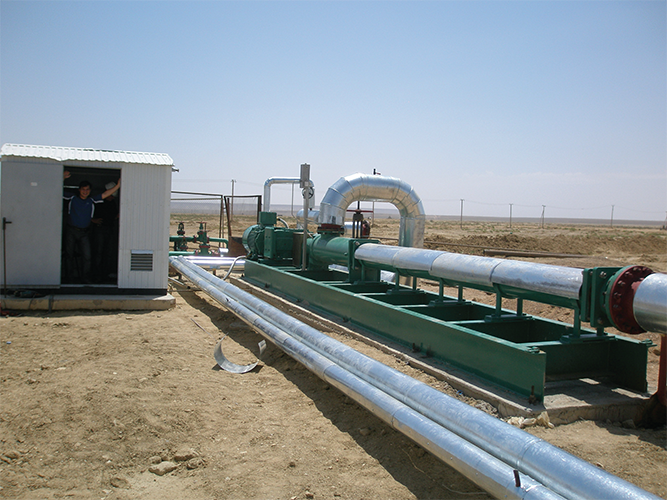 Turnkey pump solutions
Since beginning operations as the Gebrüder NETZSCH Maschinenfabrik (NETZSCH Brothers Machine Works) in 1873, the NETZSCH Group today represents a family owned enterprise with some 3000 employees. The company was founded in Selb, Germany, where it is has remained headquartered until the present day. Over the subsequent 142 years, NETZSCH has grown to encompass 163 locations in approximately 28 countries on five continents.
As the business has grown NETZSCH has divided its organisation into three distinct areas, comprised of Analyzing and Testing, Grinding and Dispersing and Pumps and Systems, which allow the company to provide highly targeted designs and solutions. "The three business units operate independently with the goal to offer the customer the best solution for his particular application," explains Head of Business Field Oil & Gas Mid-/Downstream, Thomas Böhme. "NETZSCH pumps are made at our headquarters in Germany as well as at our production sites in Brazil, China, India and the USA. Sales offices in many European countries, Africa and the United Arab Emirates, as well as in the Asian, Australian and the American markets allow us to sell pumps from locations that are close to our clients. Further to its strength within the oil and gas market, NETZSCH Pumps & Systems has established a global presence within the environmental and energy, chemical, pulp and paper, food and pharmaceutical industries."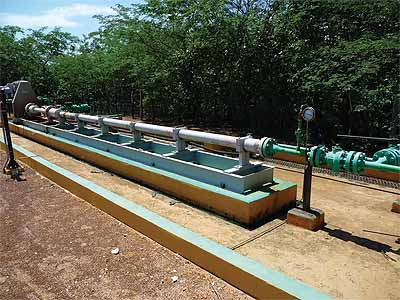 For more than six decades, NETZSCH has manufactured positive displacement pumps worldwide, beginning in 1951 when the group acquired a Progressing Cavity Pump license to manufacture and distribute NEMO progressing cavity pumps (PCP) according to the Moineau pump system. The brand derives it identity from its inventor, Professor René Moineau, taking the first two letters of NETZSCH as well as the first two from the name Moineau to form NEMO®. Over the years, NETZSCH has continued to develop its product range and service offering in the field of pumps to address the needs of the oil and gas industry, starting to produce its own range of downhole PCP in 1975. Since 1979 for example, the company's branch in Brazil produced multi-screw pumps exclusively for the Latin Market until 2015, when NETZSCH began to supply a complete family of two, three and four-screw pumps to clients on a global basis.
"As many new oil and gas resources are being found in remote and extreme environments, the challenging pump applications within the oil and gas market require reliable solutions to secure our clients' exploration and production processes," Thomas explains. "The main advantages of the NETZSCH NEMO PCP encompass low shear pumping, solids handling, handling at low to high viscosity, low net positive suction head (NPSH) requirement, stable flow, capacity for frequent start/stop, application within a wide temperature range and zero gas lock."
As part of its on-going commitment to supplying the highest quality and most relevant pump solutions to clients within all industry sectors, NETZSCH conducts its own, in-house research and development operations. For example, in areas such as elastomer the company works from its in-house laboratory with selected material suppliers, with which it has developed relationships over many years. This allows NETZSCH to test and develop elastomer blends that are optimised to meet the specific demands of its clients. "This applies in particular to the difficult operating conditions in oil production. For example, NETZSCH stators stand out for their long service life that results in a significant reduction in operating costs," Thomas reveals.
"Both for elastomer development as well as for optimal material selection the specific bore hole and fluid conditions have to be considered. NETZSCH pumps are always used as multiphase pumps, which means that gas-oil-water mixtures and various solids are conveyed simultaneously or alternately," he adds. "Therefore we have developed special elastomer mixtures, for conveying these in changing and variable concentrations phases. Additional challenges to the material are the fluctuating and sometimes very high temperatures and the high differential pressure up to 300 bar between the suction and pressure side. Very aggressive gases (such as H2S and C02) or oils (with high aromatic content) can also be present."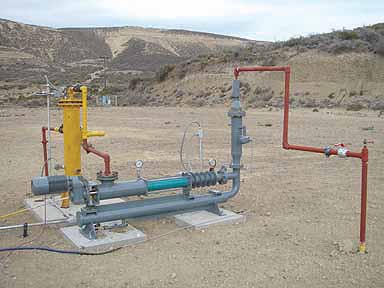 With its dedicated efforts in the field of research and development, NETZSCH has introduced three new products at the time of writing over the course of 2015, comprised of a new NEMO PCP design, as well as a new TORNADO T2 pump variant and its range of NOTOS multi-screw pumps. "The new NEMO progressing cavity pump features the 'Full- Service-in-Place' concept (FSIP) which was successfully introduced into the company during 2012 for the TORNADO rotary lobe pump and which stands for complete maintenance while the pump remains installed in the pipework. This means a noticeable reduction in service time and a shorter installation footprint for the comparably long progressing cavity pumps, which is especially relevant in wear-intensive applications in the environmental and process industries," Thomas says. "The new smaller size of the full metal version of the TORNADO T2 pump is focusing on applications in the chemical and process industries in general. It has been requested by those customers who have been convinced by the larger models, which were developed mainly for applications in the environmental industries," he continues. "And last but not least we have introduced the new family of NOTOS multi-screw pumps with two, three, and four screws, which offers the full range for various media in either lubricating or non-lubricating variations."
NETZSCH has provided positive displacement pumps throughout a vast number of applications to clients across the globe for over six decades. Today it produces around 50,000 pumps a year that underline its technology and differentiates the business as a market-leader. A position that it has earned thanks to the quality of its pumps, spare parts and comprehensive services.
"Our development and sales activities are focused along our core competences on trendsetting technologies and applications, to expand our market and technology leadership for the benefit of our customers. Hereby we don't see ourselves only as a developer and manufacturer, but more as your partner from project planning through case management to complete service concepts," Thomas concludes. "At the moment we are focusing on market penetration with the newly launched products rather than introducing more new applications. Over the next three to five years we will subsequently also concentrate on enabling our new staff in recently set up new subsidiaries globally, employing a strategy focusing mainly on sustainability."
NETZSCH
Services: Machinery and instrumentation manufacture
Issue 125 October 2015