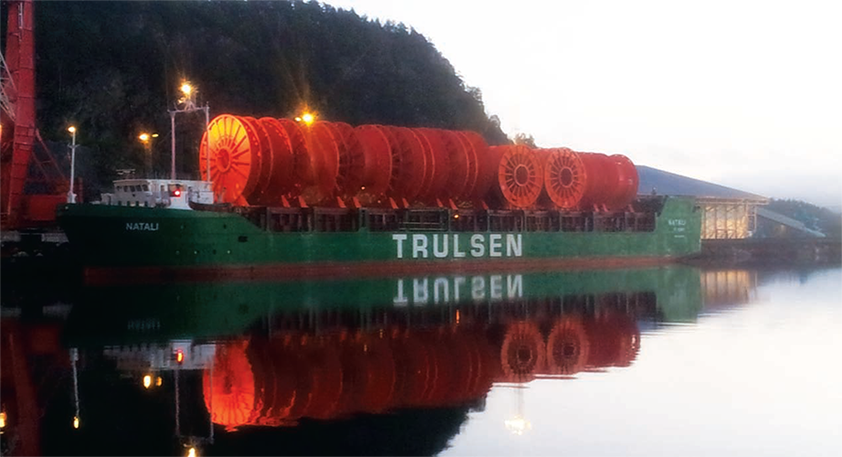 A vital link
Nexans Norway has been operating in the international cabling market since 1915 when the core interests were first founded.
As part of the Nexans Group, the Oslo headquartered business has in recent years significantly expanded in line with the industry. "We are one of the largest cable manufacturers in the world. One of our main focuses is on offshore oil and gas and subsea developments, to which we supply umbilicals, topside and subsea cables, Direct Electrical Heating (DEH) systems, ROV umbilicals, seismic systems and fibre optic submarine cables," says Ragnvald Graff, sales and marketing director of Nexans Norway.
"We have several major projects under execution as well as some good prospects for new contracts. Nexans' ten-year framework agreement with BP has some major projects on the horizon, which will be initiated in the near future.
"Through this BP agreement we are supplying our Direct Electrical Heating (DEH) cable systems which will be installed to help in maintaining the reliable flow of products from the Shah Deniz field, located in the Azerbaijan sector of the Caspian Sea," announces Ragnvald. Due for completion by the end of the year, the project will see the first batch of deliveries of a total of 130 km of the cable system to provide flow assurance for ten subsea flow lines, worth approximately 100 million euros. The framework agreement covers the supply of umbilical cables, DEH systems, accessories and services for various deepwater oil and gas projects across the globe.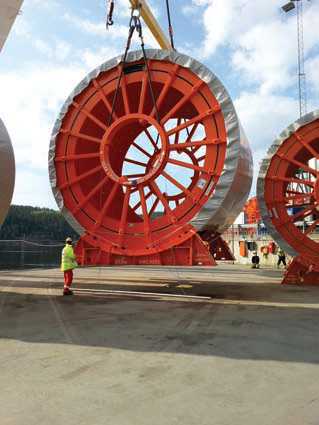 In 2013 Nexans was awarded a major contract by OneSubsea to design, manufacture and supply an integrated power umbilical solution and associated termination hardware for Exxon Mobil Corporation's Julia oil field development in the deepwater Gulf of Mexico. "We are in the process of manufacturing umbilicals for this project, providing a 23 kilometre power umbilical to the Gulf of Mexico" says Ragnvald. The innovative power umbilical combines power cables and umbilicals in a single cross-section, which will be installed in water depths in excess of 2000 metres to tieback the Julia field subsea systems to a semisubmersible production unit.
Nexans pioneered the development of power umbilicals that integrate the functions of power cables and umbilicals in a single cable, enabling a high-voltage (HV) supply to be provided for deepwater projects. The power umbilical includes a number of steel tubes, as well as fibre optic elements and signal cables for control and monitoring purposes. For the Julia project, the power umbilical will operate subsea pumps supplied by OneSubsea.
In December 2012 Nexans was awarded a contract from Statoil to supply static and dynamic umbilicals for three developments on the Norwegian continental shelf, further extended in 2013 to include delivery to a fourth field. The 'Statoil Standard' umbilicals are made up of electrical and fibre optic cables in addition to hydraulic and chemical lines.
In the spring/summer of 2014, Nexans delivered the four umbilicals and power umbilicals to be installed at the Aasgard field for Statoil in the Norwegian North Sea. The total deliveries for the Aasgard project is 160 km of advanced subsea umbilicals. Over the past 12 months there have been a number of projects in the offshore sector which have been delayed or cancelled, a trend which was less common previously. However, utilising its strong position and reputation amongst some major players in the industry Nexans' business continues to operate successfully.
As well as maintaining the company's interests in the standard product markets in which it operates, Ragnvald additionally highlights the growing area of the submarine fibre optic market: "Wherever people are in the world, there is now an expectation of full coverage and access to data transmission capacity, both offshore and in areas that previously lacked broadband connections. More cable connections therefore need to be installed to meet these requirements. We supply Unrepeated Optical Cables (URC-1) that is produced with various types of armouring, depending on the installation area. One cable may incorporate several armouring types along its length depending on the varying requirements along the cable routes. It can be installed in water depths down to 000 metres and in lengths of up to 4-500 kilometres."
For longer distances where fibre optic cables are needed, typically for ocean crossings, a different type of cable system must be used that amplifies the optic signal. Approximately every 100 kilometres the signal is amplified by having an amplifier in line on the cable. Repeated Optical Cables (ROC-2) contain a vault cable core and a conductor for a 10kV repeater power supply. With various armouring packages this cable can be installed in depths down to 8000 metres. This type of cable is commonly used for trans-Atlantic or trans-Pacific cables. "We signed our first contract for the product in February 2014 and we are currently equipping the factory to industrialise this product for delivery in the first quarter of 2015. Although at the moment the product is not directly related to the oil and gas industry, as the market continues to evolve we expect demand for more sophisticated cable technology to grow," concludes Ragnvald.
Nexans Norway
Services: Power, umbilical and telecommunication cables