Generations of expertise
Remaining in the hands of the company's founding families, North Sea Shipping (NSS) has 35 years' experience of operating within the oil and gas industry. Today an integrated company, NSS provides advanced vessels and management services to the oil, gas and energy industry, with a main focus on offshore construction vessels, inspection, maintenance and repair (IMR) vessels and seismic ships,
With a fleet of three vessels – North Sea Atlantic, North Sea Giant and Atlantic Guardian – what unites the activities of the ships in NSS' fleet is its dedication to run its vessels as efficiently as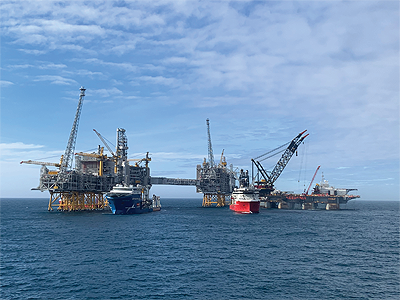 possible. Sveinung Økland, Operation Manager noted that the most recent manifestation of this approach is a new IT solution. "We have digitalised our environmental programme by adding Maress software into our system. This is to run our vessels more efficiently with regards to fuel usage and as a result, reduce emissions. It also helps to raise the awareness of our employees around the issues of efficiency and operating in a green way. This has been a success, and we are seeing a trend on all of our vessels that we are more efficient and using less fuel per activity than before.
"I also believe that we will see a change in the market going forward, where there will be a bigger focus on green technology and suppliers will need to be able to deliver vessels that are efficient and environmentally friendly."
The Maress system is not the only efficiency project underway though, as NSS has also installed three battery systems on board the North Sea Giant, making it the first vessel of its kind able to operate in DP class 3 with only one diesel generator running and open bus-tie breakers on the AC side. Sveinung explained the benefits: "By installing three additional power sources, we have got a more robust power plant, and we've made significant fuel savings as we have been able to reduce the number of diesel generators running and operate them on optimal loads. Alongside reduced emissions, another benefit we see is that we now have three more additional power sources that will take over instantly if the diesel generator fails. This is a seamless redundancy and we will not even get a blink in the lights when it happens!" To put some figures against the savings, NSS has seen its average fuel consumption reduced by 17 per cent in transit mode, with more than 320m3 fuel saved since installation. Emissions were reduced by 740 tons of CO2.
Such has been the success of this project that NSS is looking to extend it to the North Sea Atlantic and Atlantic Guardian too. "We have started a pre-study for the North Sea Atlantic in a similar project, but it is still in an early phase," confirmed Sveinung.
Given the blue-chip client list that NSS can refer to (which includes instantly recognisable names such as TechnipFMC, Deep Ocean and Electromagnetic Geoservices) it is no surprise that the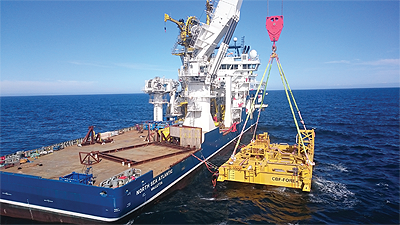 company's vessels are playing important roles on some of the most significant projects underway at the moment. "We've been involved with the Johan Sverdrup development," said Sveinung. "This involved spool installation and the world's first automatic hyperbaric welding on Johan Sverdrup. The latter involved some skills as it occurred in close proximity to the platform, using battery power and with one engine running. We've also worked on the Troll B platform on a flowline replacement."
Clients such as this not only require the highest levels of quality certification (NSS is certified according to ISO 9001:2015 and ISO 14001:2015) but also have the expectation that suppliers will adhere to exceptional standards of health and safety. This topic is very much at the top of the agenda at NSS, and Sveinung highlighted that it was a continuous process of improvement. "At the moment, we have a project where we are focusing on standardisation and making the system more user-friendly and easier-to-use. Our procedures are being reviewed to ensure that the way we are working on-board is in line with the practices set out by the team onshore."
As we head into 2020, Sveinung and his team are hoping for a strengthening in the market, as he noted that it has been 'tough'. "Our plan is to try to keep our vessels busy, but the coming winter period will be challenging as there are very few projects that will be done. I hope that 2020 will be the year where we see an upcoming trend in the market, with all of our vessels active and many projects underway," he concluded.
North Sea Shipping
Services: Provision of advanced vessels and management services to the oil, gas and energy industry