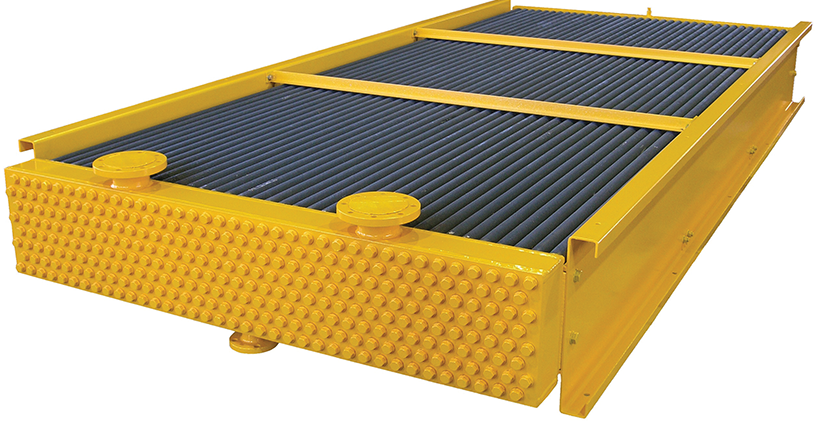 The heat is on
"NRG was founded back in 1995 as a company specialising in the design and manufacture of shell and tube heat exchangers," says Silvester Bakker, director of NRG Heat Exchangers.
"Alongside these high quality applications the company also provides aircooled coolers to a number of well-known and distinguished international oil and gas, petrochemical and power generation companies.
"The first order the company received was for a series of water cooled, high pressure gas coolers to be used on the BP Harding Platform, a product line that NRG has just recently received its first repeat order for. In 1997 the company reached a point where it had grown to such an extent that it facilitated a move to its current home in Vollenhove. In 2009 an expansion of NRG's workshop and offices was realised and in 2010 the company joined forces with Frames to further strengthen its international position and potential. Today Shell, NAM, BP, Statoil and Gaz de France are just a handful of the leading names that utilise NRG products, items that provide crucial support to projects in Europe, the Middle East, the Far East, Africa and Brazil."
The partnership with NRG in 2010 came as a result of Frames' search to gain a greater degree of knowledge regarding the application of heat exchangers, products that play an essential role in the process systems Frames provides: "By forming a partnership with Frames, NRG now has a stronger position within the market to supply larger systems to the capitol goods industry," Silvester continues. "At the same time Frames benefits by having a partner at the early stages of its projects, and having access to optimised heat exchanger designs gives the group a competitive edge over other companies."
As a part of Frames, NRG participates in a process called total system optimisation, a development that has helped the company generate a far better understanding of its customers' core needs. While giving NRG a massive advantage this, as Silvester explains, is just one of the strengths that have helped the company reach the heights it has in its relatively short existence: "NRG's experienced staff, engineers and welders are trained and schooled on a continuous basis to assist them in furthering their individual skills and abilities."
The state-of-the-art process of engineering NRG's solutions always begins with the thermal rating and basic mechanical design that is executed during the sales stage. In close co-operation with the client, each item is optimised with respect to space, power consumption, transportation, maintainability and investment. All throughout this crucial engineering phase the basic design is meticulously developed to a full package of calculations, drawings and documents, all of which fall in line with the clients' unique specifications.
In order to predict and analyse flow distribution in its products, NRG's engineers use advanced software. With the use of Computational FluidDynamics (CFD) software the company can pay particular attention to its products' stagnant zones and fouling aspects. Additionally, Finite Solutions software allows the company to intensely scrutinise its conventional calculations.
NRG possesses a complete manufacturing facility and the company continuously invests in innovative technology and production methods whilst obtaining extensive knowledge about the total production process. This is to ensure the utmost quality is always maintained and that the business is able to meet planned delivery schedules. By partnering with specific subcontractors such as GEHA, NRG can expand production capacity depending on specific project needs.
As Silvester highlights, NRG is proud of the standards it achieves on a daily basis and its history of investing in ways to further improve the quality of its products: "The continuous improvement of management processes is a very highly valued trait of the company. NRG is already certified to ISO 9001:2008 standards, however it aims to improve further in all terrains by becoming ASME U certified in 2011, and then gaining OHSAS 18001 and ISO 14001 HSE certification.
"Furthermore, NRG invests in a number of specific innovative product assets in order to increase its overall knowledge and expertise in its field. Recent examples of this are the developments of electro-slag welding for the weld overlaying of vessels and automatic orbital welding equipment for tube-to-tube sheet internal bore welding."
Despite the difficult economical times in 2009 and 2010 the company was successfully able to double its turn-over, and the belief is that the coming years will continue to bring increased growth for NRG. Silvester: "Supported by the Frames international offices, agency network and growing product portfolio, NRG feels it is in a prime position to capitalise on a number of global opportunities. NRG has a proven track record when it comes to international projects, and will work to expand its reach through a continuous search for innovative techniques and better ways to support both clients and local economies."
NRG Heat Exchangers
Products: Shell and tube heat exchangers and air-cooled coolers