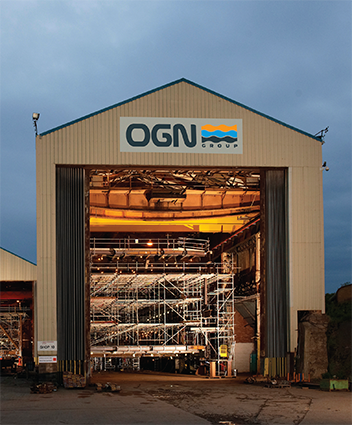 Offshore Group Newcastle Ltd
Supplying demand
Although Offshore Group Newcastle (OGN Group) was established just two years ago, the company has already made major strides within the offshore oil and gas industry.
This is primarily centred around the acquisition of its Tyneside facility in 2009 from previous owner Amec – a site which has previously been out of commission for over eight years. Yet, two years on and following a substantial investment of approximately £20 million, the yard is fully operational again and currently employs around 1000 individuals.
The yard itself is a dedicated offshore construction facility spanning 75 acres, with extensive fabrication shops, engineering and project offices, and a reinforced quay to accommodate large-volume offshore fabrication operations.
Backed by an investment fund, OGN brings together a team of offshore industry experts led by Chairman Dennis Clark, who alone has worked in the business since 1971: "Our core market is the UK Continental Shelf (CS) and the North Sea, where we anticipated an upturn in the market for new platform construction. The capacity and capability for this kind of work in the UK has severely eroded over the years due to a lack of activity, and with more UK-based oil companies placing work overseas, we decided to create a UK facility in an area where there is a large and skilled workforce. The North East of England used to be the largest area for platform construction in Europe, with many of the platforms, or substantial parts of them, in the North Sea having been built in the region."
In line with this ambition, OGN provides engineering, procurement, construction and installation services to the offshore oil and gas, and renewable energy markets. At present the company is undertaking a £150 million project for Apache Energy – a major UK based independent oil company. This new satellite platform will be installed in the UK Forties field, enabling development drilling and increased recovery from the resource.
"One of our primary strengths is that as an EPC contractor we are able to merge engineering and construction, and therefore shorten the total programme timeframe," explains Dennis. "Traditionally a customer will employ an engineering contractor to design the platform, and then hand this over to a commercial team that will go out to bid on the construction market. By designing the new Apache platform ourselves, we have been able to flow that straight into production, and as such are on track to build this major structure 12 months quicker than conventional methods."
Targeted in response to increased customer activity in extending the life of offshore fields, these platforms are just one key market for OGN. The company's other strategy is focused on the offshore wind industry and particularly the round three licenses that were awarded earlier this year. Dennis elaborates on how OGN's activities complement this market: "The current offshore wind farms are in relatively shallow water, but the new generation in locations such as offshore East Anglia and the Dogger Bank offshore Newcastle are in 30 metres or more of water depth. This means that they require a different solution for the wind turbine foundations.
"Equally each large wind farm has a number of substation platforms located around it, some of which have up to 10,000 tonnes of topside on them, as well as accommodation facilities. Drawing on our expertise in these areas, we are looking to fabricate specific structures for both the turbine foundations and substation platforms, as the programme for investment in the round three licenses emerges."
Like many other companies within the offshore industry, OGN is concerned about the potential impact of the recent decision to increase taxation on oil companies operating in the North Sea. However, Dennis has a certain confidence in the market, and works through organisations like Oil & Gas UK, where he is a director, to encourage customers to continue investing in the North Sea: "Established in April 2007, Oil & Gas UK is the trade association for the oil and gas industry, which uniquely brings together both the supply chain, and the oil and gas companies and investors to create one powerful voice with Government and the market in general."
Certainly the importance of investing in the UK market, and establishing a strong supply chain is not lost on OGN. Over 90 per cent of its subcontractors and procurement is awarded locally, which is effectively helping to reinvigorate this supply chain. Having a strong home market, along with a comprehensive supply chain to support it is a key aspect of OGN's, and the UK market as a whole, competitiveness. "Over the last 12 months, several major projects within the North Sea have been awarded overseas and whilst the impact on the UK may not be obvious, we have lost substantial opportunities in terms of employment, training, and retaining skills. I am also president of NOF Energy business development organisation, and in the North East of England alone there are over 300 companies engaged in the oil and gas, and renewable markets. This shows to some extent the true scale of that local supply chain," comments Dennis.
"As a company that is only two years old, our vision hasn't changed much in terms of establishing Tyneside as a first class facility for servicing the renewable industry. We plan to invest a further £50 million in automation to ensure that we can serve the offshore wind industry as it begins to materialise further. We also want to continue to serve the oil and gas industry by helping maximise recovery of hydrocarbons resources in the North Sea, and as such create a complete energy capability within the business," he concludes.
Offshore Group Newcastle Ltd (OGN Group)
Services: EPC solutions