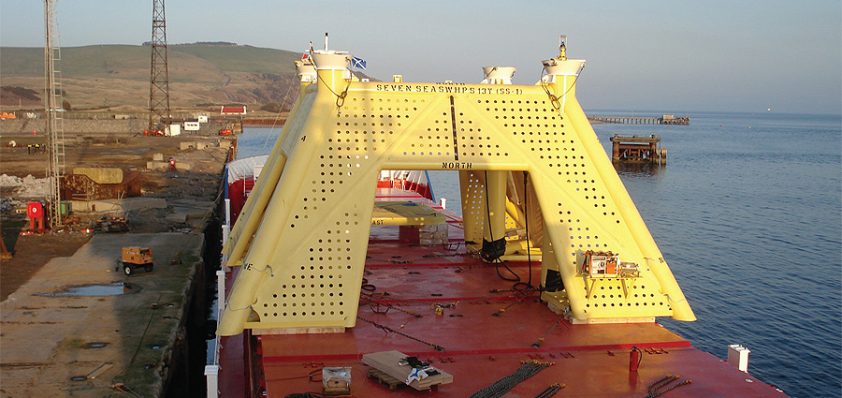 All hands on deck
When Pete and Nigel Fletcher established Osprey Shipping in 1995, the company focused on managing Port Agency representation for a number of world-class ship owners.
Today, operating from bases in Newcastle and Bristol, the business still maintains these relationships, while specialising in providing shipping and transport solutions for large engineering projects and abnormal cargos, typically oil and gas and offshore windfarm projects. Osprey's business model is demonstrative of the successful projects that can be undertaken with a proactive approach, being a progressive ship owner, and forming strong working relationships.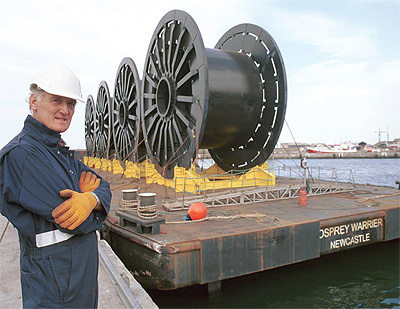 Osprey became aware that cargo shippers, which were typically engineering companies, did not want to simply charter a vessel or space in a ship, but instead wanted a company that would take responsibility and project manage a full turnkey service, including the management of difficult interfaces. This also enables elements of risk to either be removed, or absorbed into Osprey's responsibilities.
Osprey's diversification was its response to this opportunity, and with the formation of a projects division to provide these services, Osprey became increasingly involved in transport engineering and with providing innovative solutions. This in turn led to the purchase of offshore barges and tugs. The business soon outgrew the opportunities in the South West UK business area and strategically expanded its operations into the North East. The subsequent acquisition of NECS provided Osprey with a marine technical department and highly skilled labour, which in turn strengthened Osprey's 'hands-on' credentials.
Osprey's director, Pete Fletcher, describes the establishment of an additional office near Bristol to support the expansion: "Following the business' recent expansion, our head office is now located in Portishead, near Bristol. Our projects and accounts departments are located here, and I run the office in Newcastle, which deals with our main operations from the terminal we operate there."
He goes on to describe the strong points of the company: "As a business, our main strengths  are in the quality of the vessels that we own and provide, as well as our approach to how we deal with our customers. Firstly as a ship owner, we need to be aware of the services that our clients actually need, and secondly we are dedicated to making dealing with Osprey as simple as possible for our customers.
"Different clients want different products for different applications. As we are aware that our customers all operate differently, we cater to the individual needs of each, offering a bespoke service. We want to extend our close communications in the future. I don't want to buy an asset that becomes a white elephant that nobody wants. So we have to invest in the equipment that people will
want, and need in the future."
Due to changes in the UK engineering climate over recent years, Osprey has internationalised its business, undertaking work in overseas locations. While the company remains focused on ship owning, it organises its UK and global operations, as well as cargo owners who require innovative transport solutions, from its Newcastle and Bristol bases. Its staff is rotated between business units to give them a unique understanding of the marine industry.
Having recently worked on the Valhall project with BP, Osprey is expanding its operations as Pete describes: "We certainly want to work more in this area and we will focus on building our relationship with BP. Our approach on Valhall was to work on lump sum costs were feasible, take on board elements of risk such as weather, and ensure that it was as simple, and straightforward as possible for BP. We're very conscious now about taking this approach forwards, so that if there were an opportunity to work directly for a company, such as Total, or Talisman, we would like to take that opportunity."
As in the past, Osprey's future will be about listening to the requirements of its customers and responding with new, innovative and cost effective services. Marine transportation is, and will continue to be, the company's main field of expertise and it looks forward to the prospect of new and exciting challenges within a range of industry sectors.
Pete concludes with his future vision for the company: "I'd like to see Osprey remain UK-based – our plan is to double in size over the next five years. I think we have quite a unique approach to how we carry out our business as my brother and I enjoy the contact with clients. It's being involved in the hands on operations that we believe makes this business worthwhile. Through this enjoyment, we have a happy team and that filters through to the work carried out for clients. We don't want to outgrow our position, whereby we can't be involved in a hands-on approach to our operations, as I think what is the point of being involved if you can't enjoy it?"
Osprey Shipping
Services: Transport solutions