Parker Hannifin Energy Products Division
Making an impact
Parker Hannifin, a motion and control technology corporation, acquired Scanrope Subsea, a company with over 30 years of experience in the oil and gas industry, in 2007.
Scanrope was strategically added to Parker's Energy Products Division (EPD) as an integral part of their subsea product offering.
Products manufactured by EPD include hose, steel tube and hybrid umbilicals, power cables, spiral strand mooring rope, six strand mooring and fibre mooring. "It's fair to say that what led to Parker's acquisition of the company was that it saw that Scanrope Subsea's products would help strengthen its product portfolio, opening up further market opportunities within the oil and gas sector," states Espen Bostadlokken sales and marketing manager for EPD's subsea products business unit.
Parker has the largest manufacturing capability in the world for spiral strand mooring and 6-strand anchor lines. Its manufacturing equipment, with a unique in-line tensioning and measuring system, provides the longest, industry, which minimises splices and simplifies installation logistics.
What this translates to is a reduction in the number of joints and connecting hardware, resulting in safer installation and deployment. The ability to produce longer lengths comes from taking advantage of Parker's unique deepwater quay facility and 250 tonne dockside crane based in Tønsberg, Norway.
The design and sale of umbilicals and subsea power cables are managed from Asker, whereas the manufacturing of products resides in Tønsberg. The manufacturing facility houses cabling machines with nine and 16 element insets plus additional filler insets, three 2200 tonne turntables, three 650 tonne turntables, two armouring machines, two extruder machines and braiding machines. Parker's 16-inset cabling machine has the ability to produce complex and demanding products simply, efficiently and effectively. Parts can include super duplex steel tubes, thermoplastic hose, power conductors, single cables and fibres in metallic tubes.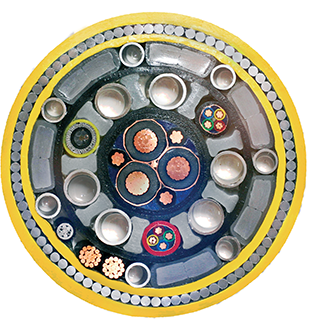 Investments in new machinery have helped increase both the flexibility and capabilities needed to meet Parker's customer needs. Experienced and dedicated project managers guide the umbilical through all project phases, from contract award, component purchase, and production tests, to load out. Parker EPD's project managers are the single point of contact through each project phase and are responsible for co-ordination of all operational activities. Parker EPD's engineers are able to offer quality feasibility studies, FEED studies, dynamic analysis, installation and test services, installation supervision and general maintenance.
Recent projects the division has been involved in highlight its diverse operational ability: "Parker is currently undertaking a deep water qualification programme for its umbilical products that will qualify us for use at depths of up to 2000 metres," Bostadlokken continues. "At the same time the division will continue to explore the needs of the mooring market and will push on with the application of fibre rope and polyester mooring lines.
"The division is continuing to have excellent success delivering its subsea power cables to customers in the Middle East, with 60 kilometres of cable due to be delivered shortly for use in the Iraq oil expansion project. There are extensive mooring projects ongoing around the globe at present and there is a very exciting contract in the pipeline, which will showcase the flexibility Parker has in providing logistical solutions to customers the world over."
While business has been universally tough for oil and gas companies in the last three years, Bostadlokken is happy to reveal that work is picking up now as confidence returns to the market: "Today there is a tendency towards fast track projects, and while this can be quite demanding for suppliers like Parker, our flexibility and high-quality equipment are the reason our division is able to have a profound effect on the industry."
Developments on the horizon for the division include various projects all over the globe: "Brazil is definitely an interesting market right now where a lot of exciting things are happening and there are also some fantastic opportunities in Europe, particularly in the North Sea," Bostadlokken says. "The division has also started to look towards Australia, which is looking like an excellent area for future growth in subsea development.
"Parker already has a presence in some 60 countries throughout the world and having a strong local presence allows us to support our clients in the best way possible. Looking ahead we will continue to use this trait more and more as a way of growing the organisation."
Parker Hannifin Energy Products Division
Products Subsea cables, umbilicals and mooring