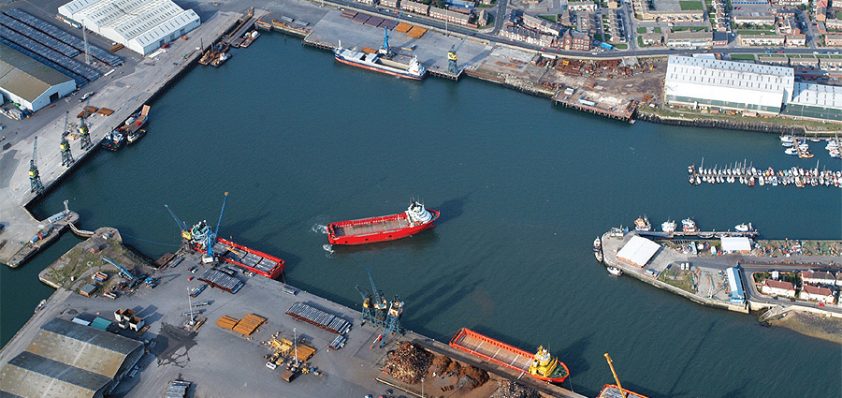 The port that counts
Based in Northern England, PD Ports is a highly regarded specialist ports and logistics service organisation that operates at many of the UK's key ports and logistic centres.
This business also boasts a growing European reputation, which is complemented by domestic port services in locations on Teesport, Humberside, the Isle of Wight and Felixstowe. The scale of its operations have increased markedly since a successful takeover by investor Babcock & Brown Infrastructure Limited in 2006, with PD Ports now recognised as the third largest port business in the UK by volume – the company handles approximately 50 million tonnes of cargo a year.
A proportion of the work that PD Ports carries out on the River Tees is offshore related, which is a growing market for the business. Such operations are completed through a separate business unit known as PD Offshore, which operates from ports on the North East Coast of England, predominantly at Hartlepool Docks and along the River Tees. With the aim of maximising efficiency and flexibility in order to best serve clients in the offshore industry, the business offers a wide range of berths at these sites, and can lay down areas for fabrication work, storage and supply services, crane and demobilisation operations, and berths for lay-bys.
In recent years PD Offshore's Hartlepool facility has been particularly successful in expanding into the burgeoning offshore market. Situated 6.4 kilometres north of the River Tees, the port acts as a home to a number of offshore clients, including Hereema Offshore, which fabricates large offshore modules for the North Sea at the site. Additionally, the port has taken part in projects such as major pipe spooling activity, mobilisation work and offshore support for clients including Acergy, Statoil, Helix, Bluewater and Norsea.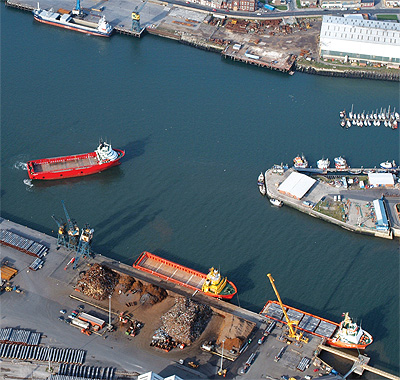 Most recently, PD Ports signed a 15-year lease with JDR Cables, one of the industry's leading subsea cable manufacturers. The lease, which has created 80 new jobs at the site, will see JDR operate from a 100,000 square foot factory that is situated at the deepwater berth area at Hartlepool. The factory, which will be a state-of-the-art umbilical and subsea power cable manufacturing facility, will enable JDR to manufacture cables that weigh up to 2200 tonnes.
This example alone is testament to the reputation that PD Ports is gaining in the offshore sector, and with the capabilities of the Hartlepool site increasing it is becoming the preferred choice of ports for major clients in both the European and global oil and gas markets.
In addition to the offshore market, PD Ports carries out other services including shipping and inspection, offering a niche service mainly within the foodstuff, oilseed and edible oil industries. This encompasses ship broking, ships' agency, commodity cargo superintendence and jetty management, involving specialist management for clients on their own or contracted quays.
A network of overseas associates enables the organisation to extend its coverage through to Ireland, mainland Europe and the rest of the world. Around 50 per cent of PD Ports' principal cargoes are independent agency led and the remainder utilise the services and expertise of the group's stevedoring, freight forwarding, warehousing and transport operations. Reflecting the specialist nature of the business, the company is fully accredited and qualified for commodity inspection by the Grain and Feed Trade Association, Federation of Oils Seeds and Fats Associations and is ISO 9001:2000 compliant.
Teesport, one of the top three UK ports, with flows of containers, bulk traffics and finished cars, has an ideal location and deepwater capabilities that make it a vital trading link with both mainland European and global markets. Teesport is now preparing the development of the Northern Gateway Container Terminal (NGCT), a £300 million project, which will create more the 5500 new jobs and contribute significantly to the regeneration of the Tees Valley area and the North East of England.
NGCT will also open up expanded opportunities for a greater volume of trade on a global scale. In December 2007 PD Ports first began initiatives to increase the company's presence and visibility in the Far East as part of a broad awareness campaign for the Northern Gateway Container Terminal (NGCT). The campaign began in 2007 with a visit to Singapore and Malaysia by key port representatives. The campaign has continued successfully since then, with strategic visits in 2008 to Thailand, China and Vietnam. The aim of these visits has been to further establish PD Ports' plans to attract deep-sea vessels that call directly to the company's northern UK port of Teesport. The first phase of construction is set to begin in 2010.
PD Ports further strengthened its reputation as a first-class provider of logistical services that add value to the operations of its many clients in November last year when it announced the introduction of a new high cube capacity container train service between the northeast of England and central Scotland. Working alongside rail freight operator EWS, the company's service connects Teesport to Mossend and Grangemouth, Scotland. With clients set to make significant cost savings by switching from road to rail, the new line is a particularly welcome addition to the PD Ports portfolio in what are financially uncertain times.
Commenting on the service, Martyn Pellew told PD Ports' website: "British industry has been demanding a rail route to Scotland from Teesport that can accommodate high cube containers. We are delighted that with EWS we have now delivered the first breakthrough service. With such a significant potential for cost saving for customers switching from road to rail, there never has been a better time to use Britain's third largest port by volume of tonnage.
"This new service from Teesport to Scotland is good news but is very much an intermediate situation. Our ability to offer this new service is only the first phase of what we hope to achieve. At this stage the railway will be able to handle high cube containers but there are severe limitations on speed for the service through several existing bottlenecks. We still need the overall and full rail gauge enhancement for both the Teesport spur to the East Coast Main Line and also for the ECML in either direction north through Newcastle and into Scotland as well as south to Yorkshire and the Midlands. If we are to achieve the full potential of the Northern Gateway Container Terminal and for much greater use of rail rather than road transport for onward inland movements then we must see full rail gauge enhancement being authorised as soon as possible."
PD Port's impressive standing has been built on an outstanding portfolio of port and logistical services that add real value and convenience to the operations of its many customers. It can also lay claim to responding to the challenges of our times by introducing routes that cut costs and decrease emissions. Add in its involvement with the Northern Gateway Container Terminal, and PD Ports can look forward to a prosperous future.
PD Ports
Services: Port and logistical solutions