A clear vision
With a portfolio of services comprised of data acquisition; feasibility studies and modelling; data processing; as well as interpretation and integration analysis, PetroMarker holds a proven track record in the delivery of marine controlled source electro magnetic (CSEM) survey services.
Having quickly established a leading reputation based on its innovative survey technology, PetroMarker rapidly gained a global market presence and healthy returns. However in recent years the low cost of oil has slowed the development of new wells and reduced the market requirement for survey operation, and PetroMarker has taken this as an opportunity to further develop its technology to offer increased efficiency and cost-savings. "PetroMarker has its origin from research starting in 2002 and launched the first commercial generations of the technology in 2007 onwards. We reached a total accumulated turnover of $80 million with good results," explains PetroMarker CEO, Helge Holen. "We realised however, that we needed to get our equipment technically upgraded to become more efficient and to get our operating cost down to deliver competitive services. We drastically reengineered the equipment and are now ready to re-enter the market. To give you a feel of the proportions of the reengineering the receivers now weigh 270 kg and are about five metres tall, whereas they used to weigh eight tons and stretch more than 12 metres in the air!"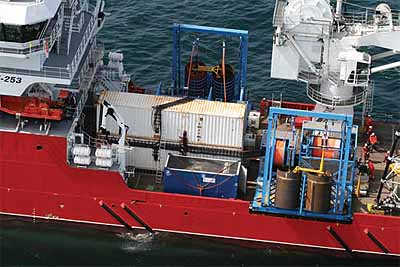 Besides the value of enabling clients to 'see' the degree of gas saturation and the size of each hydrocarbon reservoir, the EM technology provided by PetroMarker offers several advantages. Firstly the use of vertical-vertical pulsing allows the company to produce imagesthat reach between 4000 and 5000 metres down below the seabed, with superior resolution over competing technologies. Secondly the fact that units are stationary during pulsing, allows PetroMarker to return to the same location anywhere from 12 to 36 months as required, to continue to scan and create a 4D analysis of the reservoir. These repeated surveys are of great value to oil companies who are able to use the changes in hydrocarbon position to monitor the development of the field and plan their production approach accordingly. This allows clients to extract increased product from each field, which results in greater economic returns and higher exploration yields – an important factor to countries in granting licences.
As a result of its approach PetroMarker has worked with clients all over the world and works closely with operating companies to ensure that it is able to provide the most effective survey solution: "All we do is based on very close co-operation with the customers. Normally we will do a 1D and 2D analysis for free based on seismic and historical drilling data and thereby establish whether we believe an EM survey would merit its cost and plan the ideal survey layout," Helge elaborates. "The new dimension for our technology is that our new receivers allow us to deploy receivers in a wide grid and thereby cover large areas and deliver 3D images of high resolution."
Indeed PetroMarker constantly strives to improve the scope and capability of its technology in response to an ever-increasingly competitive market place. This is something that is of growing importance while the cost of oil remains deflated resulting in many exploration projects and developments being put on hold. PetroMarker however, remains optimistic thatthrough its market-leading technology and knowhow it is well placed to weather the trials of the current market and be on-hand with the best solutions once exploration operations resume.
"We have to improve continuously in a range of dimensions. One important area of development is in electronics to create even better images, simplify equipment, cut investment cost and improve efficiency in operations. We will also enhance our ability to collaborate with seismic to derive even more insights and value out of the data," Helge says. "Everything is easier in a bullish market, but we are confident that business will be good in hard times and even better when the tide turns. Our value proposition to the customers is to help them to limit the risk of exploration and cut cost by avoiding drilling dry wells and monitoring fields to increase exploitation. Both are very important for the customers when oil prices are low and you have to save both 'dollars and dimes.' This certainly helps us gain customer attention and there is no limit to our ambition, we will lead the CSEM development and continue to seek market leadership in the future," he concludes.
PetroMarker
Services: Electromagnetic survey operations