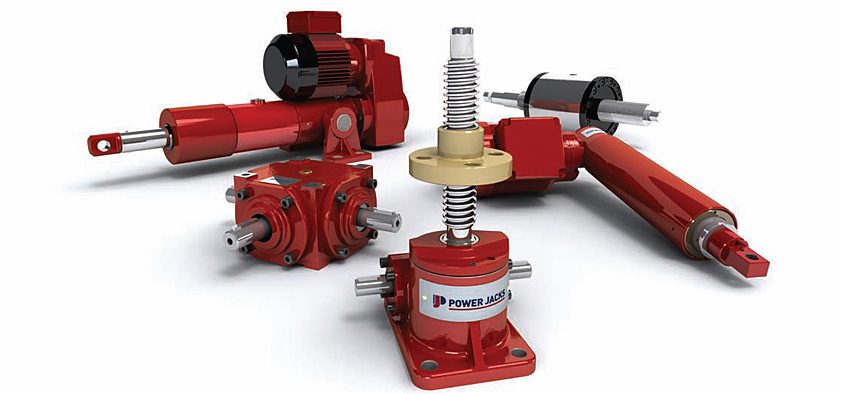 Fully loaded
Power Jacks, a British design and manufacturing company, specialises in electromechanical lifting, positioning and load monitoring equipment.
Trading under the wellknown brand name Power Jacks since 1987, its engineering heritage traces back to 1903, with the core product range of the business today including screw jacks, linear actuators, gearboxes and roller screws. Trading comfortably for a number of decades, in 2002 the company had generated enough power to complete the acquisition of its largest UK competitors. Blending its ancestral past with recent acquisitions, the business incorporates brands such as Consolidated Pneumatic, Premag, Precision Actuation Systems (PAS), Fortune Engineering, Neeter Drive and Youngs Lifting.
Acquiring both intellectual property as well as factories, Power Jacks soon entered a phase of its existence where accelerated growth became a matter of course. In light of an ever-increasing
demand on a global scale, in 2009 it opened an office in Shanghai, and at present has local representation in 27 countries. At the same time, plans were being drawn to build a new modern factory and headquarters in the UK. The move into the new premises was completed in 2011, and whilst the last four years have been rewarding for the business, importantly they have been of great benefit to the vast number of customers it serves. Focused on the continued development of the business, technology, and the resources, Bruce Hamper, marketing director reveals the latest trends and drives taking the business to new heights: "This year we have made significant investments, including a £1 million boost into new machine tools. Since 2011 we have invested a lot into infrastructure, but this represents the latest push in the advancement of technology within the business."
The investment follows the growing global demand for its products and services across the oil and gas sector. Growth within the machining services aspect of the business is vital in the maintenance of the reputation it has built as a master in design and manufacture. "The new machines boost our capabilities in a range of services that include standard milling, turning, gear cutting, thread grinding, thread whirling and thread rolling. We have created a specialised cell for the oil and gas sector based around three very capable and flexible machines," highlights Bruce. The cell consists of three high specification Doosan machines with features that include a vertical turning centre, capable of performing 2.0m by 1.6m work and up to a capacity of ten tonnes, a large CNC lathe with capacity for 3.25m work piece lengths and a diameter up to 0.75m and a vertical machining centre capable of up to 1.0m by 0.6m work.
"All the machines are fitted with Renishaw tool and component probing capability and specifically set up for oil and gas machining requirements. The cell has a capability of running for around 16,000 hours in a year, and if required, 24 hours a day, developing products such as tubing hangers, caps, valve bodies and stroke bodies. The capability of our machining, combined with the extent of our knowledge gained through manufacturing products for a long time, holds us in a powerful position for the demand ahead," explains Bruce.
Currently exporting to 80 countries worldwide, the ratio between export and domestic holds an equal footing and Power Jacks products can be used anywhere within the oil and gas sector, whether it be offshore, marine or subsea. The core business can be broken down into eight segments; screw jacks, electric linear actuators, bevel gear boxes, jacking systems, lead screws, machining services, design support and the newly established load monitoring interests. In a recent press release from the business, it announced the introduction of a load monitoring division. Operational for only eight weeks at time of writing, the added ability to offer load monitoring solutions will bolster its standing in the oil and gas sector a great deal. With a comprehensive range of standard load cell products it also offers a bespoke, custom load cell design service, as well as hire, repair and calibration options.
"From compressive load cells and under the hook load links, line monitors for monitoring tension speed and position to data logging, and hand held telemetry systems, load pins and load pin shackles, the expansion of what we have been able to offer has increased significantly and has also enabled us to integrate load monitoring devices into our standard products, further boosting the position. Cross fertilisation within the product range plays a key role in developing products. Underpinning all of that is an excellent engineering team, with a great amount of knowledge. We don't just sell standard products, we sell an engineered solution, customised around the client's application," says Bruce.
The range of precision screw jacks and electro-mechanical actuators can offer a better solution for jacking or linear motion than hydraulics, with the advantage of improved performance and safety at lower costs while offering a simpler, easier to control and more environmentally friendly solution. "We see good growth potential ahead with a significant shift in the desire to move from hydraulic technology into electro-mechanical technology. This is where we can replace items such as hydraulic cylinders with our screw jack and our linear actuator products, due to the greater degree of control now possible. Not only are they cleaner, but they can be more efficient and cost effective too," points out Bruce. The absence of hydraulic fluid eliminates the risk of leaking hazardous substances into the sea, and ultimately polluting the environment, as well ruling out factors that affect the equipment performance such as contaminated hydraulic fluid.
As Power Jacks targets the period of growth expected, the drive behind developments in the oil and gas segment will dominate much of its focus. "We will be present at the Subsea Expo 2015 exhibition in Aberdeen in February and the SPE Offshore Europe later in the year, really adding to the momentum of the business within the market segment. Reflecting the increased demand we significantly increased the oil and gas skill set, ready for the growth in the business," announces Bruce, concluding: "Adding to the product range, through this strengthened team, we will be looking to develop new products for the sector and for each sub sector within it. Over the next few months there will be new products and services being launched."
Power Jacks
Services: Electro-mechanical equipment design and manufacture