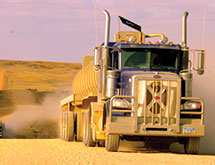 Purity Oilfield Services strives to be the premier service company in the oil and gas industry by being ahead of the curve when it comes to the latest technology, especially in water solution services.
The family owned company is based in Dallas and operates a regional office in Williston, N.D., to serve the Williston Basin of North Dakota, Montana and Wyoming. Purity Oilfield Services offers trucking services, rental equipment, water solutions and a pipe and inventory yard for storage and maintenance. "Our commitment to provide excellent service, the dedication of our employees, as well as the quality of our equipment and service we deliver to our customers is what sets us in the upper tier of the industry," President Marshall T. Hunt says.
Purity Oilfield Services' trucking services include hotshots, vacuum trucks, winch trucks, side dumps, belly dumps, pipe hauling and hydro-excavation. All of its trucks are equipped with real-time GPS tracking devices that allow the company to remotely monitor the progress of jobs and deliveries on 50-inch monitors in its dispatch center that operates 24/7. "Our customers can expect reliable equipment, reliable service, close contact from our field representatives and coordination to make sure the project is completed to satisfaction from start to finish," Hunt adds. "This data allows our team to monitor delivery of product, run-time hours to stay ahead of the curve by servicing the equipment as soon as it's needed to avoid unwanted downtime on location."
The company's rental equipment includes frac tanks, uprights, shale bins, floc tanks, generators, light plants, power swivels, water transfer equipment, pipe racks, fuel tanks and more. "We are consistently adding more to our rental fleet to keep up with the demand of our clients," Hunt says. "If we don't have something our clients need, then we will find a way to get it for them." Purity Oilfield Services' light plants and generators are equipped with the same GPS devices to report run-time data to its service department.
Water Solutions
Purity Oilfield Services' water solutions division offers a complete line of water solutions with experts that understand the challenges of moving water in the unique terrain and harsh climate of the Williston Basin. The company implements the best equipment with professionally trained personnel, and tailors each service to the distinct needs of the job.
"We really made this a comprehensive division where we have added in water transfer services," Hunt says. "We are able to offer services where we can manage a frac job from start to finish. This allows the operator to focus on the frac and leave the other services up to us to coordinate and deliver to the job. Through close coordination with company personnel, we relay projected costs allowing the company to project real costs incurred and keep cost minimal on the final AFE."
To provide a better cost per barrel, Purity Oilfield Services has invested in strategic delivery methods using bulk storage. Its Purity Pond is a large, open-top container that can store up to 60,000 barrels of fresh water. The company's 165-barrel trailers and line water transfer deliveries from its bulk storage help minimize trucking cost and lowers delivery cost to the well site.
The company has also strategically purchased fresh water sources throughout the Williston Basin to provide operators with cost-effective water solutions for frac jobs. "We are consistently seeking a better delivery at a lower cost per barrel to supply fresh water to frac jobs, as well as ways to dispose or treat and clean water for re-use," Hunt says.
Water solution service is in a state of evolution as the industry is working to find affordable ways to clean produced water for reuse. "That will change and the industry will find a way to make this economical, and we hope to be ahead of that curve at the time the industry will figure out a solution for that," Hunt says.
Although there is technology that will produce reusable water, the systems are not yet economical to purchase or place into service, Hunt says. "I would say it's coming down the line in the next couple of years," he adds. "There is ongoing experimenting to figure out how to clean the water to reusable standards and the cost to clean the water to reuse it plays a major role."
Quality Operations
One of the biggest challenges facing Purity Oilfield Services is finding qualified employees to fill its open positions. The company began two years ago with a staff of four and has grown to 155 employees today, but is still looking to fill more than 100 positions. "Without the dedication and hard work of our employees, this growth would not be possible," Hunt says. "The ownership of Purity truly believes that we have the best employees from top to bottom."
To ensure the safety of its employees, Purity Oilfield Services' safety and environmental division offers certifications through orientation and awareness-level training. "We go through an extensive safety and training policy at the company and that leads us to be selective with who we hire to fill those roles," Hunt says.
Employees are required to participate in the Petroleum Education Council Safeland Basic Orientation and are all OSHA certified. Truck drivers are put through an extended training program that includes a physical and driving test. After passing those two exams, drivers are then put into a mentor program where they will ride around with an experienced driver. "We feel that two to three weeks in-house training and mentor training will lead us to having safer drivers and personnel in the field and lead to reduced accidents," Hunt says.
The safety and environmental division at Purity Oilfield Services also offers third-party training in various courses and opens these sessions to the public. The division also provides safety and environmental consulting services to the oilfield.
Planning the Future
Because of the support and efforts of the company's lead bank, Frost Bank, Purity Oilfield Services has been able to grow and expand its services by adding more than $60 million worth of equipment since its inception in 2012. "With their dedication and support we are poised for growth in the future," Hunt says. Purity Oilfield Services' core vendors, which include Dragon Products, All State Peterbilt, Pedigree Technologies and Hi-Power, have also played major roles in its growth and success.
Purity Oilfield Services has expanded into Wyoming and Texas. Its services currently reach to the Permian Basin of West Texas, and the Powder River and DJ Basins in Wyoming and Colorado.
In the future, Purity Oilfield Services plans to expand into other areas where critical oilfield services are needed. "Wherever our clients need our services we are ready and able to expand into new regions," Hunt says. "Our goal is to grow into the premier service company in the Williston Basin and replicate this model into other regions leading us to be one of the premier service companies in the industry. We are always seeking growth and that's driven by our customers' needs and demands."