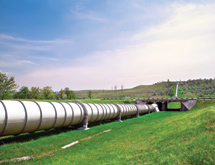 In the last two years, Red Fork Energy Ltd. has proven itself to be the very definition of a "growing company." The Tulsa, Okla.-headquartered company has grown its oil drilling operations in northern Oklahoma from 12 wells in 2012 to 40 wells in 2013, with no signs of slowing down.
"What's occurred from the beginning of 2012 to now is almost like a startup company," COO and President Chris Girouard says. "We're a totally different company than what we were just two years ago."
Red Fork Energy Ltd. first started acquiring leases in the Mississippi limestone formation in northern Oklahoma in 2010, after the decline in the price of natural gas prompted founder David Prentice to broaden its focus. Prentice, a native of Australia, founded the company in 2004 when he acquired property in a dry gas field in eastern Oklahoma.
After initially serving as a non-operator, Red Fork later began operating its own wells after Prentice hired engineers, geologists, landmen and other staff, Girouard adds.
The company today holds 77,000 acres of land in the Mississippi play, which extends over approximately 17 million acres in Oklahoma and Kansas. The limestone formation is a proven historic oil resource that has produced from thousands of vertical wells for more than 50 years, Girouard says.
A renewal in activity in the area commenced in the early 2000s. "This play is considered to be one of the premier on-shore United States horizontal liquids plays with very competitive development costs and relatively high estimated ultimate recoveries delivering compelling economics," the company explains. "We are strategically positioned with a large – and growing – acreage position in the heart of the play."
Seeking Opportunities
The company is performing horizontal drilling and well completion operations at its Mississippi play holdings. All of Red Fork's holdings are in the eastern part of the play, which had previously seen significant vertical oil production. The company estimates its current production at more than 3,000 BOE a day, it says.
Red Fork Energy's anticipates operating more than 50 wells in the area by 2014. The company is also participating in drilling activities on wells operated by other companies on properties adjacent to its own, and working to expand its acreage, Girouard says.
In addition to its horizontal oil drilling activity, Red Fork Energy sees future potential in the Woodford Shale, which lays under most of Red Fork's 77,000 acres of holdings. "Several operators have been achieving good results from the Woodford, so we're starting to pay attention to that part of our acreage," he adds.
The company retains its eastern Oklahoma natural gas operations, but has limited its activity on the 75,000 acres it leased there because of current natural gas pricing.
"With significant gas gathering, processing, compression and transportation facilities already in place in this project, we are exploiting opportunities to improve the economics of this play by leveraging off this infrastructure through third-party gas transportation and processing," Red Fork Energy says.
Experience Counts
With 36 employees, Red Fork Energy is a "lean and mean" independent well operator. "We're focused on attempting to increase shareholder value by drilling the oil and gas assets we've put together in as economical a manner as we can," Girouard says. "We're efficient, and don't have the layers upon layers of meetings and management that other companies do. Our leaders are out there in the trenches, as well."
Girouard and other Red Fork executive staff members joined the company following its expansion into oil production in 2010. Girouard's experience includes 26 years of experience managing the land departments of several Tulsa-based oil and gas exploration companies. He was also a founding member of Brighton Energy, which was sold to Unit Petroleum in 2006.
While at Brighton Energy, Girouard worked with Kevin Humphrey and Lee Francis, who today are Red Fork's CFO and executive vice president of operations, respectively. "We're fortunate in that we're familiar with each other having working together for many years at other companies," Humphrey says. "We have a lot of experience working together."Humphrey's experience includes serving as CFO of Brighton Energy and two other companies. He began his accounting career with Arthur Andersen LLP, where he was promoted to audit manager and specialized in the oil and gas industry.
Girouard, Humphrey and Francis often draw on the contacts they've built in the industry in their previous positions to hire new employees at Red Fork Energy. "We have been able to hire people who've worked with us previously or use our professional contacts as references for new people we've hired," Humphrey adds.
In addition, Francis' experience and contacts in particular have given the company an advantage when it comes to building relationships with vendors. "The relationships he's built up over the last three decades and the connections he has with vendors really help us in our operations," Girouard says.
Francis, a registered professional engineer, has 35 years' experience as an employee and consultant to independent and large oil and natural gas companies. Before joining Red Fork Energy, he served as president of Arapahoe Marketing Services LLC, which owned and maintained gas compressors used on wells operated by Brighton Energy.
Red Fork's key vendors include DynaFlo ALS, which provides it with artificial lift systems.
The company also works closely with companies including Summit ESP, which supplies electric submersible pump systems it uses in its wells. "I've done business with several of their salesmen at previous companies I've worked for," Francis notes. "They offer us very cost-effective solutions."
Red Fork's executive staff extends their feeling of camaraderie and spirit of cooperation to all of the company's employees.
Employees at all levels of the company are invited to attend and contribute to weekly high-level staff meetings, which gives them the opportunity to learn more about every facet of the business. "I'm really proud of our work environment," Girouard says. "We have a pretty small group, so we're pretty cohesive, and we are a fun place to work."